You're a business traveler; you know the routine. Plush carpeting, rich woods, leather recliner, mood lighting. You sip the welcome cocktail, lather with spendy soap in the luxuriously appointed loo. If you're peckish, room service rushes in with a snack of your choice. The butler hangs your suit while you don silk pajamas and dive under the down duvet, ready for a good night's sleep. All standard operating procedure for most five-star hotels. Except that when you wake up … you're in Sydney. Or Abu Dhabi.
Toto, I don't think we're on Southwest anymore.
Emboldened by forecasts of expanding business-travel budgets and engaged in a luxury arms race that has made lie-flat seating de rigueur, airlines are rolling out business-class cabin upgrades faster than you can say, "Yes, please," to another glass of (complimentary) Champagne. Increasingly, premium-class flyers find themselves in cabins that feel more like luxury hotels than bad buses.
---
Rationing Peanuts While Pouring Pinot Noir
At a time when many U.S. airlines are flirting with financial insolvency, caviar cabins might seem the height of fiscal foolishness. Rising fuel costs and falling profits have seen coach-class comforts cut to a bare minimum, even on international runs. American and Delta recently removed pillows from their domestic cabins, estimating that cost savings would total $375,000 per year. Already-abysmal airline food, that staple of late-night comedy monologues, has become even scarcer. So why are some carriers breaking out the Champagne?
"That's what business travelers are looking for," said Matthew Bennett, publisher of California-based Web newsletter First Class Flyer. "Other than Northwest, American carriers have really dropped the ball, particularly on international business class, while other carriers have been building loyalty and enhancing their offerings. The international premium market is a huge revenue segment, but I don't know anyone who flies New York to London on an American carrier unless they have to. They fly Virgin or British, which is a shame. This is where the profit is."
Apparently, airline executives agree. After a post-9/11 slump that sent air travel into a tailspin, current forecasts predict continued increases in both business and leisure travel. But it's the business travelers who have long been the bread and butter of the industry, and competition for these full-fare flyers is fierce. With the value of loyalty programs on the wane, carriers are counting on luxury cabins to fill their seats and recoup revenue from price-conscious bargain hunters. And nowhere are the potential rewards greater than on long-haul international flights.
---
Fat Cats Lie Flat
It began with the beds. A study commissioned by British Airways determined that coach-class passengers get an average of three hours' sleep on trans-Atlantic flights. Upgrading to business or first buys an extra hour of slumber in the skies, crucial to a sleepy CEO — and worth every penny or mileage point.
Air France fired the first salvo in the late 1990s, when it introduced deeply reclining seats that created an almost-flat sleeping experience on intercontinental routes. British Airways, Virgin Atlantic and Asian carriers quickly followed suit. One hundred eighty degrees has become the standard for skybeds, and now even 6-footers can stretch out with a little room to spare.
It's not just the seats, but the configurations, that count. Cabin designs may orient seats in a "Z" or traditional lounge formation, but aisle access, privacy and withinreach storage space for hand luggage are new musts as well.
---
A Matter of Degree
One hundred eighty (degrees) is the magic number, but width and pitch have their parts to play. British Airways brought in NASA scientists and the Royal Air Force to consult with ergonomic specialists when designing its new Club World seat, which features electronically controlled lumbar support and a host of other extras. Continental's BusinessFirst seat reclines to only 170 degrees, but Singapore Airlines' new SpaceBed, now being introduced on all of its Boeing 747-400s and B777-
200ERs, is the widest in business class; when both armrests are deployed downward, the SpaceBed goes the distance for a winning 27 inches of width. And Virgin Atlantic has fitted four double beds into Double Suites on their B747-400 aircraft, giving passengers space to enjoy "a more intimate flight."
---
Beyond the Battle of the Beds
Whether they're enjoying intimacy or Ambienenhanced slumber, today's premium-cabin clients are demanding ambiance and amenities. For worker bees, having in-seat phones, electrical outlets and privacy screens is now a prerequisite for doing business in business class. For those determined to make the most of every airborne minute, ottomans and larger work tables allow flyers to hold in-flight meetings, scanning a spreadsheet or sipping chardonnay with a colleague or client at 33,000 feet.
On the wired front, Lufthansa took a huge leap forward — and gave new definition to the term "air mail" — when it sent the first email via a broadband Internet connection from onboard a scheduled commercial airliner on Oct. 25, 2002. In collaboration with Connexion by Boeing, FlyNet now offers a portal through which news, financial and travel reports are updated regularly by satellite, along with Web surfing and email over a virtualprivate network. Other carriers are expected to follow suit in the near future.
"We're offering maximum comfort, more space, more peace and quiet, and excellent onboard service," said Mathias Friess, director of passenger sales for Lufthansa's North American operation. "Ultimately, we've created the optimal environment for stress-free travel, whether passengers choose to work, sleep or simply enjoy some downtime."
That downtime will probably involve electronic media, and carriers are rushing to offer more options throughout business-class cabins. Video on demand is the new standard in in-flight entertainment, and those airlines not offering it already are losing flyers to carriers such as Malaysia Airlines, whose newly reconfigured planes offer more than 350 entertainment options in all cabin classes, including multiplayer games, SMS and email capability.
Malaysia Airlines has extended these entertainment options throughout its planes, banking that today's students may be tomorrow's titans of industry. "We value our economy-class passengers, too," said Managing Director Dato' Ahmad Fuaad. "They are increasingly younger, more technologically savvy and are our potential premium passengers."
In any class of cabin, when it comes to in-flight entertainment, bigger is better. Singapore Airlines' Wiseman system in Raffles Class uses fiber-optic technology to allow passengers to pause, stop, rewind and fast-forward films and music on 10.4-inch personal video monitors, while Gulf Air boasts 15-inch flat screens. Can high-definition be far behind?
---
Open Up and Say 'Spaaaaah'
After entertainment, premium passengers are freshening up before dinner with a dazzling variety of high-end amenities in personalized toiletry packages. Virgin Atlantic pampers with a bespoke kit designed by Savile Row couturier Ozwald Boateng that includes the coveted cashmere-like sleep suit for overnight flights. Gulf Air courts guests with luxurious Temple Spa products, and Thai Air puts out an assortment from French favorite L'Occitane, while Singapore goes for Givenchy and Crabtree & Evelyn.
And if spa products aren't enough, there are always … spa services. Many carriers begin them on the ground, and advances are being added almost daily. At Virgin's Heathrow clubhouse, moisturizing facials are a pre-flight perk for men and women. Skin care, hair grooming, manicures and massage are complimentary. Upper Class passengers can enjoy in-flight massages or hydrating hand treatments at their seat or in the beauty alcove.
---
Country Cooking
Having rested, recreated and rejuvenated, today's premium-cabin passengers are now hungry, and enhanced food quality is a big focus when conceiving new levels of service in business and first class.
Carriers are increasingly giving travelers a taste of home for premium meals, flaunting fresh regional cuisine. Korean Air offers Western specialties but tempts diners with traditional bibimbop, a savory combination of vegetables and steamed rice with hot-pepper paste and sesame oil. Air Canada's Executive First passengers begin their journey with a warmed ramekin of nuts and a cocktail featuring locally produced Iceberg Vodka, before tucking into entrées such as grilled beef tenderloin with roasted mushrooms.
Some carriers are making celebrity chefs part of the attraction as well. French Laundry icon Thomas Keller has lent a hand to Lufthansa, developing menus for business-class meals. Air New Zealand recently tapped Govind Armstrong, executive chef and partner of Los Angeles' trendy Table 8, to develop a new menu for ANZ's Business Premier and Pacific Premium Economy classes.
"Govind's creations are simple and delicious … perfect for our onboard premium service," said ANZ Vice President Gus Gilmore. "The new menu will allow travelers from North America to get a taste of New Zealand's culinary style and culture the moment they set foot on our planes."
"I'm a huge fan of New Zealand wine and cuisine," said Armstrong. "My goal will be to showcase the best tastes of New Zealand, using only the freshest ingredients the country has to offer. Travelers are in for a real treat."
The treats will include items such as venison with garnet yams, Swiss chard, hazelnuts and a relish of pears and dried sour cherries; cod with Dungeness crab chowder; wild salmon with pea tendrils, parsnip mash, red onion soubise and roasted carrots; and duck confit with apple, braised red cabbage, roasted chestnuts and quince chutney. Wines from New Zealand's award-winning vineyards will enhance the fare.
Airlines aren't banking just on what's on the menu, but when. On-demand dining that delivers pre-ordered personalized meals
is increasingly replacing trolleys in premium-class cabins. Singapore Airlines serves main courses hot from the galley, and its popular "Book the Cook" program allows customers to reserve their favorite dishes up to 24 hours before traveling. Gulf Air's "Restaurant in the Sky" provides gourmet menus prepared on demand by a team of chefs.
A Sense of Place
Carriers are relying on more than skybeds and breakfasts to distinguish themselves from their competitors. Color schemes, logos and flight attendant uniforms are carefully considered as well. Malaysia Airlines makes use of a resplendent red hibiscus — the national flower — throughout its B747-400 aircraft, from the exterior paint down to the design on seat fabric, napkins and blankets. B777-200 aircraft feature heliconia leaves in rich blue tones.
Air Canada has complemented its iconic red maple leaf logo with a new "frosted leaf" in a light shade of green to freshen the color scheme on its updated livery. And Gulf Air relies on golden Arabian tones and rich woods to make every premium passenger on its newly refurbished Airbus 330s feel as pampered as a sheik.
Designer uniforms are another way to distinguish the brands. Air Canada chose Canadian designer Debbie Shuchat for its new retro couture costumes in navy and silver, and paid songstress Celine Dion to model at their unveiling. Christian LaCroix has given similar assistance to Air France, and Korean Air turned to Italian impresario Gianfranco Ferre for its new look.
---
Splurging on Success
All these upgrades, of course, come at a cost. Singapore's latest improvements came with a tab totaling $100 million. Lufthansa's investment in Business Class will amount to about $350 million. And British Airways splashed out almost $400 million to create Club World's "Lounge in the Sky."
But today's conventional wisdom says giving aisle access, buddy seats and a host of handsome perks to every premium passenger will pay off in the end. Design advances in new super-jumbo aircraft encourage extremely long flights, such as Singapore Airline's 18-hour New York–Singapore route, currently the world's longest nonstop commercial flight. Increasingly, premium passengers are demanding that those extra hours in the air be spent comfortably and productively.
Air New Zealand's Gilmore feels the upgrades and enhancements are a must to stay competitive. "New planes, new in-flight entertainment systems, new seats, new uniforms and new food and beverage offerings are just some of the developments we're working on to enhance our long-distance offerings. This is just the beginning."
Others see enhancements as a necessary investment as well. "We must invest strategically in areas including in-flight products to remain competitive in domestic and international markets," said Robert Milton, Air Canada president and executive officer. "[Our] future success will be driven by the loyalty of our customers."
James Hogan, president and chief executive of Gulf Air, agrees the future of air travel involves returning to a more opulent experience. "Two decades ago, the Gulf Air Five-Star Tri-Star service was renowned throughout the world," he said. "We are acutely aware that what sets airlines apart today is service and comfort. Through this refurbishment, we are now set to re-create that golden age of travel."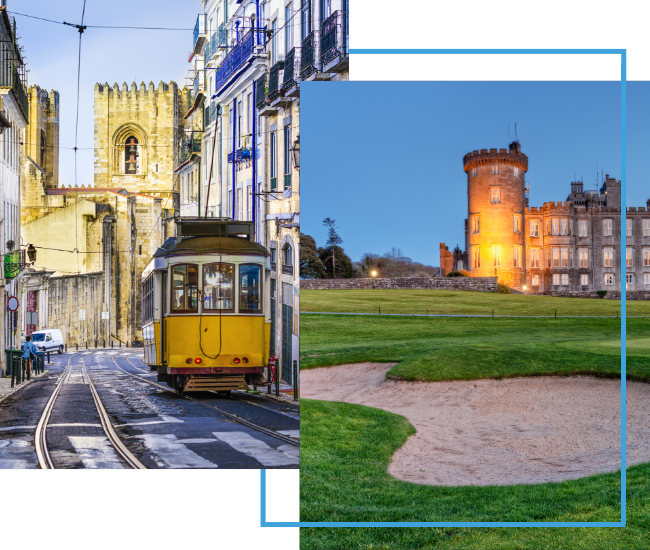 FX Excursions
FX Excursions offers the chance for once-in-a-lifetime experiences in destinations around the world.
Explore Excursions
One thing  surprising about the Prince Edward Island capital is its abundance of shops specializing in affordable, fashion-forward jewelry rendered in sterling silver, vermeil, 14K gold and semi-precious stones. Whether you prefer delicate pieces or bold wearable art, you can be assured the pieces for sale are inspired by the maritime island setting and, therefore, specific to the place where they are created. Here are a few shining, woman-owned examples:
Sponsored Content
Learning more about our readers' travel habits and preferences ensures Global Traveler delivers the content you desire. As the travel industry has adapted and changed over the last few years, it's more important than ever to connect. To best meet your short- and long-term travel content needs, please help us!
Norway, a haven for visionary artists, architects and designers, showcases an exceptionally diverse array of cultural attractions. This year, the country commemorates exciting milestones and unveilings captivating enthusiasts of the arts, from iconic scenic routes to new museums to gallery openings. Up Norway features these new offerings in personalized itineraries catered to aesthetes.