THE MARRIAGE OF TECHNOLOGY and travel continues to bloom at a rapid pace, with new services and conveniences offered to travelers on a near weekly basis. It's only natural airports would jump on the mobile app bandwagon, following airlines, hotels, travel rewards programs … seemingly the entire industry. According to the 2016 Airport IT Trends Survey from SITA, 90 percent of airports worldwide are undertaking either a major program or a trial project related to mobile app usage.
Currently about half of all airports prefer mobile apps to distribute important information such as flight disruptions. Approximately 61 percent do the same via emails and phone, with 34 percent using social media. Beyond typical notifications, however, emerging technologies allow for revolutionary options, with some airport apps even becoming context- and location-aware to assist passengers based on their needs in real time. Such features are set for trials in 74 percent of airports over the next five years and 78 percent of airports over the next 10 years.
Of course, not all airports are building apps solely for the sake of helping the thousands of travelers passing through their doors. A monetary aspect is at stake as well. By 2019, 84 percent of airports plan to offer purchasing capabilities on their mobile apps. In addition, 29 percent take the purchases one step further by making them available to smartwatch users. Some, about 34 percent, allow alternate payment options, such as Apple Pay.
"Mobile investments … continue to attract a good portion of [IT spending], and there are strong indications that airports are actively looking to recoup this investment by evolving their apps beyond check-in and basic flight information toward revenue-generating services," said Barbara Dalibard, CEO, SITA, and Angela Gittens, director general, Airports Council International.
Dallas/Fort Worth International is one such airport targeting travelers with revenue-boosting app features, offering the ability to search more than 200 shops, dining options and services right from a mobile device, as well as see spending options within a five-minute walk from any gate. The DFW app debuted in late 2015 but constantly improves with new features. At release date, it offered the ability to view flight information, weather, airport maps, dining and shopping and parking products. Now, in addition to enhanced searching and intuitive wayfinding capabilities, the app is available in more than six languages and on the Apple Watch.
"More than 90 percent of DFW passengers are carrying smartphones and want information regarding their travel instantly. The DFW Mobile App and our new Apple Watch app allow us to provide customers real-time information tailored to their particular journey and [are] another example of how we are leveraging the use of technology to provide an overall customer experience that is warm, welcoming and efficient," said Sean Donohue, CEO, DFW Airport.
Following closely behind DFW's inventive app is Hartsfield-Jackson Atlanta International Airport's iFlyATL app, which debuted in spring 2016. The app was worth the wait, however, as it offers a myriad of additional options. Travelers enjoy real-time updates on parking availability, wait times, gate assignments, flight times and more than 300 dining and shopping options, as well as airport art installations and galleries. Possibly the app's best feature? Using a photo tool, travelers have the ability to find the exact location of their car effortlessly and seamlessly within the airport's parking facilities upon return arrival.
Outside the United States, airport mobile app usage shows huge potential in Asia. Bangalore International Airport released its new app last fall, proudly boasting status as the first airport in India to use Google Indoor Maps to assist passengers. Real-time app features include flight tracking, gate updates, one-touch WiFi connection and notifications based on location. App-users also receive exclusive retail and dining offers.
"At Bangalore International Airport Limited, our aim is to transform our customers' airport experience," said Sanjay Reddy, managing director, BIAL. "Every new digital introduction will combine innovation and emotion because we strongly believe that digital is more than just technology. The BLR Airport app is an example of how we are leveraging technology to make travel through the airport simple and easy."
As Asian travel booms, multiple airports are considering similar mobile solutions to assist in alleviating passenger congestion. In China, in-app flight notifications, airport purchases and cashless payments are already available at many, with expectations pointing to all major airports offering the in-demand features by 2019. Additionally, many airports are beginning to push in-app purchases and offers via social media.
However, is it worth travelers' time to download an app for every airport they pass through? With today's business and leisure travelers constantly on the go, it adds up to quite a few apps and what some consider inconvenience. Cormac Corrigan, cofounder and travel eCommerce consultant, CJ Ignition, and Mark Lenahan, independent travel technology consultant to several major airlines, released a study questioning the profitability of airport apps.
The most common app feature airports provide is flight status notification, with 46 percent of airports already offering the service. When airline apps do the same, though, why bother? Corrigan and Lenahan point out airline apps are downloaded 14 times more often than airport apps. With major airlines carrying about 1.5 billion passengers annually, apps are downloaded about 117 million times. Large airports see about the same amount of passengers —1.3 billion — and only experience a download rate of 7.2 million.
Additionally, the study asks, are the funds dedicated to airport app development a waste when user retention is low? When studying all e-commerce, travel and utility apps, only about 3.3 percent of users continue to actively use an app 30 days after installation.
"The big challenge for airports is that, as a passenger, you are essentially anonymous to the airport. The airlines and/or agencies know all about your itinerary, but airports do not," said Corrigan and Lenahan. "Another issue: the time spent in the airport is relatively short, at least when viewed from the perspective of the full end-to-end customer journey. Airlines already have a strong and established relationship with passengers in the pre-travel, airport and flight journey phases. They are positioning themselves as the trusted sources of essential information and travel products related to the entire passenger journey, including at destination."
Regardless of poor user retention, the study does recognize the revenue potential airport apps carry, which is why travelers are hard-pressed to find an airport app not pointing passengers to some kind of purchase. In the past several years, airports around the world experienced static or declining aeronautical revenue, typically made from fees charged to airlines. Retail and commercial revenue, however, is growing by leaps and bounds as passenger numbers increase, a trend airports recognize.
In addition to similar mobile airline apps, airports face competition from outside apps built to create a better airport experience. Brands like GateGuru and FlightTrack5 keep mobile users up to date on gate changes, flight delays and airport amenities, with no need to download a separate app for each airport on travelers' itineraries. MiFlight provides security wait time estimates, with information provided by real travelers in the moment, an option some feel is more accurate.
Rather than fight a potentially losing battle, a growing number of airports are quick to partner with outside apps in hopes of reaping possible benefits. This is the case with many concessions apps, such as Airport Sherpa, which delivers dining from any airport restaurant to passengers' gates, and Grab, which allows travelers to pre-order from their phones before picking up their food. Currently, Grab is found at more than a dozen North American airports, with others joining soon.
Similarly, Denver International Airport is the first to partner with the Mobile Passport Control app, the first authorized app to expedite the arrival of U.S. and Canadian citizens. Users submit passport information and a customs declaration form on their smartphone, shortening wait time in the international arrivals area. The airport installed eight specialized scanning units to read app-generated QR codes which provide customs officers with all required information. The airport estimates approximately 50–70 percent of all arriving international travelers are eligible to use the app.
Regardless of outside competition or the opinions of some tech consultants, however, airports both in the United States and abroad plan to continue releasing new mobile apps and expanding existing options. As travel technology develops to make travel easier, more convenient and more attuned to individual needs in real time, it's only a question of what new options airports will offer and when and how they'll use new technology to boost revenue.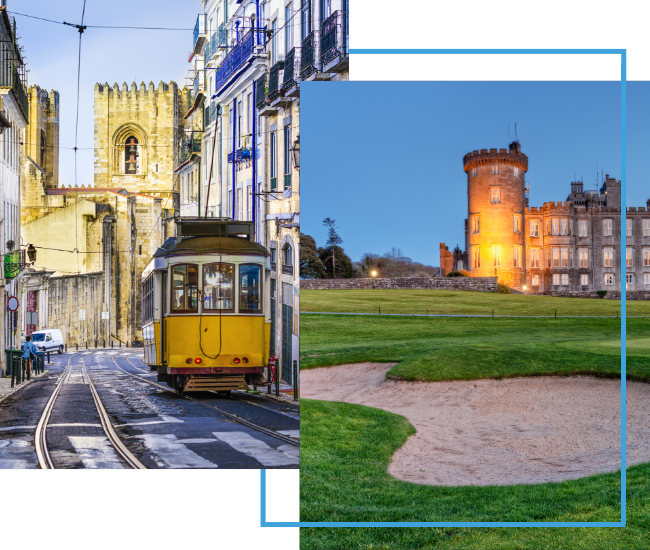 FX Excursions
FX Excursions offers the chance for once-in-a-lifetime experiences in destinations around the world.
Explore Excursions
There's no doubt the northern lights are awe-inspiring and spectacular. Unfortunately, they're also fickle and fleeting, and despite your best-laid plans of checking this item off your bucket list, sometimes Mother Nature's luminescent show just doesn't cooperate. But one cruise line has a new fail-safe in place.
Sponsored Content
IHG Hotels & Resorts is thrilled to announce the launch of a new mobile product feature for members: IHG Wi-Fi Auto Connect. This feature is now available exclusively in the IHG One Rewards mobile app for both iOS and Android users and will automatically connect IHG One Rewards members to WiFi upon arrival at more than 5,000 IHG hotels worldwide — no separate passwords or log-ins needed. This is in addition to the exciting benefits of being an IHG Business Edge member. IHG Business Edge provides small- and medium-sized businesses access to a user-friendly portal that displays comprehensive spending and savings data while providing the convenience of direct booking with a guaranteed discount.
Think you need a degree in sailing to enjoy a yachting holiday? Dream Yacht Worldwide, a leader in yacht charters, wants you to relax and enjoy the journey. Newly expanded to include the British Virgin Islands, Martinique, Tahiti and the Seychelles, the "Easy Crewed" offered by Dream Yacht Worldwide also include charter options in Greece and Croatia.