When talk turns to travel, some of the best yarns are of far-flung tropical locations. More times than not, scuba diving is part of the mix. Maybe that's because there's nothing like diving to immerse you in a location. Despite the pun, it rings true. Dive travelers are discerning when researching locations; they are diligent with the facts, figures, recommendations and scuttlebutt about landing the perfect dive vacation. Dive travel is growing (an estimated 1.2 million divers are certified in the United States alone), and resorts offering diving have multiplied around the globe, from Myanmar to Mozambique. Whether they're time-tested favorites or emerging venues, they also happen to be some of the most beautiful tropical destinations imaginable.
THE OUT ISLANDS OF THE BAHAMAS provide proof divers need not travel far to find world-class diving. Beyond the crowds and cruise ship ports in Nassau and Grand Bahamas, this low-key island chain of blinding white-sand beaches and sapphire water offers a seductive number of dive sites that see few tourists. Less developed, often uninhabited, these 700-plus islands, cays, rocky islets and sand spits comprising the Commonwealth of the Bahamas are, quite literally, out there.
Take the Abacos, a 120-mile island chain laying claim to the world's third-longest barrier reef. Much of the diving is among shallow reefs bathed by warm, clear Gulf Stream waters that create conditions on a par with the "proper" Caribbean islands hundreds of miles south. Mountains of star coral sprout throughout the reefs, riddled with crevices and swim-throughs divers love. An immense cavern named Cathedral is among the most scenic, marked by colorful reef fish and schools of silversides shimmering under dappled shafts of sunlight. Another must-dive site on the Abacos is Wayne's World, which lies outside the barrier reef and keeps dives interesting with bulbous coral heads home to a who's-who roll call of reef fish.
Threading south, the Exuma island chain is like a world consisting of nothing but sand and sea. The first land-and-sea preserve in the world, this 176-square-mile labyrinth of impossibly clear water, cays, islets and paper-white-sand beaches is the realm of liveaboard operators. Divers drop in at Pillar Wall, a phenomenal descent starting at 30 feet and sloping to 55 feet before disappearing over a ledge dropping 5,000 feet. Most Exuma dives include Stingray Reef off Stocking Island, famous for sightings of enormous stingrays that often erupt from sand bottoms, and Whale Tail Wall, known for its sharks and eagle rays.
ANOTHER DIVE MECCA is the U.S. Virgin Islands, aka America's Caribbean. Funky, lively and peaceful, the U.S. territorial trifecta is like a buy-one, get-three bargain. "Close and convenient" applies to everything. Currency and language are courtesy of Uncle Sam, and each island has its own style.
If funky sounds fun, look no further than wild child St. Croix. Largest of the island family, this southern sister is nearly encircled by the largest living barrier reef of any Caribbean island. The north shore's Cane Bay is renowned for its magnificent wall dive that plunges 2,000 feet just 200 yards offshore. That's a crease compared to the 13,200-foot Puerto Rican Trench lying beyond, a dynamic triggering oceanic upwellings that steer in big marine life like whales, tuna and hammerhead sharks.
On bustling St. Thomas to the north, the first impression is that it's all about cruise ships and shopping at the port of Charlotte Amalie or soaking sun at world-renowned Magans Bay. Of its siblings, St. Thomas has the monopoly on wrecks. The M/V WIT Shoal II, a favorite, is a 360-foot freighter sitting at 90 feet with expansive, easily explored passages and plenty of resident marine critters, including one 600-pound Goliath grouper. Another is the USS John F. Kennedy, a U.S. Navy transport barge sitting mid-depth on stingray-populated sand flats just outside Charlotte Amalie's harbor.
Anyone in the mood for mellow can veer east to St. John, nicknamed "the park island." Two-thirds of the island is protected park land, not including nearly 13,000 submerged acres in Coral Reef National Monument. As the smallest of the brood, this quiet isle doesn't get nearly the cruise ship traffic, shoppers and tan-seekers that descend on St. Thomas. Divers might overlook St. John, known more for snorkeling. Big mistake. Its north shore has gorgeous sites above and below, with rocky outcroppings and cays thrusting from the depths creating canyons, pinnacles and coral-encrusted rock formations teeming with Spanish mackerel and torpedo-like tarpon.
IN CARIBBEAN DIVE CIRCLES, the coveted jewel may well be Belize. "Treacherous" for navigation and "infested" with lobster is how early British colonists depicted the reef system that in 1981 became Central America's newest nation. The irony is that the 185-mile barrier reef, its abundant marine life and subsequent obliging dive outposts are exactly why divers descend here in droves.
The barrier reef and its offshore island cayes span 3,000 square miles of protected waters, serving up a mind-blowing menu of colorfully exotic dives. A short hop from the mainland, Ambergris Caye gets the most dive traffic, especially in sub-100-foot depths where high coral mounds with colorful sponges and garden-like settings guarantee entrancing explorations for divers of all abilities. For shallow fishy encounters that include affable sting rays, Hol Chan Marine Reserve and Shark Ray Alley — just four miles from San Pedro on Ambergris Caye — are engaging favorites for new divers and snorkelers alike.
Belize also offers the near-exclusive of having three of only four atolls found in the Caribbean — anomalies dive legend Jacques Cousteau famously proclaimed among the world's top 10 diving destinations. Turneffe Atoll is the largest, and dives run the gamut from the easy Bat Brook Shallows to deeper dives like the aptly named Black Coral Wall, a stronghold of treasured black coral. To the extreme south lies Glover's Reef, winding 40 miles with more than 700 shallow garden-like reefs in its interior. Visibility can exceed 200 feet, and upwelling currents from a nearby 2,000-foot abyss make encounters with big open-ocean species such as sharks, tuna and whales real possibilities. Lighthouse Reef, farthest atoll from the mainland and with no resort, is home to the famous Blue Hole. Dive protocol for the circular 1,000-foot-wide limestone sinkhole has divers descending to 110 feet, where gargantuan stalactites that formed 15,000 years ago decorate terraces of the sheer walls that plummet to nearly 500 feet.
EVENTUALLY, DIVE TRAVELERS zero in on the Western Pacific, in many ways still a diving frontier. It's a perfect description for the Philippines. Plopping down a detailed map of the sprawling 1,800-mile-long archipelago causes eyes to bug out and tests the tenacity of travelers with its immensity. There are 7,107 islands by official count, amounting to a combined 22,500-mile coastline. About 2,000 islands are inhabited; roughly 2,500 aren't even named. Marine biodiversity is mind-numbing: More than 2,000 fish species and upwards of 500 of the world's approximate 700 coral species are found in the Philippines, the northern apex of the so-called Coral Triangle. Divers can drop to unnamed reefs off unnamed islets, bag life-list encounters with thousands of species or scour scores of World War II wrecks. As the West takes increasing notice, the dive infrastructure continues to improve with dive-exclusive resorts and a fleet of liveaboards.
The dream of divers everywhere is to have a shot at Tubbataha Reef in the Sulu Sea, where the Palawan province swoops south toward Borneo. This UNESCO site is the unchallenged king of Philippine diving, drawing dive boat liveaboarders to its magnificent twin atolls boasting incomparable 70- to 130-foot wall dives. The isolated 128-square-mile national marine park is home to some of the world's most pristine coral reefs, teeming with mantas and white tip, hammerhead and whale sharks. Due to the cyclone season, this life-lister is only reached from March through June on liveaboards with the necessary government permits that regulate traffic here.
Much more accessible and with year-round dive potential is petite Apo Island and its treasured marine preserve. How good is this preserve, located four miles off the island province of Negros in the Bohol Sea? Enough that Chicago's Shedd Aquarium modeled its Wild Reef exhibit on Apo. A trove of large table corals, portly barrel sponges and impressive gorgonians, divers can lollygag in the shallows or fin-kick along walls at 100 feet while tallying blacktip sharks, tuna and the fastest fish that swims, wahoo. Know that island life among the crowded clapboard bungalows is austere and quiet for some tastes. If Apo is on a diver's checklist, staying across the strait on the main island of Negros, with its many resorts and dive operators, is the modus operandi for most visitors.
A HANDFUL OF MAGNIFICENT dive destinations have come on strong the past dozen years, including the Western Pacific's Palau, Malaysia's Sipadan, Raja Ampat in New Guinea and liveaboard dive ships prowling Indonesia. Among the best-in-class are the Maldives, an archipelago of 1,200 islands clustered in 26 major atolls throughout the Indian Ocean. Spanning some 35,000 square miles, it's one of the world's most geographically dispersed nations, with 202 inhabited islands, 87 of which are exclusive resorts.
Some liken diving here to the more remote reefs of Australia's Great Barrier Reef, with a wealth of crystalline white-sand beaches, vast coral formations, the clearest waters imaginable — and an abundance of whale sharks, manta rays, sharks, moray eels and reef fish. Most Maldives resorts have scuba diving facilities, plus a growing number of all-inclusive liveaboard operators ferry guests to scores of dive sites throughout the islands.
The crowded capital of Malé, complete with mosques and exotic culinary aromas wafting from close-quarter street eateries, is the gateway to spectacular outlying resorts strewn along the archipelago's 500-mile north-south expanse. Simply put, visitors have two choices in a Maldives dive vacation: Stay put on an idyllic island and dive local reefs, or opt for a liveaboard ship and tour several atolls.
Virtually every Maldives dive site is superb. Distinctive "thila" diving involves gliding among vast shallow coral formations that barely crest the surface. "Kandu" diving has divers riding fast-clip currents flowing between island chains. Maldives reef diving is top-tier, involving swimming among more than 1,000 fish species and the most colorful coral conglomerations of the world. And for pure diving largesse, visitors here between June and October enjoy the probability of swimming alongside enormous manta rays and bus-sized whale sharks.
Read more about post-dive cuisine.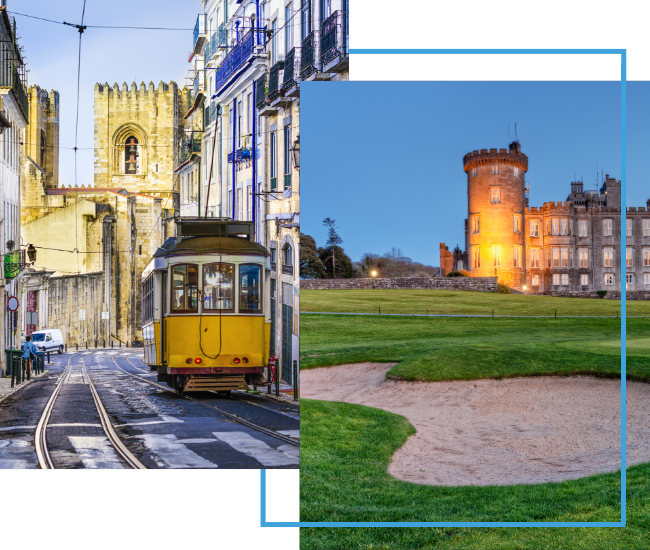 FX Excursions
FX Excursions offers the chance for once-in-a-lifetime experiences in destinations around the world.
Explore Excursions
Did the new film Oppenheimer rouse your interest in the nefarious world of international espionage? You can go straight to the real-life setting for covert actions this November (Nov. 10–12), when La Fonda on the Plaza in Santa Fe hosts a specially themed "Spies, Lies and Nukes" weekend. The hotel actually served as the retreat location for Manhattan Project scientists, who stayed at La Fonda on the Plaza to take a break from the stress of their work. During the weekend, the property's La Fiesta Lounge will make a tasty nod to those days by serving up a special Atomic Martini.
Sponsored Content
Don't risk losing all the money you've spent if you must cancel your trip at the last minute. Allianz Travel Insurance can give you:
Ever want handcrafted martinis and freshly shucked oysters delivered straight to your room? The Read House's New Martinis & Pearls service has you covered. Shining in 1920s-themed decor, the historic hotel in the heart of Chattanooga offers a true Gatsby-esque experience, now further elevated with this upscale amenity. Guests can now indulge in their perfectly chilled martini, made to order, and "pearls" (oysters) in the comfort of their room.