Besides starting with the same letter, what do traveling and technology have in common? Unless you're completely off the grid and have somehow   managed to cut yourself off from the new electronic gadgets or mobile   devices introduced since the turn of the century, you know the two are   becoming more and more interconnected. Even though a smartphone may   still not be able to physically transport you from one place to another,  there's not much it cannot do to help travelers with their myriad   needs.
At the intersection of travel and technology lies the travel app. Simply put, an "app" is a mini-application, or program, that's designed to   perform a specialized function on a mobile device like a smartphone or   iPad. The bottom line is that they are fun to play around with and can even be addicting. Some people I know collect them like baseball cards;  and when you consider that more than 10 billion apps have been   downloaded in the past three years, they are nothing short of   revolutionary. Learning how to use these apps can keep you quite busy and amused during a flight delay (just make sure you have enough battery life). Learning which of the 17,000-plus travel apps to choose from is another matter altogether.
Travel apps are ideal for globetrotting executives as well as weekend   warriors exploring their own backyards. The best ones help you locate hidden gems, communicate with knowledgeable locals and add some fun to your overall trip. There are even apps that can genuinely make your travels a little easier.
The most popular apps allow you to do anything you can do online or with   a guidebook but more quickly and easily and without the need for a   computer. Some can replace the need for maps by telling you exactly   where you are and how to get where you need to go. Apps can also help   you search for flights, book a hotel and make restaurant   recommendations. They can even translate your spoken words instantly   into other languages.
Finally, some tips on selecting apps. While you're traveling, you   usually want information right away, so make sure the app's interface is   simple and intuitive. If it's not clear and concise, don't bother   getting it or wasting your money. Also, remember that the information   from travel apps can usually be obtained from other sources, so the apps   that are really valuable are those that make getting that information   quick and easy. Have fun finding your favorites but be careful not to   get too carried away. To simplify your search, here are some of the more   useful and successful apps in the market today.
And don't forget, our own GT app lets you search our archives, read the current issue, bookmark your favorites and more.
Lonely Planet City Guides
For travelers looking to get the most out of visiting a new city,  nothing replaces a good guidebook to help navigate all the hotspots and   must-sees. The downside, of course, is that they're often bulky and   inconvenient to lug around. The Lonely Planet City Guide apps eliminate   the need to carry all that extra weight by putting most of the important   information on your mobile device. Better yet, it does something a   guidebook can't. The app pulls up a map based on your GPS location and   shows you points of interest and where they are located so you can find   them easily. At press time, Lonely Planet's inventory consists of 75   titles, including 58 City Guides and 17 Phrasebooks. $5.99 per city.
TripCase
Named "Best Travel App" by Business Week in 2009, TripCase aggregates   and organizes all your travel details and sends them directly to your   iPhone. Not only does it give you your latest flight status information,  it alerts you to any gate changes, security wait times, baggage claim   information, car rental information and even a description of the hotel   you booked, along with photos of the property. And if you're in danger   of missing a plane, it will suggest alternate flights. Better yet, it   will even do the same for anyone else you designate, like your spouse,  boss or important client. Free.
Packing Pro
Even the most seasoned traveler sometimes forgets a phone charger or   extra shirt. Packing Pro keeps a list of must-dos and must-brings for   any type of trip you might take. You can customize your lists or choose   from an assortment of templates tailored to women or men, kids (and how   many), where you're going and for how long. $2.99.
TripIt
If you are a frequent flyer, TripIt is the one app you should definitely   download. Just forward all your confirmation emails to .(JavaScript must be enabled to view this email address)

and it intelligently collates and organizes all your flight, hotel and   car rental reservations (no matter where they were booked) and syncs   them directly to your iPhone. Free.
Accuweather
When you don't know how to find a local forecast while on the road, it   helps to have a decent weather app. Accuweather is one of the most   popular and apparently more reliable apps available. It includes 15-day   local forecasts, 15 hours of hourly forecasts and forecast videos and   can store up to 15 locations. Free (with ads); $0.99 (without ads).
AroundMe
If you've ever wandered around a city aimlessly looking for an ATM or   someplace good to eat, then this is the app for you. It uses your GPS   location to find all the essential places around you including banks,  hospitals, gas stations, restaurants, stores and much more. It lists   them with the address and then provides directions on how to get there.  You can also tour famous attractions, hotels and restaurants in   360-degree panoramic views to help you plan your itinerary before you   leave home. Free.
Urbanspoon
Not sure where to eat or what's near your hotel? Urbanspoon helps you   find a restaurant by cuisine, neighborhood and price range; or you can   filter your search to include only the most popular local eateries. If   you have an iPad with 3G access, you can also obtain more detailed   information about each restaurant, including photos, menus and critic   reviews. Free.
OpenTable
Once you find the restaurant you want, you can book it on OpenTable. The   app lets you make reservations at more than 15,000 restaurants in the   United States, Canada and the United Kingdom. Furthermore, if you become   an OpenTable member, you can earn Dining Rewards Points redeemable for   Dining Cheques good at any participating restaurant. Another nice   feature is that OpenTable can send reservation confirmations to your   dining companions via email. Free.
Hotel Tonight
Miss a flight? Need to stay an extra day? Don't want to leave? The Hotel   Tonight app can take care of last-minute hotel reservations. In   exclusive partnerships with hotels in select cities, the app offers   one-night-only deals for up to 70 percent off at top properties in New   York; Chicago; Boston; Chicago; Miami; Washington, D.C.; and Hollywood   (with more cities coming soon). Free.
AllSubway HD
This app gathers subway maps of more than 100 international cities into   one convenient location. As the name suggests, AllSubway is an extensive   database of the subway systems the producers have determined to be most   important. As with most technologies, it is evolving and adding more   cities on a regular basis. You can also find several specialized apps   (such as Paris Metro) that provide more detailed information about   specific subway lines. $0.99.
Lingolook
Unlike most language apps, Lingolook does not require an expensive data   connection to work abroad. Its clean, animated flash cards of more than   300 key words and phrases can even be spoken aloud just by tapping the   screen. Lingolook is sold in five languages (Spanish, Italian, French,  Japanese, Chinese) with Hindi and German coming later this summer.  $4.99.
HIConverter
There are dozens of converter apps available for everything from   temperature and distance to bra sizes. Most are about the same and work   fine. But HIConverter is one of only a few to include all the important   units travelers need to access. Features include currency exchange   rates, clothing and shoe sizes, and a tip calculator that takes tax into   account. $0.99.
JetSet: A Game for Airports
Are you one of those business travelers who plays solitaire or Sudoku on   your smartphone after you've finished all the newspapers? Well, here's   another game you can try. You play a frazzled TSA worker trying to   process passengers as they stack up in the inspection line and your   superiors pelt you with a barrage of never-ending, loony rule changes.  Violate TSA mandates or civil liberties and you lose. Cool feature: If   you play this in an airport, it detects your location and doles out   site-specific digital "souvenirs" for exemplary play, such as hot wings   in Buffalo or pork barrels at Dulles. $0.99.
Room 77
When you're making a hotel reservation, Room 77 lets you find out   detailed information about room view, size and layout so you can request   one most suited to your needs and desires. Room 77 also helps you   decide by providing expert advice on some of the best guestrooms within a   hotel. Free.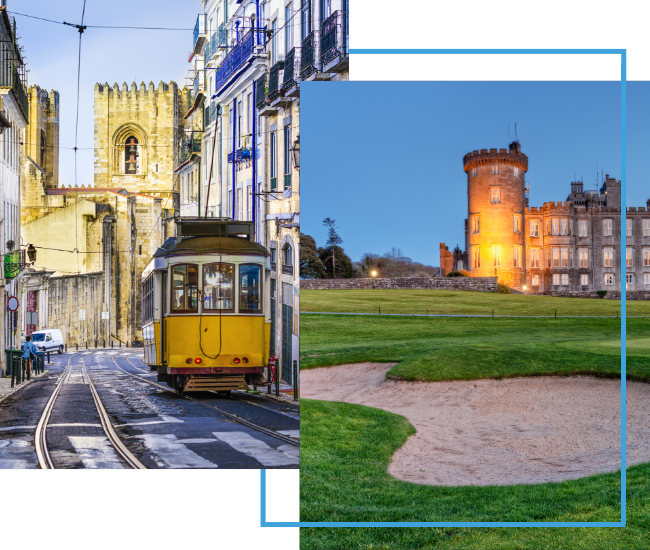 FX Excursions
FX Excursions offers the chance for once-in-a-lifetime experiences in destinations around the world.
Explore Excursions
One thing  surprising about the Prince Edward Island capital is its abundance of shops specializing in affordable, fashion-forward jewelry rendered in sterling silver, vermeil, 14K gold and semi-precious stones. Whether you prefer delicate pieces or bold wearable art, you can be assured the pieces for sale are inspired by the maritime island setting and, therefore, specific to the place where they are created. Here are a few shining, woman-owned examples:
Sponsored Content
IHG Hotels & Resorts is thrilled to announce the launch of a new mobile product feature for members: IHG Wi-Fi Auto Connect. This feature is now available exclusively in the IHG One Rewards mobile app for both iOS and Android users and will automatically connect IHG One Rewards members to WiFi upon arrival at more than 5,000 IHG hotels worldwide — no separate passwords or log-ins needed. This is in addition to the exciting benefits of being an IHG Business Edge member. IHG Business Edge provides small- and medium-sized businesses access to a user-friendly portal that displays comprehensive spending and savings data while providing the convenience of direct booking with a guaranteed discount.
Norway, a haven for visionary artists, architects and designers, showcases an exceptionally diverse array of cultural attractions. This year, the country commemorates exciting milestones and unveilings captivating enthusiasts of the arts, from iconic scenic routes to new museums to gallery openings. Up Norway features these new offerings in personalized itineraries catered to aesthetes.