Name: Todd Neuman
Title: Executive Vice President, North America
Company: South African Airways
Number of employees: 85 employees in North America
Recent project: Expanding South African Airways' membership in Star Alliance and working on interline and codeshare agreements with Star Alliance partners
First job: I worked for Delta Air Lines, on the ramp in Chicago, for two summers in college. I've always been fascinated with this industry.
Little-known fact about you: People might be surprised to learn I'm also a private pilot.
Your Business
Essential business philosophy: As a manager, I believe in working as a team and in having strong relationships from the partnership perspective.
Best way to keep a competitive edge: Reading about the industry in industry publications; talking with key accounts, including corporate travel managers and tour operators; and using customers as a source of information. Our customers tell us how we measure against the competition, and we take that feedback seriously.
Yardstick of success:  We gauge success by a number of different variables, most notably revenue, but we also use customer feedback and awards to measure success.
As a Traveler
Most important item you take when traveling: My laptop and my cellphone. Everything else can be bought.
How you spend your time on board: Working, especially on long flights with uninterrupted time to catch up on work. Whenever I'm flying to South Africa, I take advantage of the lie-flat Premium Business seats to rest and sleep. It makes such a difference.
Favorite restaurant in the world: I've traveled extensively and had many unique dining experiences. Some standouts include a family-run Italian restaurant in Padua, Italy; a French meal in an underground wine cellar during a conference in Saint-Émilion, France; and a bush dinner following a game drive in South Africa, enjoying an outstanding meal while game rangers protect you from lurking wild animals.
Favorite destination: This is a tough one. The United States has many beautiful cities, and I've been fortunate enough to visit and live in several. I'm beginning to scratch the surface of the culture and history in Southern Africa, and it is amazing. I often visit for work, but I find time to discover something new while there, and it never disappoints.
About Your Brand
What travelers can expect from South African Airways: Nearly all of our international flights are long, ranging from 10 to 18 hours. With this in mind, we strive to ensure our passengers' comfort. Our business-class cabin offers 180-degree lie-flat seats, and our economy class offers the most legroom of any carrier to South Africa, by up to three inches. We want passengers to feel at home and arrive refreshed, and we recognize it's both the little things and the big things that make a flight special.
What makes South African Airways' business class unique: South African Airways was one of the first to install a fully flat business-class seat, about 10 years ago. We've also been named the most comfortable business-class seat by SKYTRAX. Our service is uniquely South African, with warm hospitality, cuisine from celebrity chef Reuben Riffel and the finest South African wines. And the rainfall showers in our lounges help passengers arrive refreshed.
Most challenging aspect of growing the airline in North America: It's a tough and competitive industry, but we believe our service matches the current demand. We work hard to promote the destination for those who've never traveled to South Africa and may not immediately think of it as a place to visit or do business.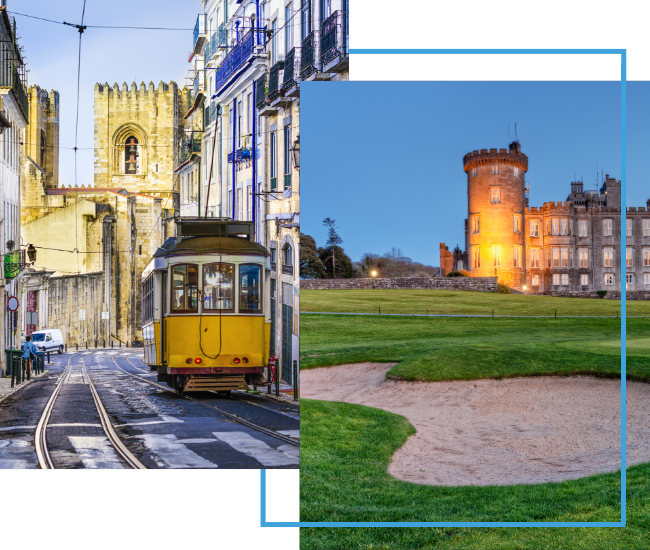 FX Excursions
FX Excursions offers the chance for once-in-a-lifetime experiences in destinations around the world.
Explore Excursions
Less than five years ago the world's first hybrid cruise ship, Hurtigruten Expeditions' MS Roald Amundsen, set sail for Antarctica in November 2019 with 450 passengers. The battery-hybrid-powered ship, named for the first man to cross the continent and reach the South Pole, was built specifically for voyages in polar waters. Its battery-hybrid power reduces the ship's consumption and CO2 emissions by 20 percent compared to equally sized ships.
A few months ago, I flew Polaris business class on a United flight from Dulles (IAD) to Paris (CDG). It was only when I got to my hotel in Paris I realized that I didn't have my iPad or its bag or accessories. Since I had been working on it in the restaurant in the Polaris lounge and then went directly to the gate, I knew I either left it propped up on my table when I packed up or in my business-class seat. But what was the best method to alert the airline about my careless mishap and (hopefully) retrieve it? With spotty data and WiFi, searching for information on my phone was frustrating and slow. Here's what I learned from the anxiety-inducing experience (and unexpected ending) about what to do if you leave something behind on your flight: