Arrival/Check-In: I arrived in Dallas on a cloudy afternoon and, luckily, traffic was light as I drove my rental car into the city in just less than 30 minutes. The Joule, built in the 1920s in the Neo-Gothic style, is a city landmark sitting in the heart of the business district. The hotel's valet awaited curbside and quickly gathered my luggage from the trunk and walked me through the art-filled lobby. Before booking this hotel, I was aware the property featured art installations throughout, but I was still delighted by the interesting art that was tastefully done for guests to experience. I was promptly greeted and checked in at the front desk in the middle of the lobby. The elevators, hidden toward the back, are accessed through a long corridor, but art lining the walls helps guide your way.
Guest Quarters: My fifth-floor deluxe suite was exceptionally large for a one-bedroom suite. The entrance into the suite's main living room features dark wood flooring and creamcolored walls. A large geometric-design rug sat under a full sectional couch and club chair facing a 47-inch, flat-screen television, all beneath a bold chandelier. I found myself sitting here most of my stay, watching a bit of sports and getting work done, although the desk was large, had plenty of electrical outlets and held a complimentary bottle of red wine and gourmet chocolates in a beautiful crystal jar.
A king-sized bed with luxe Sferra sheets dominated the large bedroom. The side tables included extra outlets for charging; however, the touchscreen lighting control was not that intuitive and took me about five minutes to adjust to my liking. Full-length mirrors enclosed the large closet which held extra cushioned hangers (greatly appreciated) and a plush robe — all provided with a woman in mind! A large, flat-screen television sat across the room; low bookshelves ran around the entire room with Taschen art books and plenty of space for personal items.
The bathroom, though located on the other side of the living room, was well worth the walk. All black and gray stone and marble, it included a large double sink, marble vanity with lots of open space and lighting surrounding the large mirrors. Amenities were Niven Morgan products especially crafted for The Joule. Enclosed in frosted glass, the rainfall shower offered seating for a full spa experience — one of the best showers I have experienced.
Services/Amenities: If you are looking for spots to eat and drink, the property has it all. After a day of meetings, I recommend a casual cocktail at the Lobby Bar, surrounded by larger-than-life art. If you prefer a night out, the Midnight Rambler has a hot spot feel and is fun for a date.
CBD Provisions, the on-property restaurant, features a modern twist on favorite Texas dishes and was a delight to try — so much so, I dined there for breakfast and dinner! I recommend the Little Gem lettuce and lump crab small plate and Berkshire pig head carnitas to share. For breakfast, the avocado toast and chai latte proved a perfect way to start my day.
The property also boasts wellness areas including The Spa and a rooftop heated pool that stretches over Main Street. The hightech gym is open 24 hours, but I also suggest taking advantage of VITAL, a fitness studio on the property offering spinning, boxing and more — perfect for any traveler looking to keep workouts on schedule or trying something new.
TOP TAKEAWAYS:
◆ Guests can enjoy unique art installments and photography throughout the property.
◆ Top-notch shopping surrounds The Joule, with unique boutiques and a flagship Neiman Marcus.
◆ Dining and drinks on property are a must. Try CBD Provisions for dinner and a night out at Midnight Rambler.
THE JOULE
1530 Main St.
Dallas, TX 75201
tel 214 748 1300
www.thejouledallas.com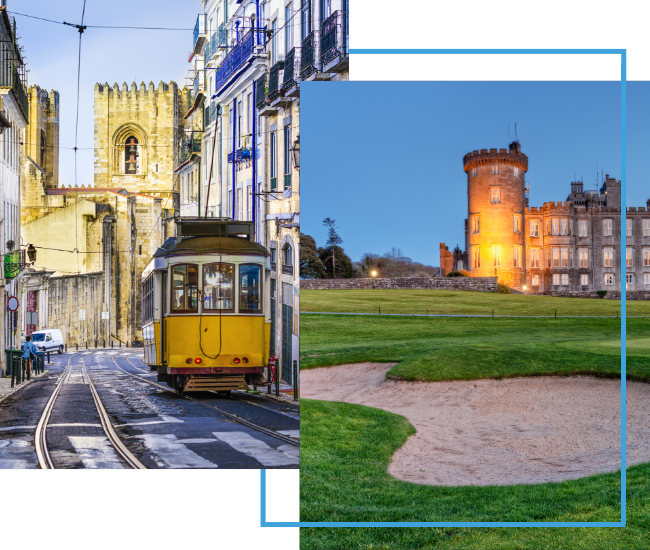 FX Excursions
FX Excursions offers the chance for once-in-a-lifetime experiences in destinations around the world.
Explore Excursions
More than 22 million visitors pour into Bangkok each year, adding to the roughly 11 million residents of the Thai capital famous for its bustling streets. Packed with food carts, markets and cultural spectacles, life in Bangkok is unusually defined by its vibrant street scene, both day and night. That means you don't necessarily need a solid plan when heading out on any given evening.
Sponsored Content
Are you looking to enhance your business trip with a little leisure? Look no further than Portugal, a country renowned for its captivating blend of history, culture and natural beauty. And with TAP Air Portugal, you can effortlessly transform your business trip into an unforgettable bleisure adventure. Discover why Portugal and TAP Air Portugal are the perfect combination for an enriching and rejuvenating experience.
As first-time restaurateurs, but with plenty of hospitality-related experience, Ria and Kevol (Kev) Graham were not entirely comfortable opening their first restaurant in the Brooklyn neighborhood of Williamsburg, where several upscale restaurants and 5-star hotel dining is just a block away. And to make matters worse, they opened in July 2020, when New York City was in the middle of the COVID-19 pandemic.