THE SOUTHERNMOST REGION of the world rewards travelers with massive glaciers; ice fields; deep blue lakes; dark forests; and majestic, ragged mountains. Patagonia lies at the end of the massive Andes mountain range and serves as one of the departure points for travel on to Tierra del Fuego, the Patagonian Lakes, Cape Horn and, finally, Antarctica.
Shared with Argentina, Chilean Patagonia's natural wonders rival nature's wildest, most dramatic and most remote. During most of the year, this windy, cool climate is in almost constant flux and can blow visitors away — quite literally. In this breathtaking and unique corner of the world, the weather sometimes proves as dramatic as the landscape.
Outdoor activities abound for visitors, including riding, hiking to a remote overnight cabin, heli-skiing, heli-fishing, Jeeping and whitewater rafting. Additionally, wildlife sightings equal those on an African safari. Patagonia also offers a Big Five of game, especially in Torres del Paine National Park; boating on the Chilean Lakes; hiking to a glacier or ice field; and floating a river and fishing, where you'll probably not meet another fisherman or group all day.
Here in one of the most sparsely populated areas of the world, you need not give up luxury or fine dining to see it. The hotels, restaurants and infrastructure — carefully developed over many years — are eco-friendly and welcome families and groups from around the globe. The range of lodging and restaurants can satisfy almost any budget, although the top accommodations, hotels and guest ranches often fill up a year in advance during peak season (November to March, during their most reliable weather, in summer).
To see natural wonders such as the Perito Moreno Glacier or to visit Ushuaia, the southernmost city in the world and point of departure for most cruise ships to Antarctica, requires border crossings into Argentina and returns to Chile. Depending on the season, these can be time-consuming and frustrating but generally without major problems or long delays.
One popular attraction is the Bariloche Lakes area crossing into Argentina. Beautiful and relaxing, the trek involves multiple boat connections, buses and sometimes several days to complete during high season. To avoid the throngs, some visitors charter their own boat and crew for a leisurely sail on their own schedule and then drive on in a private car. Or for an extra-special view, they can return to their hotel via private helicopter. Visitors can also enjoy the Chilean lakes region without crossing into the Argentinean side; it's greener and offers many hot springs and rivers under volcanoes. You can reach the area easily by flying in and out of Puerto Montt.
Plan at least two days or more for touring Chile's Torres del Paine National Park, including a safari in search of the Big Five of South America: the puma, guanaco, huemul (South Andean deer), Andean condor and ñandú (rhea). It has been named South America's most dramatic national park. Accessed generally from Puerto Natales, home of many historic hotel properties, the park remains a must-see for any group or family traveling to Patagonia. For those with the budget, The Singular Patagonia, at the entrance to the Patagonia fjords, is one of the top luxury properties in Chile. From here you can venture to Estancia La Peninsula, a traditional Patagonian ranch offering hiking, riding, 4X4 tours and sheep herding activities. Its extensive barbecue lunch proves a highlight and features local, grass-fed meats, fish and accompaniments. A full day on the ranch offers an activity for everyone in the group.
Another top property near the park, Tierra Patagonia, offers its own experiences, both in and out of Torres del Paine. Guests can enjoy a ride, hike or Jeep excursion in the Sierra Baguales Mountains, which includes a visit to Mylodon Cave and the Fossil Canyons. As an additional treat, large herds of wild horses roam this area.
Although Chilean Patagonia is a vast outdoor destination, it boasts some cities to visit if you have an urge for the social, cultural, culinary and club scenes only a city can provide. Brush up on your Spanish and meet some locals over a pisco sour, the national cocktail of choice. Three southern Chilean cities merit a visit and a recharge after your outdoor adventures: Puerto Natales, Punta Arenas and Puerto Montt.
Consider Puerto Natales the hub for visiting the famous Torres del Paine National Park. This fishing town offers picture-perfect views of the Last Hope Sound channel. Stroll and shop the Plaza de Armas, stop for a warming coffee or meal and visit the Museo Histórico Municipal. Early-morning walks on the Avenida Pedro Montt can be dramatic and refreshing as the sun rises. Visitors will find good restaurants and affordable hotels in all categories.
Puerto Arenas, the second hub for entry into Torres del Paine and the southernmost of the three, is the oldest city in Patagonia's development. It grew into a boom town as mining, timber and cattle ranching grew Chile's economy. Now, 150 years later, what was once one of Chile's wealthiest cities shows signs of wear and tear but still has much to offer travelers. The Plaza de Armas — the city center and close to the cruise docks — hosts many cafés, bars and nightlife. Many families and groups make the stop here to catch a day boat to the Penguin National Monument on Isla Magdalena, home to more than 120,000 Magellanic penguins. It's cold and windy but proves one of the highlights of any visit to Patagonia. Upon return, you can warm up at Club Madero, a famous local dance club.
Puerto Montt, the fastest-growing city in Chile, is the base for travel to Chile's Lake District. Many cruise lines visit its port, and passengers scramble to shop the central city as business travelers visit offices and entertain in the many asado (grilled meat) and seafood restaurants. Visitors can book daytrips to Volcán Osorno (an active volcano) or several local beach towns and Puerto Varas. Puerto Montt offers a choice of restaurants and hotels, as you would expect in a booming tourist town, as well as the most active bar and club scene in Chilean Patagonia. As it receives guests from around the world, LGBTQ+ visitors are welcome in most bars and clubs, but Chile remains a conservative country with strong family values, and the locals and tourists share the same establishments, especially restaurants. Puerto Montt offers direct air service to Santiago, a plus for groups and families.
Wherever you go in Patagonia, remember to dress warmly, and don't let the weather blow you away.
Patagonia Info to Go
Most travelers begin their journey to Patagonia with a flight to Santiago's modern Arturo Merino Benítez Airport, which receives many direct flights from around the globe, including a half dozen from North America. European arrivals may land in Buenos Aires (EZE) and connect to the south. From Santiago, connections fly south, usually on LATAM Airlines to Puerto Montt (PMC) or to Punta Arenas (PUQ), 1,360 miles south of Santiago. From either city, rental cars, Jeeps, vans (good for families traveling together, with or without guides) and private helicopters are available; public buses run regularly between the major sites and attractions. Bear in mind gas stations can be few and far between, so keep your tank as full as possible. Cruise ships are a growing mode of travel to Patagonia, usually departing from Valparaíso, Chile, or Buenos Aires, Argentina.
Where to Stay in Patagonia
HOTEL DON LUIS This Puerto Montt classic is intimate yet geared for business travelers and families, offering good value for groups. Enjoy good local cuisine in its restaurant and proximity to shopping, offices, the boardwalk and nightlife. Quillota 146, Puerto Montt $$
THE SINGULAR PATAGONIA PUERTO BORIES The Singular Patagonia combines luxury, comfort and nature's beauty in an all-inclusive at "the end of the world." Exquisite Patagonian cuisine, full service plus guide service available. Km. 5, 5 Norte S/N, Puerto Natales $$$$
TIERRA PATAGONIA Close to Torres del Paine National Park, overlooking lakes and mountains, this all-inclusive luxury property with spa gives new meaning to "a room with a view" and offers striking architecture in a sustainable lodge. At the edge of Torres del Paine National Park $$$
Restaurants in Patagonia
CANGREJO ROJO Savor the best of Patagonia's seafood in a casual nautical setting with live music. This local gem in Puerto Natales also serves excellent lamb and organic wines. 12 Ave. Santiago Bueras 782, Puerto Natales $$
LA CUISINE A unique, intimate restaurant in Punta Arenas melding French preparations with traditional Chilean asado (roasted meats) and seafood. Enjoy the king crab lasagna, various pâtés and crème brûlée for dessert. Reservations recommended. O'Higgins 1037, Punta Arenas $$
RESTAURANT KIEL Enjoy water-view dining and a German twist on Patagonian cuisine, meats and fish. Helga will meet you at the door and review the day's menu, including fresh veggies from her garden. Camino a Chinquihue Km. 8, Puerto Montt $$$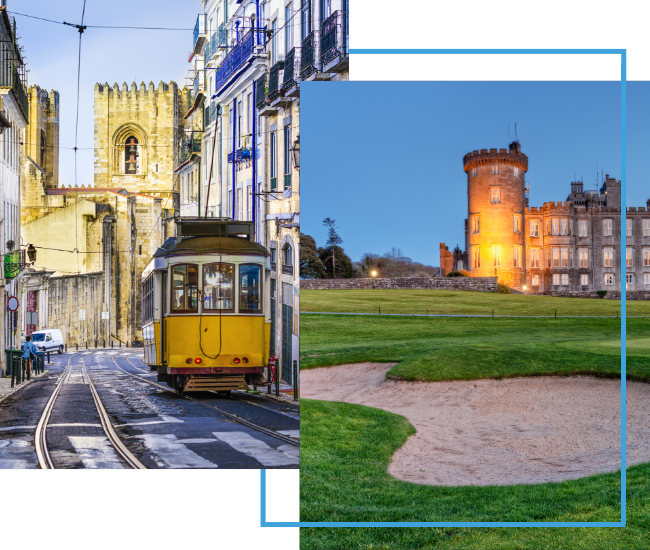 FX Excursions
FX Excursions offers the chance for once-in-a-lifetime experiences in destinations around the world.
Explore Excursions
Less than five years ago the world's first hybrid cruise ship, Hurtigruten Expeditions' MS Roald Amundsen, set sail for Antarctica in November 2019 with 450 passengers. The battery-hybrid-powered ship, named for the first man to cross the continent and reach the South Pole, was built specifically for voyages in polar waters. Its battery-hybrid power reduces the ship's consumption and CO2 emissions by 20 percent compared to equally sized ships.
Sponsored Content
Experience the life-changing destination of Greece by exploring its island gems in the Ionian Sea. Scattered off the western coastline of Central Greece, to the south of Peloponnese, the Ionian Islands are an island group comprising large and small islands.
A few months ago, I flew Polaris business class on a United flight from Dulles (IAD) to Paris (CDG). It was only when I got to my hotel in Paris I realized that I didn't have my iPad or its bag or accessories. Since I had been working on it in the restaurant in the Polaris lounge and then went directly to the gate, I knew I either left it propped up on my table when I packed up or in my business-class seat. But what was the best method to alert the airline about my careless mishap and (hopefully) retrieve it? With spotty data and WiFi, searching for information on my phone was frustrating and slow. Here's what I learned from the anxiety-inducing experience (and unexpected ending) about what to do if you leave something behind on your flight: