Shanghai is a city flying at full speed. Once called the "Paris of the East," China's most cosmopolitan urban center is far from French. Reminders of occupying European empires remain evident — barely — in the colonial riverfront grandeur of the Bund. But the Shanghai of today is more spaceport than Seine, more Martian than Montmartre. Amid the glimmering skyscrapers, one need only squint slightly to imagine hovercraft rather than cars navigating the smog locals insist is "haze."
There are rumored to be more construction cranes in this "Star Wars" set of a city than in the entire United States. And, although the green mesh barriers that screen construction sites are still made of bamboo, a 30-story (or higher) building has been completed every 12 days for the past six years.
Such phenomenal growth is no accident. In 191, the Chinese Communist Party, led by reformist Deng Xiaoping, made Shanghai the showpiece of its economic liberalization policies. Once the most decadent of China's metropolises, Shanghai shook off half a century of slumber and went to work. Attracting foreign investors and earning a place as the East's economic engine became an obsession.
Ostensibly still under Communist Party control, Shanghai is a city where capitalism seems to reign supreme. Odds are that the guys with cellphones glued to both ears — not an uncommon sight — are probably not discussing the finer points of Mao's mandates. (There is plentyof Mao still around. His image is a
wildly popular motif in souvenir stands all over the city.)
The rush to money and modernization is nowhere more evident than at Pudong International Airport (PVG). "Hyperport" might be a better descriptor for this sleek and supersized airport, designed to transport the city firmly into the future. Even getting there is a flash, courtesy of the Germanengineered magnetic levitation, or "maglev," train that links it to the city. At the gasp-inducing speed of 267 mph, the maglev whisks travelers 18 miles — formerly a one-hour drive — in a mere eight minutes.
Still, it's possible to slow down in Shanghai. Big business may be boss, but elements of the leisurely old city remain. Dawn reveals a flotilla of graceful figures at the riverfront stretching to greet the sun. Tai chi has not yet been replaced by group cycling classes, and the movements in the early morning mist remind a visitor that ancient Asia has not succumbed completely to commerce.
More meditation is in store at the historic Yuyuan Garden. Built 400 years ago, the complex is an oasis of serenity, in spite of being the city's most popular tourist attraction. Gingko and magnolia trees spread out to shade the pavilions and verandas stretching over the five-acre site. Enormous carved dragons guard ornate murals and glassy ponds filled with colorful koi. The Tower of Happiness — ironically overlooking the concubine gardens — is the highest point in the city and offers a great view of the river.
Strolling can work up a thirst, and Shanghai's sip of choice is tea. Some of the city's best can be found at Yofu Si, or Jade Buddha Temple. During the Cultural Revolution, this site was saved from destruction by enterprising neighbors who boarded it up, covered the doors with Mao posters and faked a Red Guard seal effectively prohibiting anyone from entering the site. Today its 70 monks welcome Buddhists and tour buses alike. Inside the incense-scented compound, a 61.2-foot, 455-pound statue, carved from a single piece of white jade and clad in a jeweled robe, watches over visitors with an air of detached tolerance. Proceeds from the highly entertaining tea ceremony and from the sale of tea support the facility, where different blends are noted for their associated health benefits. "Tea Number Five aids the liver and dissolves belly fat," the hostess solemnly assures. The shop also carries an elegant array of kettles and cups and, like many retail outlets in the city, is happy to ship internationally.
For an in-depth look at China's treasured past, there is no better place than the Shanghai Museum. The 11 galleries hold an incredible wealth of art and antiquities from ancient bronzes to delicate Ming dynasty furnishings — more than 120,000 pieces in all. Even a confirmed "museumphobe" could spend a day absorbing this well-curated collection.
Stepping outside the museum, one leaves China's slow and sweeping history and re-enters the hustle of the People's Plaza. Amid the awe-inspiring architecture, a patch of blue remains. An ornate kite dips serenely, fluttering next to an almost-completed skyscraper. Further up, a silver jet streaks across the sky. Amazingly, in Shanghai, they will all manage to stay aloft.
---
LODGING
PUDONG SHANGRI-LA HOTEL
A fine view of the Bund, especially from the outdoor patio overlooking the Huangpu River, makes this lavishly appointed 562-room property a Pudong favorite. The excellent Japanese restaurant — one of five at the hotel — is a popular place for sushi, and the dim sum at Fook Lam Moon is fresh and tasty. Business travelers with meetings in downtown Shanghai may find the Pudong location slightly inconvenient, as the trip by taxi can take 45 minutes or more in heavy traffic. $$$$
PUDONG SHANGRI-LA HOTEL
33 Fu Cheng Lu, Pudong
Shanghai 200120, People's Republic of China
tel 21 6882 8888, fax 021 6882 6688
www.shangri-la.com
GRAND HYATT SHANGHAI
The "highest hotel in the world" offers a commanding view of all Shanghai from the top 36 stories of the 88-story art deco-inspired Jin Mao Tower in the Pudong Business District. Fans of skyscrapers will love it for the clouds alone, but the flawless service and exquisitely furnished rooms are an added bonus. Elegant Chinese calligraphy ornaments luxuriously simple rooms. Ask for a room with a bath view of the Pearl Tower and marvel in marble. $$$$
GRAND HYATT SHANGHAI
88 Century Blvd.
Jin Mao Tower, Pudong
Shanghai 200121, People's Republic of China
tel 21 5049 1234, fax 21 5049 1111
www.shanghai.grand.hyatt.com
RAMADA PLAZA PUDONG
Need to be near Shanghai's dazzling new Pudong Airport? The Ramada — only a short shuttle ride away from the planes — will save you time and money. The 269 rooms are clean and comfortable. Business travelers will appreciate 24-hour room service, while the jetlagged may opt for a massage or a refreshing visit to the health club. Two restaurants offer Chinese and continental cuisine. $$
RAMADA PLAZA PUDONG
18 New Jingqiao
Pudong
Shanghai 201206, People's Republic of China
tel 021 5055 4666, fax 021 5032 8999
www.ramadahotels.com
JW MARRIOTT TOMORROW SQUARE SHANGHAI
"Right in the middle of everything" best describes this impeccable property in the very heart of downtown Shanghai. In a city where the traffic makes Manhattan seem sleepy, location is all, and the five-star Marriott has one of the best. Tomorrow Square is so central that all distances in the province are measured from it. What does this mean for you? Well, for one thing, it's almost impossible to get lost. Try that in most of Shanghai. Inside, the hotel covers all bases. Broadband? Check. Ridiculously sumptuous spa? Check. Best swimming pool in the city? Check… at least according to satisfied guests who consistently rank this homey yet chic hotel among the city's tops. $$$-$$$$
JW MARRIOTT TOMORROW SQUARE SHANGHAI
399 Nanjing West Road
Shanghai 200003, People's Republic of China
tel 021 3310 0703, fax 021 3310 0702
www.marriott.com
---
DINING
1221
You don't have to duck when the server pours a stream of steaming tea inches from your nose — they know what they're doing here, and it's all part of the ambience. After your cup's been filled with the fruit and flower-infused brew, enjoy the excellent cuisine at this chic and reasonably priced restaurant in the Changning District. Shanghai specialties include Drunken Chicken (soaked in rice wine) and Sweet and Sour Mandarin Fish. Bring a group and follow the local custom of ordering multiple courses to share. $$
1221
1221 Yan' an Xi Liu
Shanghai, People's Republic of China
tel 021 6213 6585
LU BO LANG
A favorite with celebrity tourists, this dim sum emporium is right next to the Hu Xin Ting teahouse at Shanghai's biggest tourist attraction, Yuyuan Garden. The menu boasts an enormous selection of delicacies, and the staff will patiently explain the more intricate offerings. Oh, and there's a Starbucks just a dumpling's throw away. Double bonus: Hilariously, the locals refer to this area as "Chinatown." $$
LU BO LANG
115 Yu Yuan Lu
Shanghai, People's Republic of China
tel 021 6328 0602
M ON THE BUND
The food in Shanghai is delicious, but there'll come a night when you'll scream if you see another noodle. That's the night you want reservations at M, the city's most elegant eating establishment. The Mediterranean-influenced cuisine is excellent. There's great service, a wonderful view and not a plate of pickled eel in sight. $$$
M ON THE BUND
Number 5 the Bund
Shanghai, People's Republic of China
tel 021 6350 9988
---
SHOPPING
Shanghai is a shopper's paradise, whether you're looking for the latest in electronics or the fakest in designer knockoffs. For the latter, head to Shaanxi Road or the nearby Xiang Yang street market. "Prada," "Vuitton" or "Rolex," if it can be counterfeited cheaply, you can buy it here.
Prefer the real thing? The Bund is being reinvented as an upscale retail area, with art galleries, elegant boutiques and other luxe — and legitimate — offerings. Xiantiandi is an enormous conglomeration of retail and restaurant options as dizzying as the view from the top of the Pearl Tower. And if you can't find it on Nanjing Lu, the city's shop and department store-strewn commercial boulevard, do you really need it?
---
Just the Facts
Location: Situated along the center of China's coastline, Shanghai faces the East China Sea and is divided by the Huangpu River. Sitting at the mouth of the Yangtze River, this once-humble fishing village is now the country's largest city. Shanghai proper covers more than 2,300 square miles.
Location: Communist
Population: 16.738 million
Climate: Shanghai experiences all four seasons, with freezing temperatures in winter and hot humid summers. June and July are rainy. Spring and autumn are considered the most pleasant times to visit.
Time Zone: GMT +8
Phone Code: 021
Currency: Chinese Yuan Renminbi
Official Languages: Mandarin Chinese is the official language, although a recent survey suggested that only half of Shanghai's population speaks it fluently. Shanghainese is a dialect of Wu Chinese.
Key Industries: Finance, automotive manufacturing, metallurgy, chemicals, shipbuilding, petroleum, information technology.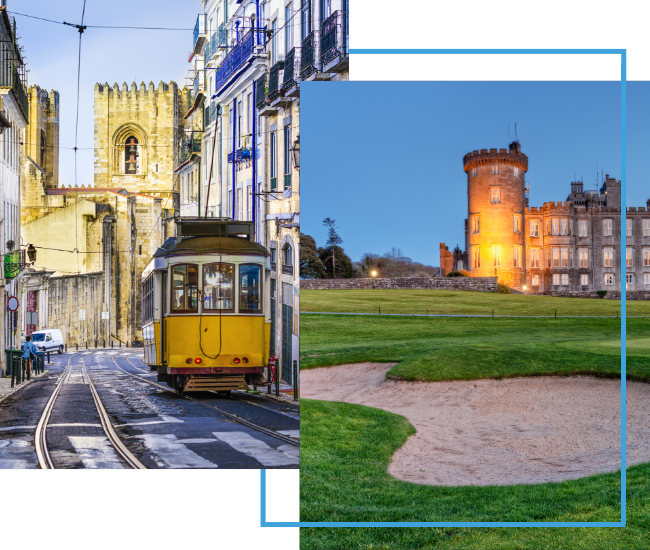 FX Excursions
FX Excursions offers the chance for once-in-a-lifetime experiences in destinations around the world.
Explore Excursions
The Perelman Performing Arts Center (PAC NYC), the cultural cornerstone and final public element of the World Trade Center site, opened this September.  The new performing arts center in Lower Manhattan provides a dynamic home for the arts, serving audiences and creators through flexible venues enabling the facility to embrace wide-ranging artistic programs.
Sponsored Content
Are you looking to enhance your business trip with a little leisure? Look no further than Portugal, a country renowned for its captivating blend of history, culture and natural beauty. And with TAP Air Portugal, you can effortlessly transform your business trip into an unforgettable bleisure adventure. Discover why Portugal and TAP Air Portugal are the perfect combination for an enriching and rejuvenating experience.
Whether you call secondhand fashion treasure troves "thrift stores," "fripperies," "charity shops," "vintage boutiques" or something else, shifting the paradigm from "old clothes" to "new finds," you may find the best, most conversation-starting souvenirs inside these shops and neighborhoods located in the world's most fashionable cities and a few unexpected places.