The first time someone mentioned Sapporo in my presence, I nodded gravely, feigning recognition, then rushed to Google to see if my subsequent comments on the state of Argentina's social system were appropriate. Not so much.
I discovered instead that Sapporo is Japan's fifth most populous city — 1.9 million people in 2003 — as well as the administrative and economic center for the northern island of Hokkaido. Settled relatively recently, Sapporo displays more European and American influence than one would expect. This can be directly attributed to the fact that American Horace Capron, whose statue reigns over Odori Park, was the lead adviser in selecting and developing Sapporo as Hokkaido's capital in the 1870s. Before that, Sapporo was a tiny settlement. Home to just seven residents as recently as 1857, Sapporo was initially inhabited by the indigenous Ainu people, who named the region Sariporo-betsu, meaning "a river that runs along a plain filled with reeds."
Sapporo is not a city that inspires love at first sight. As New York native and guidebook author Howard N. Tarnoff bluntly states in his Sapporo Guidebook, "In all honesty, this city doesn't have the majestic temples of Kyoto, the intriguing coexistence of the old and super-modern found in Tokyo, and it doesn't have that secretive traditional charm of Kanazawa. What Sapporo does have going for it as a city is spirit." That observation concisely describes my reaction to Sapporo as I strolled its streets, observing that if people were driving on the right and the signs were in English, I could be in just about any city in the United States.
Then I wandered into Odori Park, where the spirit Tarnoff mentioned reached out and grabbed hold of me. Discovering the 12-block park filled with expansive grassy stretches, rollicking playgrounds, enthusiastic street performers and engaging locals changed my impression immediately. As my time in Sapporo progressed, I came to realize that for a Japanese city of its size, Sapporo is affordable, easy to navigate, green, inviting and full of beautiful, vivacious people who are reputed to be the most welcoming in Japan.
Though the city's geographic latitude is about equal to that of Milan and Montreal, its climate clings stubbornly to the colder end of the spectrum, extracting every bit of moisture out of the air and keeping snow on the ground for up to six months a year. The upside is that it's a light, powdery snow that — in small doses — can be refreshing and enjoyable. And locals make the best of it. The weeklong Sapporo Snow Festival (www.snowfes.com/english/place) in early February is Hokkaido's biggest annual celebration, attracting 2 million visitors. Tracing its roots to 1950, when students gathered to carve out a few ice sculptures, the festival has grown into an international event that hosts more than 300 sculptures created by teams from around the world. The festivities are spread out over Odori Park, Makomanai Park and the Susukino area. Book accommodations far in advance if you plan to be in town for this event.
Summer, too, attracts visitors from all over. With no distinct rainy season, Hokkaido draws tourists and Japanese from late June onward to bask in the low humidity and cool weather, while reveling in some of Japan's most noted parks and nature preserves: Daisetsuzan National Park, Shiretoko Peninsula and Akan National Park. Another draw is the Sapporo Summer Festival (July 21–Aug. 20). Much smaller, but no less lively, than the Snow Festival, the annual celebration features beer gardens, concerts and ancillary events like the Pacific Music Festival, started by Leonard Bernstein.
---
LODGING
SHERATON SAPPORO
The Sheraton Sapporo is a bit of a distance from the city's central business district, but its proximity to rail and subway service that connects it to downtown and the airport makes up for the relative inconvenienc e. This property is a self-contained wonderland of services, including an ample Japanese spa, a women-only health and beauty parlor, plus Japanese, Chinese and Italian restaurants perched atop the second tallest building in Sapporo. $$-$$$
SHERATON SAPPORO
Atsubetsu Chuo 2-5, Atsubetsu-ku
tel 81 11 895 8811, fax 81 11 895 8820
www.sheraton.com/sapporo
SAPPORO GRAND HOTEL
Established in 1934, the Sapporo Grand Hotel was the first European-style hotel on Hokkaido and has been maintaining an air of elegance ever since. The singles, while compact, are comfortable and complete. The hotel also offers Western- and Japanese-style suites. $$$-$$$$
SAPPORO GRAND HOTEL
N-1, W-4, Chuo-ku
tel 81 11 261 3311
www.grand1934.com
JR TOWER HOTEL NIKKO SAPPORO
Practically on top of the Sapporo JR train station (don't worry about noise, as the hotel rooms are located on floors 23 through 34), the location of this branch of the Nikko Hotel chain couldn't be better. It's convenient to rail and subway connections, and lies within walking distance of the Tokei-dai and a selection of good restaurants. Guestrooms (especially on the clock tower side) offer spectacular views. The standard rooms are arguably among the most stylish you will find in Sapporo. $$$
JR TOWER HOTEL NIKKO SAPPORO
N-5, W-2, Chuo-ku
tel 81 11 251 2222, fax 81 11 251
6370www.jrhotels.co.jp/eng
SAPPORO PRINCE HOTEL
Coast through the flashy lobby and restaurants into guestrooms featuring a soothing wood-and-beige decor with expansive views of central Sapporo beyond. Sapporo Prince is just a few minutes' walk from the west end of Odori Park and a short taxi ride (or 12-block walk) from the revelry at Susukino. $$$-$$$$
SAPPORO PRINCE HOTEL
S-2, W-11, Chuo-ku
tel 81 11 241 1111, fax 81 11 231 5994
www.princehotelsjapan.com/SapporoPrinceHotel
---
DINING
MIKUNI SAPPORO
A huge portrait of Mikuni Sapporo's French-trained chef hangs in the reception area of this beautiful French restaurant. Choose from the fixed-price menu or wing it à la carte. $$$$
MIKUNI SAPPORO
Stellar Place Building (adjacent to Sapporo JR station)
tel 81 11 251 0392
www.oui-mikuni.co.jp
GRAND CHEF
Housed in the legendary Sapporo Grand Hotel, the Grand Chef is yet another example of this city's delight in great French cuisine. Specializing in local seafood garnished with the region's mountain vegetables, the Grand Chef offers several fixed lunch and dinner menus in addition to à la carte selections. $$$$
GRAND CHEF
Sapporo Grand Hotel
tel 81 11 261 3376
www.grand1934.com
KURUMAYA
There is precious little English to be found on the menu at Kurumaya, a traditional Japanese restaurant with two locations in Sapporo. The staff isn't much help with translation, but they do work enthusiastically to cross the language barrier. Dining areas face an open kitchen, so you can watch as your meal is prepared. $$$$
KURUMAYA
Sapporo Tokyu Inn
S-5, W-4, Chuo-ku
tel 81 11 512 9157, fax 81 11 562 4490
SAPPORO ANA HOTEL
N-3, W-1, Chuo-ku
tel 81 11 221 0608
MINOKICHI
You'd be well advised to arrive at Minokichi with a Japanese-speaking dinner partner. Otherwise, you'll likely spend the evening acting out an elaborate pantomime to communicate your order. It's worth the effort, though, to dine in this very traditional Japanese eatery (two locations in Sapporo), where the experience includes dining sans shoes on floor-level pillow seats in a tiny private room served by petite women wearing traditional Japanese dress. Then there's the great food. $$$$
MINOKICHI
S-4, W-4, Chuo-ku
tel 81 11 207 4441
KAIKAN BUILDING
S-6, W-3, Chuo-ku
tel 81 11 512 3366
---
NIGHTLIFE
Susukino, Sapporo's entertainment district, comprises several square blocks of restaurants, clubs, cabarets, hostess bars, neon signs and giant-screen TVs. Although a few neighborhoods in Tokyo and Osaka might argue this point, Susukino is reputed to have the some of the best year-round nightlife in Japan. If your curiosity about the hostess bars gets the better of you, take note: companionship and conversation with the lovely hostesses come at a price. Count on $50 to $100 per drink. To avoid misunderstandings with uninformed foreigners, many clubs require an invitation for entry. Overall, it's probably best to avoid these places unless you are in the company of a local who can make introductions. Readers with one eyebrow raised at this moment, rest assured that the hostesses offer good company, and good company only.
---
SIGHTSEEING
Sapporo's TV Tower (www.tv-tower.co.jp, tel 81 11 241 1131) is more famous for being a landmark than for its size or grandeur. However, at 483 feet its viewing deck (admission $7) provides an unobstructed view of the entire length of Odori Park. Though it is surprisingly small and physically upstaged by numerous nearby buildings, the Sapporo clock tower, Tokei-dai, (tel 81 11 231 0838) is considered the heart of the city. There is a small museum inside (admission $2) that doesn't seem to see much action. With their wild appearance, the Botanical Gardens (tel 81 11 221 0066) seem arbitrarily laid out, but rest assured the apparently haphazard growth has been scrupulously planned. There are 5,000 varieties of plants covering 37 acres of space, along with a small museum featuring taxidermic examples of wildlife native to Hokkaido (admission $4). From Nov. 4 through April 28, only the greenhouse is open (admission $1). Closed Mondays.
The Sapporo Beer Garden and Museum (tel 81 11 731 4368, www.sapporobeer.jp/english/guide/sapporo) is good place to while away a few hours. All-you-can-eat-and-drink combos include the Genghis Kahn barbecue (mutton served with vegetables, onions, green peppers and pumpkin in an interesting sauce, with sides of potato, corn on the cob and scallops). It's a glutton's feast, best complemented by, of course, beer. The free tour takes 50 minutes and includes a beer sample. Never heard a fishmonger sing? Then get thee to Nijo Ichiba, the local fish market, where elderly men in rubber boots hawk fresh-from-the-sea fish. Plenty of reasonably priced seafood restaurants are within a block of the market. Nakajima Park (tel 81 11 511 3924) is the oldest park in Hokkaido. In addition to being a small but quaint retreat on the outskirts of central Sapporo, it is home to two culturally significant buildings: Hoheikan, the first European-style house built in Hokkaido, and Hasso-an, a quiet teahouse located in a Japanese garden. The park has a sports center and pond with rowboats for rent.
---
Worth Noting
Japanese street addresses generally are useless to anyone not working in the postal service, as neighborhoods can often be a maze of unnamed streets with building numbers assigned in the order the structures were built, rather than by position on the street. But Sapporo's orderly grid street system and its practice of naming blocks using a compass-point classification scheme – e.g., the Tokei-dai (Clock Tower) is located at N-1, W-2, or one block north and two blocks west of the center point — will save you massive amounts of time scanning maps and desperately beseeching locals for directions.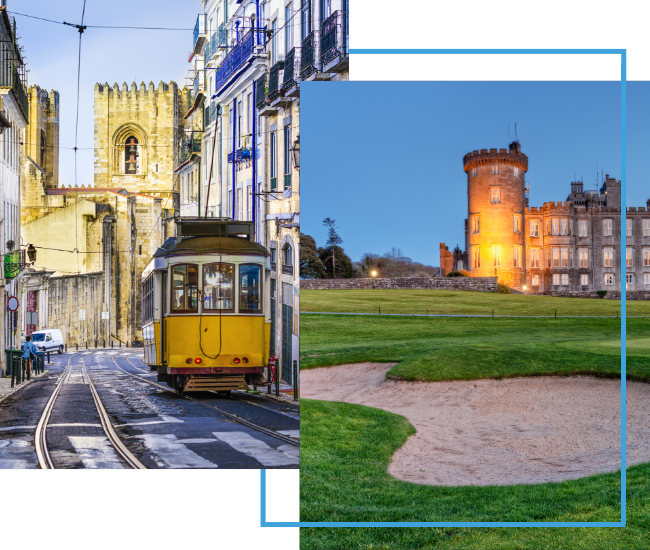 FX Excursions
FX Excursions offers the chance for once-in-a-lifetime experiences in destinations around the world.
Explore Excursions
It's time to start dreaming of your next trip. Here's some destination inspiration for you. Take a visual journey through these U.S. Christmas markets with us.
Sponsored Content
Don't risk losing all the money you've spent if you must cancel your trip at the last minute. Allianz Travel Insurance can give you:
Everyone loves a good Christmas tree, but these iconic hotels around the world take it one step further with designer-styled trees illuminating lobbies and public spaces, wowing all who enter. From Lela Rose to Louis Vuitton, don't miss these ultra-luxury trees redefining tree decorating as we know it.