Name: Rob Palleschi
Title: Global head
Company, city: Hilton Hotels & Resorts, the flagship brand of Hilton Worldwide; McLean, Va.
Number of employees: 145,000
Recent project: In 2013, we launched our Vacationitis campaign, which targets working professionals who are familiar with Hilton Hotels & Resorts through business travel; we aim to increase their awareness of the brand's incredible leisure travel offerings with our playful and bold workforce humor campaign. Travelers can take a short quiz at vacationcarecenter.hilton.com to receive their diagnosis and a prescription to cure their "vacationitis."
First job: Front desk employee at a suburban motor lodge
Little-known fact about you: I am a hotel fitness center snob; I expect ample modern commercial equipment; a positive atmosphere; bright, good air movement; and a fresh scent.
Your Business
Essential business philosophy: The Hilton brand promise is to ensure every guest feels cared for, valued and respected.
Best way to keep a competitive edge: As the world's leading hotel brand, Hilton is a relevant, forward-thinking global leader in the hospitality industry. A key part of my job is to ensure we continue to move forward with our innovative thinking and push the limits of our strategies, products and services.
Yardstick of success: The feedback from guests, whether in person, online or through social media, is an important measure of success. Above all else, we strive to lead the hospitality industry in providing exceptional experiences to every guest around the world.
Rob Palleschi as a Traveler
What is the most important item you take when traveling? On my international trips, it's my passport; I protect it like the Hope Diamond. I also travel with multiple plugs, power converters, solar chargers and battery packs. My electronics will never go dry.
How do you spend your time on board? I immediately adjust my time to my destination, which requires a bit of sleep on international flights. I also use the "quiet time" on planes to knock out as much work as possible.
What is your favorite restaurant in the world? With so many great restaurants, I can't pick just one. As long as I am with family and friends during that meal, it is my favorite restaurant.
What is your favorite destination in the world? If it has a beach, it is a vacation!
About Hilton Hotels & Resorts
Three Hilton resorts won awards in our inaugural Leisure Travel Awards. What makes Hilton resorts stand out? Our Hilton Resorts portfolio consists of more than 75 stunning resort properties in 28 countries, with more than 15 new properties in development. From Caribe Hilton, the brand's first international property (1949) to Hilton Hawaiian Village Waikiki Beach Resort (Waikiki's largest and most iconic resort since 1961), Hilton Resorts has set the standard the world over and shaped the experiences guests have come to expect.
What are Hilton's expansion plans for 2014 and beyond? We have more than 120 properties in the development pipeline. In 2014, our Hilton Hotels & Resorts brand alone plans to open hotels in destinations including China, Japan, Brazil, Panama, Portugal, Turkey, Mexico and the United States.
What is the most challenging aspect of appealing to business and upscale travelers? Hilton has a rich tradition of providing exceptional experiences for business and leisure travelers, and we aim to provide amenities that cater to both types of travelers. Not only do we push innovation forward for our business travelers by offering concepts such as the Hilton Connectivity Station, Technology Lounge and lobby designs, but our hotels and resorts are also situated in prime locations for our leisure travelers. It is exciting to see our brand concepts and offerings roll out at many of our properties, and it would be great to offer these at even more hotels around the world.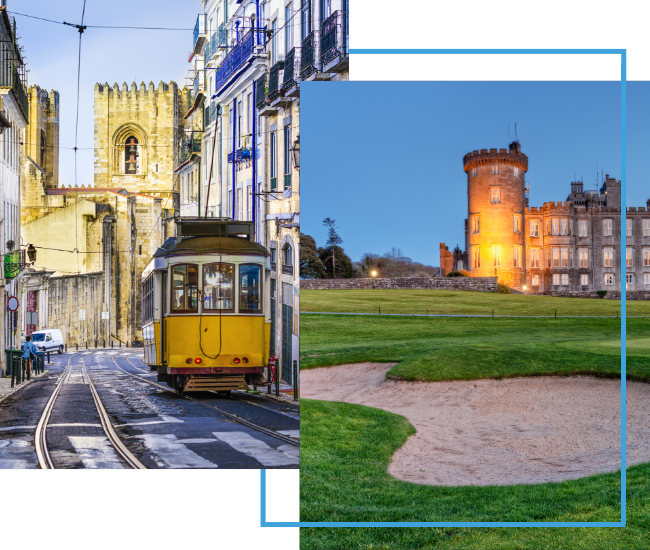 FX Excursions
FX Excursions offers the chance for once-in-a-lifetime experiences in destinations around the world.
Explore Excursions
Less than five years ago the world's first hybrid cruise ship, Hurtigruten Expeditions' MS Roald Amundsen, set sail for Antarctica in November 2019 with 450 passengers. The battery-hybrid-powered ship, named for the first man to cross the continent and reach the South Pole, was built specifically for voyages in polar waters. Its battery-hybrid power reduces the ship's consumption and CO2 emissions by 20 percent compared to equally sized ships.
Sponsored Content
Whether it's the people, the craic (fun) or the coasts, travelers always find something to love about the island of Ireland. What fills your heart?
A few months ago, I flew Polaris business class on a United flight from Dulles (IAD) to Paris (CDG). It was only when I got to my hotel in Paris I realized that I didn't have my iPad or its bag or accessories. Since I had been working on it in the restaurant in the Polaris lounge and then went directly to the gate, I knew I either left it propped up on my table when I packed up or in my business-class seat. But what was the best method to alert the airline about my careless mishap and (hopefully) retrieve it? With spotty data and WiFi, searching for information on my phone was frustrating and slow. Here's what I learned from the anxiety-inducing experience (and unexpected ending) about what to do if you leave something behind on your flight: