ARRIVAL/CHECK-IN: I had no trouble spotting Blockade Runner Beach Resort because of its sheer size. It's not the most attractive building as viewed from the sound side, but don't let that fool you. The beauty of this property is best seen on the ocean side. With its height and sweeping views, the hotel offers both ocean and sound views, depending upon which side you are staying. I was surprised to be greeted by a doorman, as this isn't something I have encountered at any beach hotel I've been to on the East Coast. The resort also offered free valet service when the parking lot was full.
Our first impression of the hotel was it felt like a Caribbean resort rather than coastal North Carolina. Light blue fabric waves covered the ceiling of the lobby, and the floor reminded me of a deep blue ocean. Then, as we walked toward the beach side of the hotel, we discovered a tropical paradise. The landscaping leading to the pool area and beach was lush, green and meticulously maintained. I especially enjoyed the giant rattan hanging "snuggle pods," as I named them.
GUEST QUARTERS: Our Club Level room offered great views of the beach and grounds through oversized sliding glass windows. Spacious, it included two queen-sized beds and a little seating area to enjoy the view. I did wish there was a balcony, but there were enough beautiful outdoor seating areas around the resort to make up for that.
The room's décor of muted blue and gray hues gave it a subtle beachy feel. Both beds were lit up with unique industrial-style lights, and a nightstand stood in between. We had an issue with one of the platform beds — the headboard was separating from the base, which made the bed unstable. I called the front desk, and within five minutes a maintenance worker came and promptly fixed the bed. We were pleased with the quick response!
The bathroom had an unusual barn door-style sliding door, nice for the small area, but since it didn't close completely, it didn't offer a lot of privacy.
SERVICES/AMENITIES: On Saturday we booked a Carolina Runner Boat Tour, conveniently located on the sound side, right across the street. The tour guide took us to Money Island, home to the area's largest sand dune — perfect for sliding down. From there, we cruised to Masonboro Island, the longest undisturbed barrier island ecosystem in southern North Carolina, for some sunbathing.
After our boat tour, we enjoyed dinner at the hotel's on- site restaurant, East Oceanfront Dining. We each ordered something different, but all chose seafood since it felt appropriate at the beach. The crab cake, fresh fish and scallops were all delicious. And I enjoyed a hibiscus cocktail, which I learned was made from hibiscus that grows on site.
If you're looking for a tropical getaway without having to travel to a far-off island, I'd definitely recommend Blockade Runner Beach Resort for your beach fix.
TOP TAKEAWAYS:
There are many activities on site, including yoga, surfing lessons and in-room massages.
Don't miss Friday lobster nights or Sunday jazz brunch with local musicians.
A monthly Full Moon Harbor Cruise gives you a front-row seat to this spectacular sight.
BLOCKADE RUNNER BEACH RESORT
275 Waynick Blvd. Wrightsville Beach, NC 28480
tel 877 684 8009
blockade-runner.com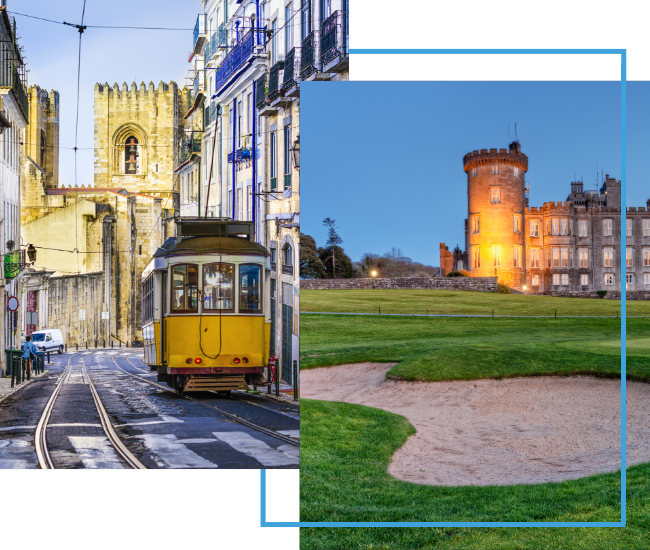 FX Excursions
FX Excursions offers the chance for once-in-a-lifetime experiences in destinations around the world.
Explore Excursions
Less than five years ago the world's first hybrid cruise ship, Hurtigruten Expeditions' MS Roald Amundsen, set sail for Antarctica in November 2019 with 450 passengers. The battery-hybrid-powered ship, named for the first man to cross the continent and reach the South Pole, was built specifically for voyages in polar waters. Its battery-hybrid power reduces the ship's consumption and CO2 emissions by 20 percent compared to equally sized ships.
Sponsored Content
IHG Hotels & Resorts is thrilled to announce the launch of a new mobile product feature for members: IHG Wi-Fi Auto Connect. This feature is now available exclusively in the IHG One Rewards mobile app for both iOS and Android users and will automatically connect IHG One Rewards members to WiFi upon arrival at more than 5,000 IHG hotels worldwide — no separate passwords or log-ins needed. This is in addition to the exciting benefits of being an IHG Business Edge member. IHG Business Edge provides small- and medium-sized businesses access to a user-friendly portal that displays comprehensive spending and savings data while providing the convenience of direct booking with a guaranteed discount.
A few months ago, I flew Polaris business class on a United flight from Dulles (IAD) to Paris (CDG). It was only when I got to my hotel in Paris I realized that I didn't have my iPad or its bag or accessories. Since I had been working on it in the restaurant in the Polaris lounge and then went directly to the gate, I knew I either left it propped up on my table when I packed up or in my business-class seat. But what was the best method to alert the airline about my careless mishap and (hopefully) retrieve it? With spotty data and WiFi, searching for information on my phone was frustrating and slow. Here's what I learned from the anxiety-inducing experience (and unexpected ending) about what to do if you leave something behind on your flight: