Arrival/Check-In: After a long morning and early afternoon of touring Dubai, we checked into Room 337 of the One&Only Royal Mirage. We were swiftly taken to our Superior Gold Club suite, fully equipped with a butler and access to the club lounge. Check-in is through a side entrance and on the third floor for the Gold Club. This makes coming and going private, which is popular in Dubai and the Gulf. Our bags were immediately delivered and we settled in swiftly, as we had to leave at 4 p.m. for a desert safari that evening.
Guest Quarters: The suite was breathtaking, designed with an old-world feel with rich, dark wood furniture and an unmistakable Arabian feel. A dining area with a minibar sat to the right as we entered, followed by a large sitting area with plenty of comfortable chairs and a sofa positioned around a coffee table. Beyond, a set of sliding doors led to a balcony with stunning views; as it was a holiday weekend, a lot of yachts and boats were anchored in the Gulf, and those on board were having a wonderful time playing music and enjoying the sun.
Back in the suite, the second room contained the master bedroom with a king-sized bed, well-appointed with similarly designed furniture. The oversized bathroom featured double bowl sinks sitting on marble counters, an LCD television, a walk-in overhead shower and a large soaking tub where you can relax and think of your day's touring.
An iPhone docking station, 40-inch HD LCD television set with satellite television channels and a DVD player completed the room amenities.
Services/Amenities: As we were on the third-floor club level, the check-in and service were outstanding for whatever we required. Breakfast was served every morning in the club, and our butler and concierge helped direct each day's adventure. We had traveled and toured so much we took the second day off to relax at the beach, steps from our room. We met a friend in Dubai and treated her to dinner at the Beach Bar and Grill, which sits beyond the pool and right on the Gulf. It is a truly charming restaurant with a fun staff where you can enjoy steaks and fish while gazing over the sea.
We also took the One&Only shuttle boat to The Palm property and enjoyed a wonderful spot on the dock for lunch at 101 Dining Lounge and Bar. We sat outside and enjoyed watching a wedding shower brunch and all the boats coming in and leaving the dock. I was told this is a local favorite, as is the Jetty Lounge just off the One&Only Royal Mirage dock.
TOP TAKEAWAYS
◆ Be prepared for the Dubai sun. We purchased a last-minute, no-name suntan lotion in the airport, which was totally ineffective, and ended up with a nice beach burn!
◆ One&Only Royal Mirage is a lovely property facing the Gulf and sitting on some 65 acres of manicured grounds.
◆ The property sits adjacent to the stem of the Palm Jumeirah, offering opportunities for boaters to dock and visit and for guests to ferry over to the One&Only The Palm.
One&Only Royal Mirage
Al Sufouh Road
Jumeirah Beach
Dubai, United Arab Emirates
tel 971 4 399 9999
oneandonlyresorts.com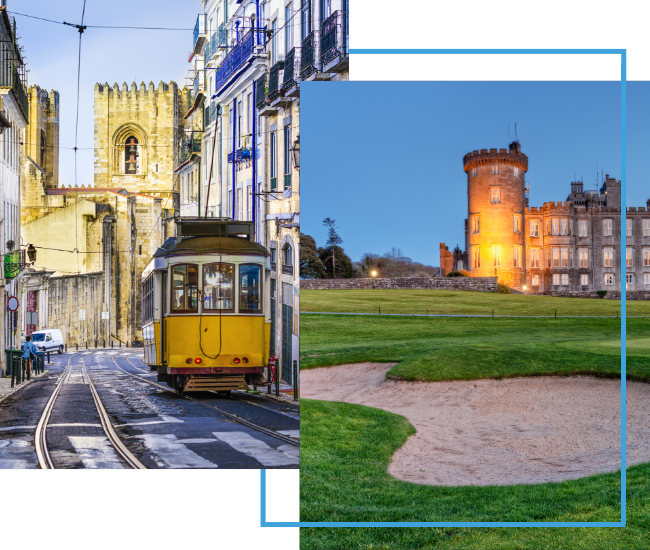 FX Excursions
FX Excursions offers the chance for once-in-a-lifetime experiences in destinations around the world.
Explore Excursions
If fabulous food and beverages are a must-have for any weekend getaway, then look no further than the City of Brotherly Love. Whether your palate has a penchant for vibrant Latin American fare or cozy French cuisine, whether you're an oenophile looking to swirl, sniff and sip your way around the globe or you'd rather sample farm-to-glass cocktails, Philly's got it all this fall. (With the exception of Bolo, which is a short taxi or Uber ride away and definitely worth the trip, the rest of these spots are all within walking distance of each other.)
Sponsored Content
Are you looking to enhance your business trip with a little leisure? Look no further than Portugal, a country renowned for its captivating blend of history, culture and natural beauty. And with TAP Air Portugal, you can effortlessly transform your business trip into an unforgettable bleisure adventure. Discover why Portugal and TAP Air Portugal are the perfect combination for an enriching and rejuvenating experience.
From Santoríni to Dubai to New York, some hotels just have that "it" factor that draws visitors far and wide. For some hotels it's their proximity to popular landmarks and attractions, for others it's their amenities. But these hotels have something few can claim: a true room with a view.