ARE DREAMS OF DRIVING a Porsche 911 GT3, a Ferrari 488GTB or a Lamborghini Huracán LP610-4 helping you escape on a rough work day? Can you picture yourself piloting a Land Rover on an obstacle-strewn off-road track? Feel the need for speed while stuck in city traffic? We have the solution. Set yourself behind the wheel of a luxury car or a Formula 1-style race car and turn those urges into reality.
Opportunities to drive ultra-high-end cars on racetracks or country roads, to take Land Rovers off road or to drive race cars at 100-plus mph are plentiful. You can experience these highs for a few hours on racetracks or streets in cities from Los Angeles to Barcelona to St. Petersburg, Russia. Wouldn't it be fun to wrap a trip around a driving experience at resorts such as the Equinox in Vermont, or to combine it with another experience like viewing the northern lights in Finland?
You don't have to be a Porsche owner to attend one of Porsche's programs. The car company operates two Porsche Experience Centers in the United States, one in Atlanta and one in Los Angeles. Both offer a variety of experiences, from piloting the latest models on tracks designed to show how well the cars perform to comparing the way mid- versus rear-engine Porsches perform. At the Porsche Driving School you pilot cars on a track that hosts the Indy Circuit: Barber Motor-sports Park in Birmingham, Ala. Here, Porsche offers an intensive one-day precision driving course and a two-day performance-driving course. If you love to drive fast, the next steps are the masters courses.
Some drivers discover one experience driving a Porsche isn't enough. "I went for the first time six years ago, and it hooked me," says Michael Levy. Since then, he and wife Gina have taken several masters courses. "It's the most fun and excitement I've had as an adult. More specifically, working on nailing a turn and getting better and better and better as you tenaciously focus on improving your line and maintaining consistency throughout the course."
Gina Levy enjoys the courses just as much. "Teaching me the skills, addressing my concerns and most importantly pushing me to believe in myself makes my time at the Porsche Driving School very special."
If you want to get a taste of driving luxury cars around a track or on roads, several companies offer the experience at racetracks and other locations around North America. In most cases you'll get some instruction and safety information before you get into the car and start driving a Lamborghini, Porsche, Ferrari or other exotic auto. If you don't want to actually drive a car, many companies provide the option of sitting in the passenger seat while a professional driver takes the wheel.
Gotham Dream Cars, for example, lets you drive six different exotic cars during its three-hour Dream Car Tour. Choices range from Aston Martins and Bentleys to Ferraris and Lamborghinis. The company also offers the Dream Car Sprint for a quick experience and the Dream Car Dash if you want to rev an engine on a professional racetrack. The company operates in three locations in California, one in Las Vegas and one in New Jersey.
The Xtreme Xperience runs events at 15 racetracks around the country each year in addition to a full-time operation at NOLA Motorsports Park, a 3,200-foot straightaway track in New Orleans. The company's Supercar Xperience lets you race a car for three laps with no speed restrictions, so you could reach speeds in excess of 140 mph.
If you prefer motoring cars over rugged off-road tracks, visit a Land Rover Center. There are 33 worldwide, including ones at The Biltmore in North Carolina, Quail Lodge in California and Le Château Montebello in Québec. After crawling up steep inclines, splashing through streams and navigating log crossings, you'll be pampered at any of these resorts. Options range from a tasting experience to all-day adventures on challenging terrain.
Sometimes, a single ride in a race car can lead to an obsession. Just ask financial analyst David Sear. Five years ago he bought his wife and a friend a racing experience at the Auto Club Speedway in Fontana, Calif. "She's kind of a motorhead and likes to drive fast." Her friend backed out at the last minute, so he went instead. "It was so cool. Who would know that buying her that experience would evolve into something that has literally changed my life?"
After that first ride, he started as a student at Rusty Wallace Racing Experience. "I got my feet wet and got hooked. I went to several tracks and started racing on a half-mile track, then I spent a week at Daytona and became speedway certified." Now he's sponsored by Rusty Wallace Racing Experience and races its car on the ARCA circuit. "I'm a race car driver now. I'm on Fox Sports 1 or 2 and racing with guys that I've idolized."
Several other companies will also put you on a speedway in a NASCAR Nationwide or Cup-style race car. Packages at The Formula Experience let you pilot a Nemesis SC99 Formula or other race cars on tracks from the Atlanta Speedway to the Pikes Peak International Raceway. If racing in an L Mod or Sprint car on dirt tracks intrigues you, book time during one of the Kenny Wallace Dirt Racing days around the country.
If you've thought about making a drive trip through European countries but want someone else to make all the arrangements, contact Autobahn Adventures. The Autobahn Adventures luxury Monaco F1 Grand Prix VIP Tour and the 4 Country Adventure are dream trips for travelers who want to explore parts of Europe self-driving a Porsche. The tours are so popular they fill up quickly, according to Mark Trewartha, who runs the company with wife Tina.
During the all-inclusive, 13-day 4 Country Adventure you'll drive the 2017 Porsche 911 Carrera through Germany, Austria, Switzerland and Italy. This year's all-inclusive, 15-day Monaco tour sold out in three weeks. It includes driving a Porsche 911 Carrera through Germany and Austria, attending the Monaco Grand Prix and sailing on an eight-day cruise on a luxurious yacht.
Trewartha says, "Our guests are primarily Porsche lovers, but our tours appeal to couples who love to travel, enjoy the finer things in life and want to experience Europe from the cockpit of a Porsche 911 sports car. We have built in freedom and flexibility by programming the navigation system in the car with all the destinations. Each couple travels at their own pace to see the things that interest them along the way."
Tom Divilio and his wife, Lisa, enjoyed two tours with Autobahn Adventures. He testifies, "Porsches, people, places and preparations that consistently exceed all expectations."
Luxury watchmaker Roger Dubuis and Chris Welch, who organizes exclusive supercar rallies, put on five über-luxe The Run to Monaco adventures. They arrange to bring travelers' own cars to the starting point (Venice last year) or rent Ferraris or other supercars for travelers who don't own a luxury car. As of press time, details for a 2017 trip have not been confirmed.
Warning: Driving luxury cars on European roads, here in the United States or on a track can be addictive. While some people simply want the thrill one time, perhaps as a birthday present or during a corporate outing, others take it to the extreme. Just ask Sear how he feels when on the track. "I'm maxing out at 165 mph literally inches from the wall in the backstretch. I can't believe I get to do this."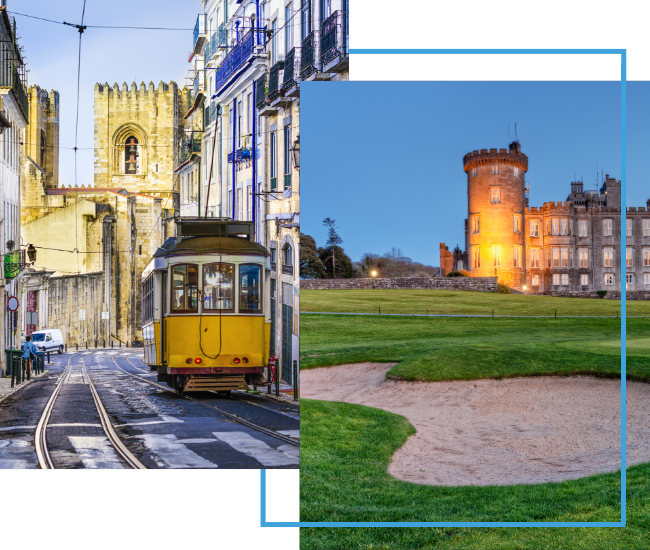 FX Excursions
FX Excursions offers the chance for once-in-a-lifetime experiences in destinations around the world.
Explore Excursions
There may not be snow in Los Angeles this season, but Waldorf Astoria Beverly Hills is certainly full of the holiday spirit, with Christmas, Hanukkah and New Year's events happening in the hotel's gorgeous event spaces.
Sponsored Content
The Saronic or Argo Saronic Islands of Greece call travelers to explore its seven small islands and islets brimming with history, natural sites and more. With most easily accessible by boat, the islands' proximity to ports of Athens make the Saronic Islands an ideal destination for those preferring shorter boat rides. In fact, trips from Athens ports to the islands take only between 10 minutes and two hours, depending on the island you choose, making them perfect for day or weekend trips. From Piraeus port, you can access Hydra, Spetses, Aegina and Poros directly. Come explore these stunning islands with us and find the inspiration to plan your next trip to these islands. Hydra Hydra town curves around a slope overlooking the Argosaronic Gulf like an amphitheater and is considered one of the most romantic destinations in Greece. Most unique to the island is its lack of vehicles. People on the island get around on mules and donkeys as well as water taxis, making for a peaceful and laid-back day. Hydra lies a two-hour ferry ride from Piraeus port in Athens.
Looking for fun things to stuff into the toe of a few holiday stockings? Here are some great choices: