DURING A RECENT TRIP to our aunt's house on the Chesapeake Bay in Virginia, my sister Karen and I sat down with our parents to chat about how they would like to celebrate their 50th wedding anniversary next year.
Not ones for big parties during which the spotlight shines upon them but rather travelers who have hit their stride after my dad retired from the U.S. Army a little more than a decade ago, Karen and I figured the most meaningful celebration we can share with our parents is a trip with our immediate family — our parents, my husband and me, and my sister and her husband and son. In our small familial group, ages range from 9 to 74.
Throughout our time at our aunt's house, and even during our celebration conversation, the thought did not occur to us that we were indeed in the midst of a multigenerational trip; we simply thought of it as our annual family reunion — albeit small, as there are just 14 of us total, including cousins and second cousins — and we were having a blast.
It seems my family is not alone. The definition of multigenerational travel continues to change and blend, just like today's families. According to the "Multigenerational Travel" white paper published by Preferred Hotel Group in 2014, an expanded definition of "family" includes not only the traditional grandparents, parents and (grand)children but extended family as well, including siblings, nieces, nephews and non-relative friends.
AARP Travel research in 2015 found the top five benefits of multigenerational travel included bringing the entire family together, helping build special memories, affording grandparents time to spend with grandkids, quality one-on-one time with family/ spouse, and adult relatives spending time with younger generations. AARP Travel also found "trips including three generations or more are opportunities for loved ones to come together and build lasting memories and connections." The organization expects these types of trips to remain popular in the coming years.
Planning a multigenerational trip is not just up to the adults, either. The aforementioned white paper shows 40 percent of both grandparents and parents say their children "actively participate in or influence vacation planning," specifically with respect to daily activities (77 percent) and deciding which destinations to visit (62 percent).
When my family began chatting about our upcoming celebratory trip, my 9-yearold nephew chimed in that he wants to travel someplace outside of the United States. I quickly reminded him there was much of America he had yet to see — he has not been west of Alabama — but I am confident his voice will be heard and his opinion will be counted … within reason, of course.
One of the tips AARP Travel shares when it comes to planning a multigenerational trip is to choose a destination that suits many interests, which makes absolute sense when considering age ranges. And that may mean taking a guided or escorted tour.
In February 2017 a survey conducted by AAA found the number of American families planning to take a guided or escorted tour is expected to increase 7 percent over last year.
"While many Americans enjoy the flexibility of a road trip, there are some families who prefer the structure and convenience of a group tour," said Bill Sutherland, senior vice president of travel and publishing, AAA. "Many tours are specially designed for multigenerational groups, plus there's no better way to learn about a destination than from a knowledgeable, local guide."
Matteo Della Grazia and Daniela Mencarelli, husband and wife owners and operators of Discover Your Italy, find experiential, active and immersive travel is more often than not at the top of the trip wish list.
"Families are always looking for itineraries which include unique and memorable experiences to share with their families and friends on social media and/ or when they get back at home," said the couple.
They find a good mix of traditional cultural guided tours to sites and museums, along with experiential activities such as a pizza-making class in a real pizzeria in Naples, truffle hunting in Tuscany or Umbria, or gladiators' school in Rome, is key for a successful trip.
At the same time, the pair finds experiences that allow interaction with local communities are gaining in popularity.
"Families are very much interested in trips with a true local feeling that allow them to interact with the local community," they said. "That's why Discover Your Italy offers several experiences that create that sort of interaction, like participation in traditional local festivals where clients mix with locals or dine at communal tables in the streets of villages to live a truly local culture experience."
Another outfitter that caters to multigenerational trips is Cox & Kings, with more than 250 years of history under its belt. Its family-friendly journeys are designed with regard to lodges and activities as well as health and safety issues, timing and suitable age ranges for destinations.
For example, Cox & Kings' 11-day South Africa Family Discovery features swimming with African penguins, riding a cable car to the top of Table Mountain, whale-watching off the coast of Grootbos Nature Reserve, spotting the Big Five in the Madikwe Game Reserve and playing soccer with the local children. This itinerary easily combines cultural, natural and authentic experiences into one trip.
Hans Pfister, president and co-founder, the Cayuga Collection of Sustainable Luxury Hotels & Lodges, with eight properties in Costa Rica, finds multigenerational travel extends into Central America as well.
"We have a lot of families with three generations. Costa Rica has so many activities to offer, so that there is something for everybody," said Pfister. "Surfing and waterfall rappelling and rafting if you want adrenaline, but also soft adventures like birdwatching or visiting volcanoes that do not require physical fitness.
"And then the wildlife is so accessible is great for kids — sloths, monkeys, colorful birds. There are lots of things that families can do together, but they can also easily split up," added Pfister. "Costa Rica's vision in sustainability is something that ties the generations together, and all of this is magnified in our properties."
When you're ready to plan your next multigenerational trip, keep these tips in mind from AARP Travel. In addition to choosing a destination that suits many interests, decide who is paying and how to handle the bills; money isn't always easy to talk about, but having the conversation early in the planning process will make it easier. Be sure to plan for alone time; schedule a one-hour break in the afternoon to relax, whether to read a book, work out, color or take a nap. Lastly, be sure to take a group photo on the trip to share and cherish memories made for years to come.
Oh, and as far as my family's upcoming multigenerational anniversary celebration trip? We're still in the planning phase, but all of our voices will be heard as we narrow the choices to decide upon just the right destination for us.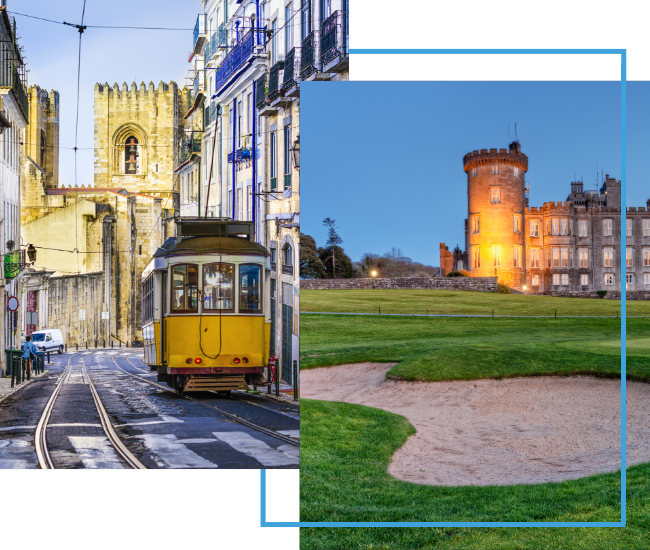 FX Excursions
FX Excursions offers the chance for once-in-a-lifetime experiences in destinations around the world.
Explore Excursions
Travel can take a toll on your body and soul; these products keep you looking (and feeling) good. From a clever shoe that puts a spring in your step (and is effortlessly easy to put on and remove) to a lightweight hair dryer and a night cream that works wonders on tired, dehydrated skin, here are three must-haves to tote on your next trip:
Pleasant weather, autumn foliage and vibrant flowers are among the many delights awaiting nature lovers at botanical gardens and arboretums across the United States. However, some of these green spaces take on additional color this month and through Halloween when enterprising gardeners, landscape architects, management and other creative minds cast a spell with themed environments running the gamut from spooky to utterly bewitching.