In 2004 Lower Makefield Township, Pennsylvania, purchased 168 acres of land that was an original part of the Penn Grant made to Thomas Bond (circa 1718). The stone Manor House on the property is a registered historical landmark and reminds players of the significant history of the area.
Rick Jacobson designed Makefield Highlands Golf Course as a links-style course playing as much as 7,058 yards with five sets of tee boxes. Jacobson pulled from his Swedish roots, loving the outdoors and preserving that native feel here. He has been involved with the designs of many similar courses including Potomac Shores (reviewed in GT September 2016), where he collaborated with Jack Nicklaus. Makefield Highlands and Potomac Shores both seem laid into the earth as if they are a natural feature.
The full-service course has a complete clubhouse, restaurant and bar — which for Lower Makefield (a dry township) poses a bit of a controversy. Offering a liquor license only to the town-owned bar seems a little funny to me, and I am not sure William Penn, Pennsylvania's founding Quaker, would approve, either!
Due to the effects of COVID-19, players must book all tee times online, and no cash is involved. There was confusion about registering and providing your credit card to hold the tee time but still having to pay when you arrive inside the pro shop. I teed up with Christopher Ottaunick (aka Yammi), Mark Lane and Jim Bolger of the Global Traveler Advisory Board. Makefield Highlands is Jim's home course; and although I have played here before, he offered insightful tips on the trickier holes."We are very fortunate to have such a professionally designed and well-maintained course at our doorsteps," Jim said.
HOLE 5
331 yards, par 4
Jimmy instructed us where to hit our drives, adding, "You guys can actually make the green." A short par 4 with the green tucked on the left side, this hole proves a real opportunity to help your scorecard. Obstacles such as bunkers will catch those attempting to send the ball sailing to land on the green in one shot. Yammi ripped one slightly right, actually overshooting the green and remarkably finding his ball in the fescue beyond. That cost him a stroke and a bogey. Jim and Mark must not have had their Wheaties that morning, as they landed short of the green but still carded a par. I was on the lip of the trap, greenside and pin high — unfortunately, the best I could do was chip the ball up and two-putt for par. This fun hole makes you feel like a master of the course.
HOLE 9
513 yards, par 5
A picturesque closing to the front nine features a pond and the original Bond Stone Manor House on the right. I can see why William Penn enjoyed this part of Pennsylvania. I am not sure Jim and Mark enjoyed hacking their merry way to the green! Yammi and I sent a pair of balls favoring the left side of the fairway, perhaps mentally avoiding the water on the right. Both balls, well-struck, landed safely and in good position. We had equally decent 3-wood shots, sending our balls again on the left side of the hole, mine careening farther afield in the fescue. After an extended search, I found the ball and sent a lob wedge to the green. Two putts later, Yammi and I walked off with pars, whereas Jimmy and Mark carded double and triple bogeys — ouch!
HOLE 14
228 yards, par 3
On this truly beautiful hole you can see how Jacobson considered the current natural setting when designing a hole to live within it. It is made more beautiful when you are lucky enough to have a team which lands all four tee shots on or near the green. Any shot off the mark can cause great hardship, with marshy fescue rough in front and trees all around the green. Yammi and I were on point and nailed our shots to the green in regulation, then two- putted for par. Jim and Mark were a little off but recovered nicely. Perhaps one of the most tranquil and beautiful par-3 holes in Bucks County.
HOLE 17
174 yards, par 3
Makefield Highlands boasts really nice par-3 holes. They are challenging; and if you get into trouble, you normally have to pay the price. Hole 17 is well-bunkered but seemed to play a little longer on the day we tackled the course. Yammi hit a nice drive but came up short in the bunker. Mark and Jimmy sprayed their balls around like a pinball machine. I hooked a ball, due to my strong grip, way left and nearly on the road below. While traipsing through the tick- infested fescue I found a Callaway, Top-Flite and other balls, but none of those could be mistaken for my Titleist with the Global Traveler and Trazee logos sitting up high. I took a thrash and the ball lifted high and landed near the cup — much to the shock of the team. "Great shot," exclaimed Yammi. He even gave me the putt!
HOLE 18
445 yards, par 4
A lovely blue sky with just the right amount of clouds greeted us on the final hole of Makefield Highlands. The Stone Manor sits to the left as the hole descends down to a creek which crosses the fairway. Yammi found out this hazard was drivable, but he was fortunate we were all playing two balls off the tee box in a double long drive contest, and we were able to pick the best. My best drive landed just in front of the creek, and from there I tried to muscle an iron to the elevated green but caught the trap — this sent me walking away with a double bogey. Mark decided he wanted to get a closer look at the historic Stone Manor, and sadly that ball will be a part of the structure for years to come. Jim, on the other hand, pulled together a few good shots and carded a bogey. Probably better not to have a long drive contest on 18, moving forward.
We ended the round by socially distancing in the parking lot, enjoying a tailgate with craft beers and a charcuterie assortment.
MAKEFIELD HIGHLANDS GOLF COURSE
1418 Woodside Road
Yardley, PA 19067
tel 215 321 7000
makefieldhighlands.com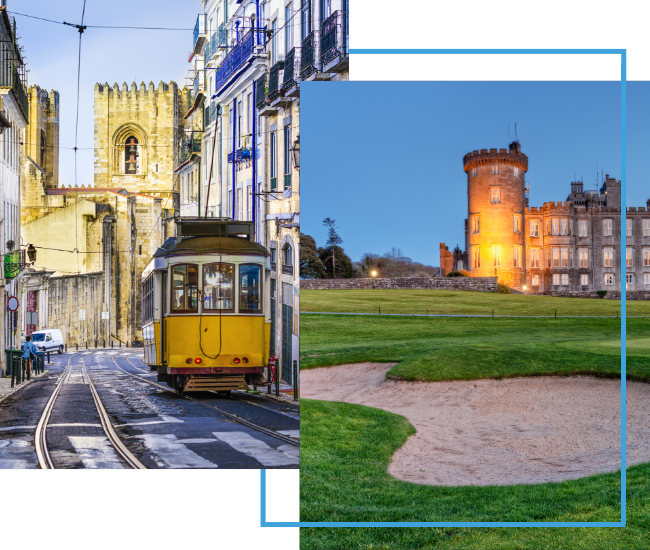 FX Excursions
FX Excursions offers the chance for once-in-a-lifetime experiences in destinations around the world.
Explore Excursions
Mazatlán, Mexico, has long been an attractive home destination for Canadian and American retirees, but, in recent years, young, digital nomads have also discovered the charms of this coastal city, finding inexpensive accommodations, beautiful weather and plenty of bandwidth for working remotely. The laid-back beach scene definitely eases the transition of relocating to Mexico's West Coast.
Sponsored Content
Nashville's once-modest skyline continues to evolve as its luxury market grows. Lavish hotel properties are added to the landscape while acclaimed chefs stake claim in the robust culinary scene and premier cultural offerings round out the city's repertoire.
For its third year, Global Traveler awards the airline, cruise line and hotel brand best representing diversity, equity and inclusion within the travel industry. Over the past year Global Traveler analyzed many airlines, cruise lines and hotel brands to determine which companies prove most committed to changing the world through diversity and inclusion.