Q&A WITH ANGELIQUE PLATAS,
ASSOCIATE EDITOR
In our July/August issue, we discussed the reality of 2020 and adapting travel plans, which inspired the questions: What's next? Are you shifting gears and hitting the road or braving the airline changes? If so, where to? A few readers wrote in with responses:
Our family took our first flight in months to our vacation home in South Carolina, where we could easily self-quarantine and work remotely during an extended stay. Philadelphia International Airport seemed clean and was easy to get through — no long lines or backed-up TSA PreCheck. We wore disposable masks in the airport, changed them regularly and doubled up on the flight with cloth masks just to be safe. We also sanitized our hands, seats and luggage. So far, so good!
JENN NEWMAN, VIA EMAIL
We will not be flying for a while but definitely taking some weekend road trips. My wife and I have been staying local for now but have some near-future plans to rent a luxe RV and explore.
WILSON REILLY, VIA EMAIL
My girlfriend and I have an extended RV, purchased last year. We have national parks mapped out in Wyoming, Montana, Utah and Colorado for the fall.
CALVIN VALDORA, VIA EMAIL
FAMILY STYLE
In our March 3 issue of eFlyer USA we covered the petition hosted by consumerreports.org asking American Airlines, Delta Air Lines and United Airlines to stop charging fees to seat families together. This inspired a few readers to write in with thoughts:
I strongly oppose charging for family seating. I do not want to be responsible for overseeing someone's child on a flight. This is the parents' responsibility, and they should not be charged extra to perform it. Separation can also be a terrifying experience for a child on a flight.
WILLIAM HARNED, VIA EMAIL
Except for emergencies (maybe one or two annually) families should be able to find seats together by early booking. Other passengers should not have to take up the slack because parents didn't plan ahead.
BROOKE HALL, VIA EMAIL
ADDITIONAL SANITATION STANDARDS AT HOTELS
In our April 29 issue of eFlyer USA we discussed hotels, including Marriott, rolling out new cleanliness standards and health policies for guests and staff. We asked our readers: Will a hotel's cleanliness policy play a part in your future travel decisions? How important are these standards to you? What other cleanliness initiatives would you like to see implemented?
Thanks for asking this question! I'd like to see staff wait 72 hours before entering a room that's been vacated (for their safety), then entering to clean the room, then waiting another 72 hours before letting a patron into that room. No, it's not ideal for the hotel business. But my guess is there will be enough empty rooms in the first months after re-opening that this could be easily done, and it would be reassuring to me as a guest to know no one has entered my room for 72 hours, and no one else will enter it (no daily cleaning) while I am staying there. This just might get me to stay in a hotel again.
FRANCESCA KELLY, VIA EMAIL
LETTER TO THE PUBLISHER
After publisher and CEO Francis X. Gallagher sent several travel updates and informative newsletters and before most recently discussing COVID travel experiences in his July/August Publisher's Letter, an avid reader wrote in with similar thoughts and experiences:
Our anticipated trip on the Queen Mary 2 and onward to Mykonos has been put off until next year. Cunard canceled the voyage, but we're going to rebook for next June, taking advantage of the cruise line's 125 percent offer. Cunard has been exceptional communicating with customers and generous in terms of cancellation and refunds. I've been very impressed by its transparency.
Fortunately, we were able to cancel all our hotel and ferry reservations. The Greek government ruled passengers can rebook ferry trips for up to 18 months and, if not used, get a full refund. Hyatt and all our Greek hotels readily refunded deposits or canceled without penalty. And Delta Air Lines replaced our SkyMiles with- out penalty as well — given I have no elite status on Delta, that was unexpected!
We're now left with our U.K. and EU flights to deal with. The European Union requires refunds, but you need to ask. British Airways provides a voucher if we cancel or a full refund if it cancels. But now travelers can rebook through April 30, 2022.
Aegean Air is another story. We had until last Friday to change our reservation without penalty but needed to rebook for flights before March 2021. Otherwise, regular penalties apply. As we had a flexible ticket, additional available options enable us to declare (up to four hours prior to departure) an "open" ticket which would be valid for 18 months with only a €20 per-person penalty.
As we have travel insurance with "cancel for any reason," this should cover this circumstance, at albeit 75 percent. iTravelInsured is allowing a one-time date change to existing policies up to one year due to coronavirus.
We plan to rebook this entire itinerary next year with the hope the pandemic has abated and travel becomes available, enjoyable and safe. Our October trip to Tuscany/Paris/Amsterdam may be in jeopardy. Time will tell.
So, lessons learned: Book your cruise through a trusted and experienced travel agent (I booked through Q Cruise & Travel, a Cunard specialist). Have a good travel insurance policy with a trusted brand (we booked iTravelnsured/Starr through Squaremouth). Choose flexible fares when the price differential is moderate; though more expensive, they provide more options if scheduling goes awry. Know your travelers' rights; while the two EU airlines provided options for cancellation/reimbursement/rebooking, knowing the EU requirements gave us ammunition in the event we were unable to achieve our rebook- ing goals.
JONATHAN M. FUCHS, VIA EMAIL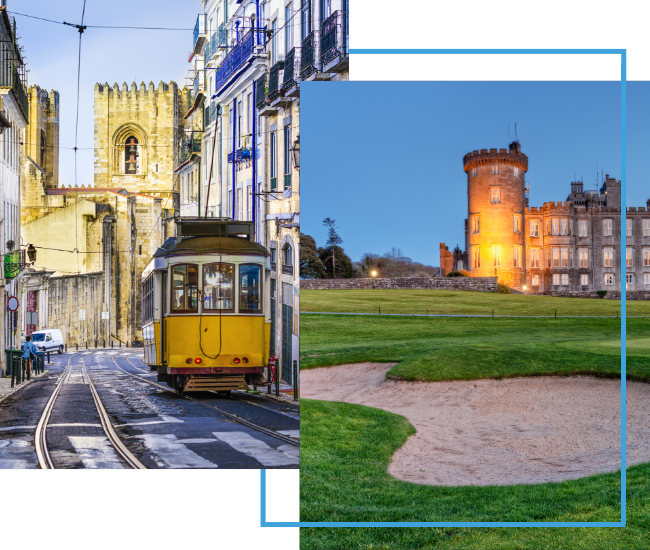 FX Excursions
FX Excursions offers the chance for once-in-a-lifetime experiences in destinations around the world.
Explore Excursions
Corsica with steep, gray cliffs overlooking the Mediterranean and sandy beaches attracting summer visitors, is a French-governed island sometimes confused with Sardinia and Sicily, Italian islands to the south. Fortunately, all three islands share the same love for good wine, food and sun-splashed beaches.
Sponsored Content
Exclusive Sailing with Global Traveler
If you're ready to do a little holiday catch-up with your besties, make a beeline for Conrad New York Downtown. The lobby metamorphosed into a holiday forest of heavenly scented, decorated Virginia Spruce trees. Make your first stop ATRIO Barista Station in the lobby for a complimentary hot spiced apple cider (until Dec. 3) or hot chocolate (Dec. 22­–24).