Arrival/Check-In: I arrived at the hotel on a beautiful spring day to a warm greeting from the Goring's doorman and front desk staff. I was quickly checked in and off to my room, a Belgravia Suite on the second floor (European first) which, although it faced the street, was quiet.
The hotel has been in operation for more than 100 years and is still owned by the Goring family, one of few such hotels in the world. Its understated country house elegance earned it a large number of loyal fans from around the world. During the recent royal wedding, the bride's family took over most of the hotel.
Guest Quarters: My Belgravia Suite was beautifully furnished in the English country house style. The living room featured a fireplace and two comfortable sofas facing each other across a coffee table. The room also included a desk/ console with desktop outlets, one of which was a U.S. outlet, so I did not have to pull out my adapters. There was also a large-screen TV. The bedroom had a king-sized bed, a dressing table and two closets, which included dresser drawers.
The roomy bathroom, marble floor to ceiling, included a wall TV positioned above the huge soaking tub. There was a separate stand-alone rain shower and, best of all, a heated towel rack … I love warm towels! The toiletries were Molton Brown.
Services/Amenities: The Goring has a lovely sunlight-filled restaurant that serves wonderful food: breakfast, lunch and dinner. I had a terrific dinner one night, and I highly recommend it. When I first arrived I was famished; so as soon as I settled into my room, I made a mad dash for the bar, which was still serving lunch. I ordered a club sandwich and a lager. What impressed me was the staff already seemed to know my name (the starving, red-haired man is Mr. Evans), and this was true for the staff throughout the hotel. The bar and lounge are right off the lobby and attractive in a men's-club motif. Both lead into The Terrace eating area, which itself overlooks The Veranda and the Goring's beautiful garden. While I was there, a small and stylish wedding party was enjoying some pre-wedding libations on The Veranda.
The Goring does not have a gym on its premises but offers complimentary membership to a nearby (three-minute walk) LA Fitness club.
The Experience: In addition to being an attractive hotel, what stands out most in my memory is that The Goring's staff are accommodating and quick with a greeting and a smile. They make you feel welcome from the first moment you enter the hotel.
I have several friends who visit London frequently for business and have been saying for years they would never think of staying anywhere else. I must admit I thoroughly agree with them after my two-night stay. The hotel has a great location between Buckingham Palace and Victoria Station, so it is a quick walk or a short cab ride away from theaters, shopping, museums and restaurants. It is on Beeston Place, a quiet street with little traffic.
GT CHECKLIST
[checklist]
[item check=yes]Doorman/valet[/item]
[item check=yes]Less than 10 minutes for check-in[/item]
[item check=yes]Separate tub and shower[/item]
[item check=yes]Large vanity[/item]
[item check=yes]High-quality towels[/item]
[item check=yes]Powerful, unattached hair dryer[/item]
[item check=yes]High-quality bed linens[/item]
[item check=yes]Large, flat-screen television[/item]
[item check=yes]Large desk with convenient outlets[/item]
[item check=yes]Large, complimentary laptop safe[/item]
[item check=yes]Complimentary in-room WiFi[/item]
[item check=yes]Complimentary bottled water[/item]
[item check=yes]Stocked minibar[/item]
[item check=yes]Ample lighting[/item]
[item]In-room coffeemaker[/item]
[item check=yes]Iron and ironing board[/item]
[item check=yes]On-site restaurant[/item]
[item check=yes]24-hour room service[/item]
[item]24-hour state-of-the-art fitness center[/item]
[item check=yes]Turn-down service[/item]
[/checklist]
The Goring
Beeston Place
London SW1W 0JW
United Kingdom
tel 44 20 7396 9000
thegoring.com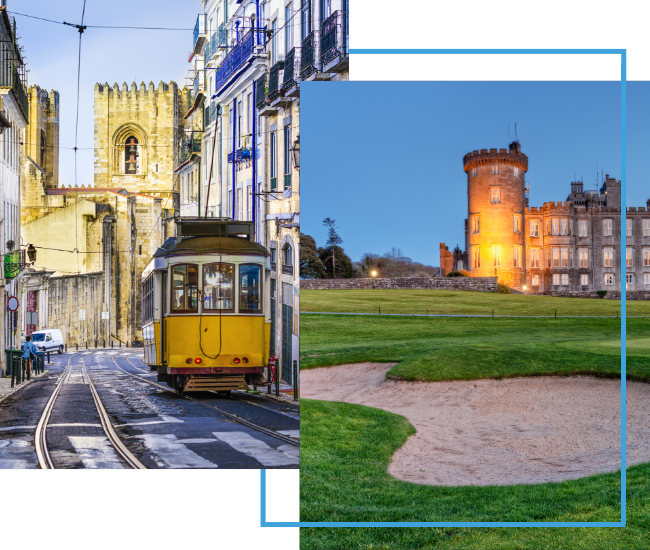 FX Excursions
FX Excursions offers the chance for once-in-a-lifetime experiences in destinations around the world.
Explore Excursions
Pleasant weather, autumn foliage and vibrant flowers are among the many delights awaiting nature lovers at botanical gardens and arboretums across the United States. However, some of these green spaces take on additional color this month and through Halloween when enterprising gardeners, landscape architects, management and other creative minds cast a spell with themed environments running the gamut from spooky to utterly bewitching.
Sponsored Content
United Airlines is in the midst of a major initiative to modernize its fleet over the next several years. After first announcing the plan in 2021, planes fitted with United's signature interior are finally beginning to appear across the airline's narrowbody fleet of Boeing and Airbus planes. United flyers are sure to notice these enhancements from the moment they step on board: Each new or updated plane sports remodeled seats, seatback entertainment screens for everyone, Bluetooth connectivity and more, all adding up to a better experience on every journey.
For travelers who love all things autumn, Crystal Springs Resort, New York City's closest destination resort, features special offers and experiences to meet the demands of everyone's fall bucket list. Located only 80 minutes outside New York City in Sussex County, New Jersey, Crystal Springs Resort offers a quick getaway to enjoy fall foliage. Are any of these new offers or experiences on your bucket list?