Name: Katie Benson
Title: CEO and executive director
Company, city: Langham Hospitality Investments Limited, Hong Kong
Number of employees: Approximately 1,000
Recent project: Recently named CEO of the newly formed Langham Hospitality Investments Limited out of Hong Kong
First job: I was a chef for Grand Metropolitan Hotel Co. in London's West End.
Little-known fact about you: I do kick boxing in my spare time.
Your Business
Essential business philosophy: Hospitality is about people. When dealing with people, either in business negotiations or in more commonplace conversations, it is important everyone involved walks away from every conversation feeling like they gained something from it and that they were heard.
Best way to keep a competitive edge: It's all about information, isn't it? If you have a team motivated to stay abreast of what is going on in the world and to continuously network, to look outside of the company, you will have a competitive edge and stay in tune with your customers' needs and with what consumers are looking for in general, helping you generate new customers.
Yardstick of success: I first felt successful when I became a general manager and my mother stopped asking when I was going to get a real job! My yardstick of success has always been how happy I am in my profession and if I feel I contributed at the end of every day. If you are not proud of what you do, you won't ever feel successful.
Katie Benson as a Traveler
What is the most important item you take when traveling? I take some sort of pashmina or shawl — I get cold on planes and it's cozier than what they give you. I also bring wax earplugs; they cut noise more effectively than the sponge kind.
How do you spend your time on board? I usually do a bit of work but make sleep my top priority, especially on long-haul flights.
What is your favorite restaurant in the world? ABC Kitchen in New York, because it has a relaxed and informal atmosphere while offering high-quality, consistently innovative cuisine.
What is your favorite destination in the world? Melbourne, Australia — my hometown and worth a trip
About Langham Hospitality Investments Limited
What is the mission behind the formation of Langham Hospitality Investments Limited? Langham Hospitality Investments was established primarily to own and invest in a portfolio of hotels, with an initial focus on completed hotels in Asia. The current hotels in the portfolio are managed by Langham Hospitality Group and owned by Langham Hospitality Investments in Hong Kong: The Langham, Hong Kong; Langham Place, Hong Kong; and Eaton, Hong Kong. Our overall objective is to provide unit holders the potential for sustainable long-term growth in the value of the hotel portfolio by seeking new investments, initially in Asia and eventually around the world, as well as stable distributable income.
How does the guest experience vary from one Langham brand to another? Both The Langham and Langham Place brands are committed to providing 5-star luxury service. While The Langham represents a classic heritage brand, Langham Place represents a more modern version of the same level of top-tier service. The Langham represents white-gloved service with poise, whereas Langham Place is about sophisticated, understated elegance. Eaton, our 4-star brand, represents balanced living. Eaton is a very approachable brand created to appeal to a tech-savvy, environmentally conscious traveler who wants friendly, down-to-earth service.
What is on the horizon as Langham continues its expansion into the North American market? The Langham Hospitality Group looks for new opportunities in North America on a regular basis. There are no new developments to announce in the region at the moment, but Brett Butcher, Langham's CEO, and his team are actively on the lookout for additional opportunities in New York and Los Angeles, as well as Washington, D.C.; Miami; and San Francisco, among other locations.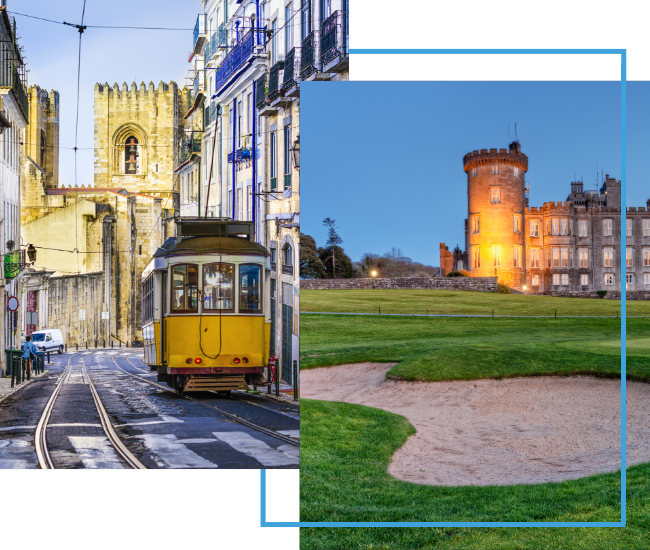 FX Excursions
FX Excursions offers the chance for once-in-a-lifetime experiences in destinations around the world.
Explore Excursions
Less than five years ago the world's first hybrid cruise ship, Hurtigruten Expeditions' MS Roald Amundsen, set sail for Antarctica in November 2019 with 450 passengers. The battery-hybrid-powered ship, named for the first man to cross the continent and reach the South Pole, was built specifically for voyages in polar waters. Its battery-hybrid power reduces the ship's consumption and CO2 emissions by 20 percent compared to equally sized ships.
Sponsored Content
Learning more about our readers' travel habits and preferences ensures Global Traveler delivers the content you desire. As the travel industry has adapted and changed over the last few years, it's more important than ever to connect. To best meet your short- and long-term travel content needs, please help us!
A few months ago, I flew Polaris business class on a United flight from Dulles (IAD) to Paris (CDG). It was only when I got to my hotel in Paris I realized that I didn't have my iPad or its bag or accessories. Since I had been working on it in the restaurant in the Polaris lounge and then went directly to the gate, I knew I either left it propped up on my table when I packed up or in my business-class seat. But what was the best method to alert the airline about my careless mishap and (hopefully) retrieve it? With spotty data and WiFi, searching for information on my phone was frustrating and slow. Here's what I learned from the anxiety-inducing experience (and unexpected ending) about what to do if you leave something behind on your flight: