Airlines Vie with Onboard Entertainment
Expanded in-flight entertainment and connectivity are the keys to airlines'
efforts to woo passengers in 2012. Japan Airlines will offer high-speed Internet
connections on select international flights beginning this summer, installing
Panasonic broadband on Boeing 777s and on routes between Japan and European
and North American gateways, eventually extending to its entire long-range
fleet. Passengers in every class with their own WiFi-enabled equipment will
have broadband Internet. Visit http://www.jal.co.jp.
American Airlines is expanding its in-flight streaming video, already available
on Boeing 767-200 flights and on more than 90 MD-80 aircraft. By year's end,
American expects to have about 400 aircraft where passengers can wirelessly
stream more than 100 movies and TV shows to their own WiFi-enabled laptops,
without having to purchase in-flight WiFi. Visit
http://www.aa.com .
Air New Zealand passengers can use their interactive entertainment system
to plan travel, drawing on the expertise of 45 concierges to answer such questions
as the best way to get from the airport to their hotel and where to find the
best local cuisine. Clicking on the Concierge icon uncovers everything from
the best cocktails to thermal spas, based on the insights of local experts.
Visit http://www.airnewzealand.com. And
proving that airlines have a sense of humor, EVA Air unveiled three new Hello
Kitty-logo jets as it adds the first Airbus A330-300s to its fleet. Fuselages
are painted with images of the irresistible Kitty, and passengers will find
more than 100 character-themed service items, including boarding passes, baggage
stickers, headrest covers, cups, utensils, meals and ice cream. These new
aircraft are configured with 30 seats in Premium Laurel business class and
279 in economy. In-seat AVOD entertainment systems have been upgraded to use
personal devices such as Photo Viewer, PDF viewer and Media Player and offer
a new function to check connecting flights, arrival terminals and baggage
carousel locations.
Small Ships, Big Experiences
Responding to preferences of the well-traveled toward small luxury cruises
with in-depth experiences, Star Clippers sends its four-masted clipper ship
Star Flyer to the Baltic next summer, while Travel Dynamics International
launches new itineraries throughout Eastern U.S. waters aboard its newly acquired
M/V Yorktown . Star Flyer's diverse itineraries call not
only at the popular Scandinavian capitals but also less-visited ports, including
Germany's Baltic islands, nine smaller ports in Sweden and little-known Finnish
and Norwegian towns to explore the region's natural beauty, culture and history.
Three departures coincide with international tall ships parades. Visit
http://www.starclippers.com
The 138-guest M/V Yorktown's summer 2012 itineraries include the
Great Lakes, Hudson River Valley, New England, Maritime Canada, Chesapeake
Bay and Gulf Coast ports and, like Star Flyer itineraries, emphasize
the destinations with longer-than-usual time ashore and expert speakers. Visit
http://www.traveldynamicsinternational.com
.
More Legroom on Delta
Delta Air Lines will introduce Economy Comfort, the premium-economy class
inaugurated on long-haul international flights last year, to its entire domestic
fleet and 250 regional jets. The new seats, in the first rows of the coach
cabin, will have about 34 inches of legroom, three more than in standard economy.
An additional perk for Economy Comfort passengers is priority boarding. The
changeover of all its domestic aircraft is expected to be complete by this
summer. Customers who have already purchased an economy ticket will have the
option of upgrading to Economy Comfort seats at an additional cost. Visit
http://www.delta.com .
Emirates Enhancements
Emirates announced major U.S. expansion plans, adding new services to Seattle
(SEA) and Dallas/Fort Worth (DFW) and a new premium lounge at San Francisco
International Airport (SFO). Dallas/Fort Worth and Seattle-Tacoma International
airports will each be served by daily non-stop flights, beginning Feb. 2 and
March 1, respectively, allowing Emirates passengers from either city to connect
seamlessly to points across the Far and Middle East, India and Africa via
Dubai (DXB). Both will be serviced by Boeing 777 aircraft with private suites
in first class and lie-flat beds in business. The new 9,500-square-foot two-level
Emirates Lounge in the SFO International Terminal's Boarding Area A will offer
first- and business-class passengers individual work stations and complimentary
Internet access, round-the-clock hot and cold dishes and full bar service,
including Champagne.
New Routes Worldwide
Beginning Feb. 11, Swiss International Air Lines will offer new daily non-stop
service between Zürich (ZRH) and Beijing (PEK) and will increase its trans-Atlantic
capacity from March 31 with larger aircraft and daily service on the Zürich–Newark
(EWR) route. The current all-business-class PrivatAir Boeing 737 will be replaced
with a three-class cabin configuration, substantially increasing seating capacity.
Visit
http://www.swiss.com
Through the spring and summer, Delta will add 12 new daily flights between
New York (JFK) and San Juan, Puerto Rico (SJU), as well as to Santo Domingo
(SDQ) and Santiago (STI), Dominican Republic. Delta also will launch new non-stop
service between New York (LGA) and Nassau, Bahamas (NAS). Visit
http://www.delta.com
On Dec. 15, American Eagle Airlines began non-stop seasonal service between
Aspen/Pitkin County Airport (ASE) in Colorado and both Dallas/Fort Worth (DFW)
and Los Angeles (LAX), linking the two cities daily to the world-class ski
resorts of Aspen/Snowmass. Service will continue through April 2, resuming
June 14 through Aug. 20. Visit http://www.aa.com
.
Chic in Chelsea
Offering sleek and stylish guestrooms with beds reminiscent of futons on platforms,
Hôtel Americano opened on West 27th Street in New York's Chelsea. One of a
new generation of city hotels whose success depends on a hip nightlife scene
and a chic urban image instead of a multitude of rooms, Hôtel Americano has
only 56 guestrooms. Along with the French/Latin restaurant is a Mediterranean
grill beside the rooftop pool, a lobby coffee/juice bar and a basement bar
and lounge.
Newest and Greenest
Winnipeg, Manitoba, welcomed its first passengers into Canada's greenest airport,
opened with the completion of the 51,000-square-meter terminal building. The
James Armstrong Richardson International Airport (YWG), named for Canada's commercial
aviation pioneer, is itself a pioneer in airport design with a soaring LEED-certified
terminal. Nearly 108,000 square feet of glass admits natural light to reduce
electric consumption and greenhouse gases by 52 percent, and state-of-the-art
curtain wall ventilation distributes air for maximum efficiency. Arriving passengers
are immediately welcomed to Manitoba's "big sky" as they pass through transparent
boarding bridges into an arrivals hall lit by 55 skylights. Floor-to-ceiling
glass in the departure level provides a nearly 360-degree view encompassing
Winnipeg's skyline. Streamlined check-in allows passengers to use any of the
32 boarding kiosks regardless of carrier and drop off baggage at a common drop
point. Local building and landscaping materials, works of local artists and
local culinary specialties in the restaurants give the airport a distinctly
Manitoba sense of place. Visit http://www.waa.ca .
Streamlined Check-in
Fairmont President's Club members are about to get a new perk — the ability
to check in even before they step in the lobby. The new service, which is
being rolled out in North American Fairmont properties this year, lets guests
check in via laptop, smartphone or any other web-connected device and simply
pick up their room key before settling in their room. Before they arrive at
properties in North America, members of Fairmont President's Club (and guests
of Fairmont Gold) will receive an "I'm on My Way" email with an invitation
to check in online. Guests can provide their arrival time and method of transport;
and when their room is prepared, they will receive a "Your Room Is Ready"
email with directions to the hotel and instructions on where to pick up their
room key. Before the close of their stay, Fairmont President's Club guests
receive an email allowing them to check out online and receive their receipt
by email. Already in some locations, the program will continue rolling out
throughout 2012. Visit http://www.fairmont.com
.
Bonus Down Under
Book a trip to Australia with American Airlines Vacations before Feb. 28 to
earn up to 30,000 American Airlines AAdvantage bonus miles. The longer the
stay, the more AAdvantage miles earned: A stay of seven to nine nights earns
10,000 Bonus Miles; 10 to 13 nights earns 20,000; and 14 nights or longer
earns 30,000. To qualify, trips must include both flights and hotel and use
the promo code AUSSIE.
Amtrak Partner News
Book a car rental from Enterprise Rent-a-Car at one of more than 6,000 locations
in North America before March 31 and earn triple Amtrak Guest Rewards points
for each day. Car rentals do not have to be in conjunction with Amtrak travel.
In other Amtrak Guest Rewards' news, although Dec. 31, 2011, was the last
day Amtrak Guest Rewards members could convert Continental OnePass miles to
Amtrak Guest Rewards points, a new Amtrak partnership with the United MileagePlus
program is in the works.
At Home in Rome
Through March, Bettoja Hotels' four properties in central Rome — Hotel Mediterraneo,
Hotel Massimo D'Azeglio, Hotel Atlantico and Hotel Nord Nuova Roma — are luring
travelers with offers that tempt the palate and intellect as well as the wallet.
The Art and Culture City package offers free entrance tickets to various museum
exhibits throughout Rome, 10 percent off the best available rate, a daily
newspaper, a guidebook, welcome drinks, a 15 percent discount on meals at
two restaurants, free WiFi and buffet breakfast daily with a two-night minimum
stay. The Winter Gourmet package includes two nights at any of the Bettoja
properties, one dinner for two persons, a welcome drink and buffet breakfast
daily. All the Bettoja Hotels offer last-minute and advance booking specials
and reductions for more than three nights. Visit
http://www.bettojahotels.it .
Park, Sleep, Fly
Hyatt Regency San Francisco Airport – Burlingame offers the Best of Class
Park-Stay-and-Fly package through March 12, featuring a night's accommodations
in a spacious guestroom, a complimentary 24-hour shuttle to and from San Francisco
International Airport (SFO) and free parking for up to 10 days in a covered
lot, all at rates as low as $129. Parking in excess of the included 10 days
is only $10 per day, for a total maximum of 20 days.
B&B & Golf
Kiawah Island Golf Resort, just south of Charleston, S.C., offers a winter
Bed & Breakfast special for both The Sanctuary oceanfront hotel and the
resort's villa accommodations through Feb. 29. Along with breakfast for two,
the package includes a space-available room upgrade to an ocean-view room
or deluxe villa. Set on 10 miles of pristine beach, Kiawah Island Golf Resort
includes a spa, two tennis centers and five championship golf courses, including
The Ocean Course, host of the 2012 PGA Championship. Visit
http://www.kiawahresort.com .
Deal in Dublin
The Merrion in Dublin welcomes guests with its Winter Escape — a special overnight
rate with full Irish breakfast — or a Pampering Getaway that also includes
a one-hour treatment in The Merrion's Tethra Spa. Both packages are valid
through Feb. 29. The Merrion is known for the outstanding art displayed throughout
the hotel, the largest private collection in Ireland outside of the National
Gallery. Visit http://www.merrionhotel.com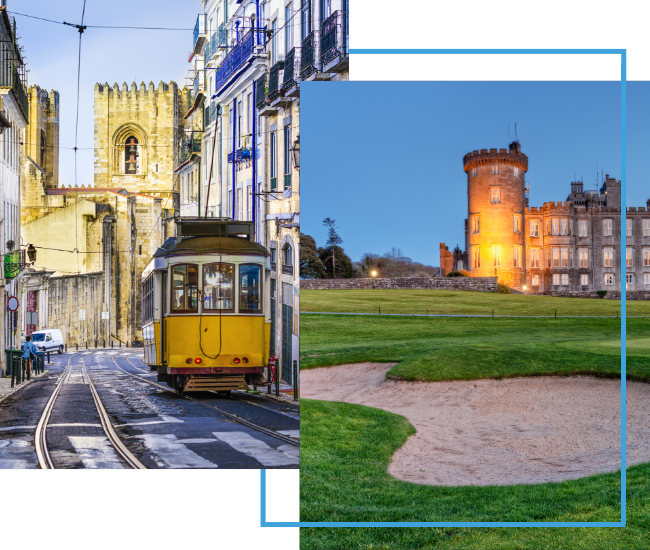 FX Excursions
FX Excursions offers the chance for once-in-a-lifetime experiences in destinations around the world.
Explore Excursions
Ideally positioned in Chicago's enticing River North district within a beautifully restored 1920's Art Deco structure, Freehand Chicago is surrounded by shops, museums, galleries and restaurants. The holiday season is the perfect time to visit — snowy cityscapes and glittering lights set the scene for shopping along the Magnificent Mile and State Street. Leisure time offers the opportunity to bask in the brisk winter air while ice skating in Millennium Park at McCormick Tribune Ice Rink. Complimentary ice-skating lessons are offered each weekend and on some winter season public holidays.
Sponsored Content
Are you looking to enhance your business trip with a little leisure? Look no further than Portugal, a country renowned for its captivating blend of history, culture and natural beauty. And with TAP Air Portugal, you can effortlessly transform your business trip into an unforgettable bleisure adventure. Discover why Portugal and TAP Air Portugal are the perfect combination for an enriching and rejuvenating experience.
Think of Tokyo and your mind may wander to the neon signs and bustling crowds of Shibuya and Shinjuku, or the tranquility of the Meiji Jingu shrine, but this huge city offers much to those who explore away from the main tourist areas.