Bluesmart Luggage
Introducing the world's first smart luggage, a high-tech carry-on cool and connected enough for James Bond. Its included app offers a host of built-in features such as locking and unlocking from your phone. Sensors alert you if you're separated from the suitcase, location tracking finds it if it's re-routed, and a powerful built-in battery charges your devices. With a built-in digital scale, Bluesmart weighs itself, and the app generates real-time reports with data from your trips including miles traveled, airports visited and time spent in each country. A special three-layer polycarbonate provides lightweight strength while a specially designed compartment protects your laptop and tablet. $319.
bluesmart.com
Zolt Laptop Charger Plus
Billed as the world's smallest, smartest, lightest laptop charger at 3 inches long and weighing 3 ounces, Zolt isn't much bigger than a tube of lip balm but can charge your laptop and two other mobile devices simultaneously. Its stacked trio of USB ports and folding prongs make it especially space-savvy, rotating up to 90 degrees to fit into tight spots. Zolt's Efficient Resonant Control technology determines and delivers the exact amount of charging power your device needs within the manufacturer's specifications to preserve battery life. The included cable and interchangeable tips fit most PC laptops (Macs require an optional power cord). $79.99.
gozolt.com
Connected Cycle Bike Pedal
This first-of-its-kind innovation turns your bike into a smart ride — poised to make bike theft a thing of the past by instantly notifying you if your bike's been moved and locating it at any time. It automatically records the speed, route, incline and calories burned on each ride and sends the data to the Cloud, where you can access it via a companion smartphone app. The aluminum pedal generates its own Internet connection (no need to charge a battery or carry your smartphone). Install in less than two minutes — no mechanical skills required — and use a special coded key to remove it. Sold in pairs of various colors. Available this summer. Price TBD.
connectedcycle.com
Clio Invisible Speaker
Sure to be hailed as a revelation by aesthetes everywhere, the world's first nearly invisible speaker — named after one of the nine goddesses of music, song and dance — produces surround sound from an ultra-thin, transparent, curved acrylic glass membrane. Unlike traditional cone speakers that push sound in one direction, Clio produces sound from both sides using cutting-edge technology that stimulates the sides of the glass. Built-in wireless Bluetooth connectivity lets you place it just where you want and move it without the clutter of unsightly wires, and wirelessly streams audio from your smartphone, tablet or any Bluetooth-enabled device. $349.
clearviewaudio.com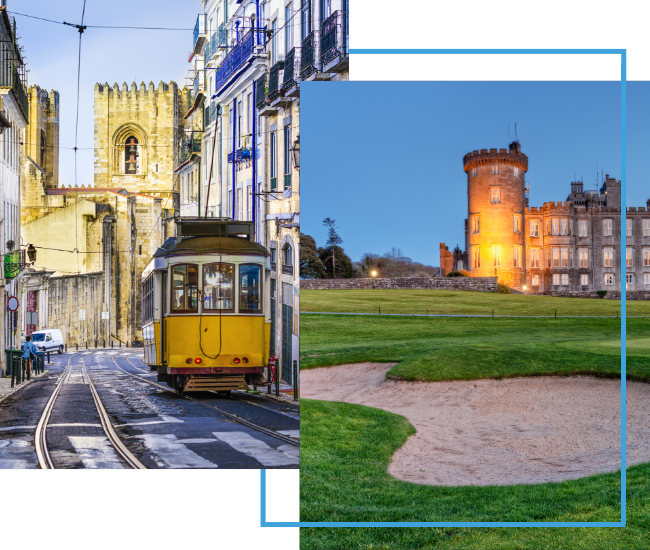 FX Excursions
FX Excursions offers the chance for once-in-a-lifetime experiences in destinations around the world.
Explore Excursions
In addition to intimate settings, smaller staff-to-passenger ratios, and personalized food and beverage options, river cruises have the advantage of providing a deeper dive into a region's culture, food and history. The Rhine, Rhône and Danube in Europe and the Mississippi River and St. Lawrence in North America have much to offer travelers with their itineraries, tying together beloved cities and lesser-known destinations along their routes.
Sponsored Content
In an increasingly digital and interconnected world, the Global Business Travel Association (GBTA) Convention remains an indispensable platform for business travel industry professionals seeking to make the most of the power of face-to-face connections. Taking place August 13–15 in Dallas, the 2023 GBTA Convention provides the unique opportunity for professionals and companies to join visionaries, thought leaders and industry experts for meaningful networking, cutting-edge insights and inspiring innovation.
With the holidays right around the corner, travelers are preparing for holiday travels. For those looking for a last-minute getaway filled with holiday cheer, consider Croatia. With a variety of winter activities perfect for travelers and locals alike, the Christmas countdown in Croatia is in full swing. Leading up to Christmas, Advent in Croatia makes it even more worth your while to visit the country with free winter incentives. If you plan on visiting Croatia, here are five cities going all out for the holiday season: