Name: Lars Redeligx
Title: Chief commercial officer
Company, city: Brussels Airlines; Brussels, Belgium
Number of employees: 3,500
Recent project: Our new commercial strategy will bolster the company against the ever-increasing low-cost competition in the Belgian market, offering 21 new destinations to attract business and leisure travelers at low fares but with high-level service. Soon we'll launch a new frequent-flyer program for the not-so-frequent traveler.
First job: A trainee in Beiersdorf, the German company that makes Nivea and much more
Little-known fact about you: When I travel, I kitesurf wherever possible. From New York to Dubai, Norway to Vietnam, I get to know places from the water.
Your Business
Essential business philosophy: Customers don't want compromises, neither on price nor on service.
Best way to keep a competitive edge: Build a strong team of people who like to challenge the status quo. Travel with open eyes and an open mind.
Yardstick of success: Brussels Airlines' return to profitability in 2015
Lars Redeligx as a Traveler
What is the most important item you take when traveling? Contact lenses — I forgot them once.
How do you spend your time on board? Talking to crew and customers. I work when necessary and take a break when possible.
What is your favorite restaurant in the world? Perry's Beach Club in Renesse, Holland, is a great place to be with family in summer.
What is your favorite destination in the world? Hamburg, my hometown, by the harbor, and New York
About Brussels Airlines
Brussels Airlines is recognized for its premium onboard food and beverages. Tell our readers about these innovations.
We want to do more than just fly from A to B. Our vision is to build a personal airline — almost boutique — that brings people together and makes traveling a pleasure, and we have invested in our in-flight product, catering and ground services. Our entire Airbus A330 long-haul fleet is now equipped with a state-of-the-art cabin. Business class is exclusive and club-like with only 22 or 30 lie-flat seats. Economy features ergonomic seats with a generous 31- to 32-inch seat pitch and the same state-of-the art in-flight entertainment as in business. We are a flying ambassador of the well-known Belgian gourmet cuisine, part of our "Belgitude" approach offering a "Best of Belgium" experience and hospitality. Our guests traveling long-haul business class not only choose from fine-dining options prepared by Michelin-starred Belgian chefs but also, starting this year, can discover eight different Belgian special beers from a beer card created by our in-house beer connoisseur. Guests can also enjoy great Belgian chocolates and cookies.
Our clients and international experts welcomed these efforts. We are proud to have won Global Traveler's Wines on the Wing competition three times in a row and to have been voted Best Trans-Atlantic Airline last year. These awards inspire us to continue our investments in quality.
What does Brussels Airlines offer premium business travelers?
Brussels offers smooth connections between the United States and Europe as well as Africa. If you connect from a Schengen Area destination to the United States, terminal walking distances are 325 feet or less. In Brussels, we opened our new flagship lounge "The Loft," which redefines the standards of a business lounge with "Belgitude," an outstanding customer experience and the world's first digital offer in cooperation with Microsoft.
What's in store for Brussels Airlines in 2015, particularly in North America?
We have great news for guests traveling with us between Brussels and Washington, D.C., as they can now enjoy more onward connections to dozens of Brussels Airlines destinations in Europe and Africa or to U.S. gateways. We continue to operate our popular daily service between Brussels and New York JFK. For U.S. clients who wish to spend summer holidays in Europe, Brussels Airlines and our convenient home base Brussels Airport offer ideal gateways, extending our network this summer with several exciting destinations and increased frequencies on existing destinations. We are also convinced U.S. travelers will appreciate our new onward smooth and comfortable connections between Washington, D.C.; New York; and Tel Aviv via Brussels Airport.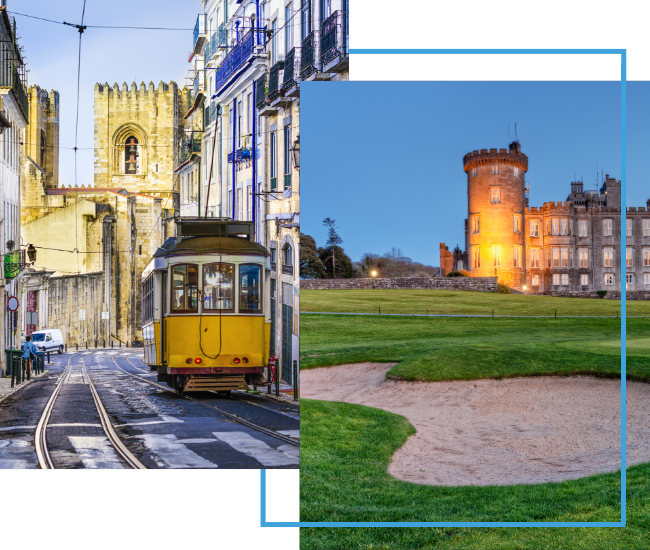 FX Excursions
FX Excursions offers the chance for once-in-a-lifetime experiences in destinations around the world.
Explore Excursions
If fabulous food and beverages are a must-have for any weekend getaway, then look no further than the City of Brotherly Love. Whether your palate has a penchant for vibrant Latin American fare or cozy French cuisine, whether you're an oenophile looking to swirl, sniff and sip your way around the globe or you'd rather sample farm-to-glass cocktails, Philly's got it all this fall. (With the exception of Bolo, which is a short taxi or Uber ride away and definitely worth the trip, the rest of these spots are all within walking distance of each other.)
Sponsored Content
One affordable plan can protect an entire year of trips: business or pleasure, short or long, domestic or international.
From Santoríni to Dubai to New York, some hotels just have that "it" factor that draws visitors far and wide. For some hotels it's their proximity to popular landmarks and attractions, for others it's their amenities. But these hotels have something few can claim: a true room with a view.