Guangzhou has focused on "strictly business" since the city's early years as the major port of the southern Silk Route and in the 17th to 19th centuries as a major harbor of European trade. The foreign outpost on Shamian Island still exists today but principally as a historic district of graceful parks and colonial buildings. Business activity in China's third-largest city transferred to three principal areas of town: the gigantic sprawling exposition area which is the site of the two giant annual Canton Fair trade shows; the traditional midtown Tianhe business district; and, most recently, the extensive ultramodern riverside Zhujiang New Town, being created to accommodate high-rise office towers housing Fortune 500 companies from around the world.
While the business of Guangzhou is business, foreigners who come to work in town are advised to soften the Western approach of forthrightly "getting down to business." Cultural competence calls for observing Chinese guanxi, a more graceful approach with a dynamic based on personalized networks. Developing relationships is an essential prelude to commerce, and facilities around town are designed to accommodate that practice with elegant venues for fraternizing, impressing clients at private meals and receptions.
Since 1957 Guangzhou has been the site of the China Import and Export Trade Fair. Held twice a year, it boasts the highest assortment of products, attendance and resultant trade deals of any other show in China. Those attending the annual "Canton Fairs" will find staying at the Shangri-La Guangzhou ideal. The only off-site hotel located adjacent to the mammoth Guangzhou Baiyun International Convention Center, it combines business services with the comforts of an urban resort. Within walking distance of the 12-million-square-foot sprawl of the convention halls, the Shangri-La spares guests the wear and tear of hailing taxis and wasting time in traffic. During the spring and fall shows, its expansive marble lobby is mobbed to such an extent hotel executives do "double duty" — the hostess escorting you to your seat in its comfortable Lobby Bar may be the director of marketing and communications.
Dinners served in Shangri-La's elegant Summer Palace restaurant impress local clients, and casual dignitaries may get a kick out of sampling authentic North Carolina barbecued spare ribs or Peking duck pizza at its popular down-home RIBS café. Poised on the riverfront, the hotel's park and poolside deck opening off the Lobby Bar provide ideal sites for business cocktail receptions and buffets in a verdant setting, a convenient and welcome escape from the convention chaos next door.
After the decline of Shamian, the city's Central Business District became Tianhe, the heart of Guangzhou's shopping, dining and entertainment venues, these days bustling with familiar chains like KFC, IKEA, Pizza Hut and H&M. Airlines and other established businesses still operate from this locale, and the Hilton Guangzhou Tianhe is an elegant find in the busy commercial district. Past its expansive outdoor fountain pool, the cool marble lobby offers a gracious refuge from all the streetfront activity. Its Sui Xuan restaurant can serve Cantonese cuisine in 13 private dining rooms, and Italian-themed Il Ponte includes two private suites for a business lunch or dinner. Its soothing, neutral function rooms can host meetings, and the pillarless ballroom impresses for large, seated meals. Steps away around the corner is the Guangzhou East Railway station and metro stop; from here, the No. 3 line takes you to Baiyun Airport in about a half hour for just more than $1.
A few stops farther along metro line No. 3 lies a warren of shops and cafés under the giant towers housing local and overseas corporations in Zhujiang New Town, the concentration of office buildings and luxury hotels purposely built as the city's new Central Business District. Covering two and a half square miles, a central plaza stretches nearly a mile south to the Pearl River, where a group of monumental municipal structures anchor the district: the Guangzhou Library, Guangdong Museum and the sweeping, freestanding concrete ''double boulder'' Guangzhou Opera House designed by noted architect Zaha Hadid.
Steps away, a cluster of international 5-star hotels accommodate visitors. On the street level and lower floors of a tapering tower beside the library, The Ritz-Carlton boasts traditional décor with opulent brocades, upholstered club chairs, golden tassels, dark wood cabinets and Oriental carpets, with a large marble central lobby fountain. For entertaining, Lai Heen restaurant serves some of the city's finest Cantonese cuisine in curvy booths which provide desirable privacy.
Literally above the fray, the Four Seasons — "an icon of style in the sky'' — occupies floors 74 to 98 of the 103-story Guangzhou International Finance Center, one of the world's tallest buildings. Coolly elegant, the hotel's gray and white décor seems to merge with the clouds outside the windows. Besides its all-day Japanese and seafood restaurants, Yu Yue Heen serves a Chinese/Cantonese menu in the main restaurant room and in eight private rooms under giant crystal chandeliers, all with magnificent views when unobstructed by clouds.
At the nearby Grand Hyatt, even competitors laud the cuisine. Locals stand in line on weekends to partake of The Market Café's magnificent buffet, where chefs at eight open-kitchen stations chop vegetables, crack crabs, simmer soup, slice beef, heap lobsters and spoon ice cream. It's an extravagant event, and hosting guests with an advance reservation makes a favorable impression. Hyatt's The Penthouse serves authentic Cantonese cuisine; its 12 exclusive private dining rooms are designed with sofa seating areas, libraries and other residential features. The Grand Hyatt also provides impressive outside catering for tailor-made events, with Apple, Dior, Martel and Porsche among the firms engaging hotel chefs to create menus for events at the Opera House and other local landmark sites.
Companies attending Canton fairs are advised to reserve ahead, almost as soon as one fair concludes, with discounts up to 35 percent for early bookings. Regular business is best conducted between fairs, when local hotels and facilities aren't overcrowded and impressive venues are easy to book.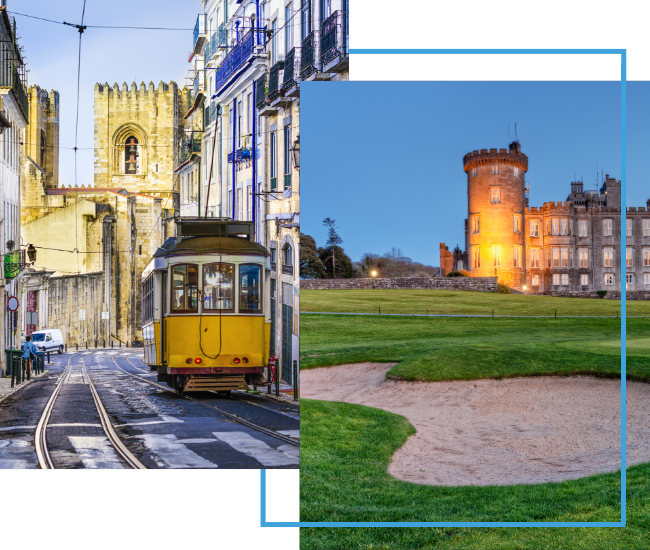 FX Excursions
FX Excursions offers the chance for once-in-a-lifetime experiences in destinations around the world.
Explore Excursions
Imagine yourself lounging in a stone cottage suite with a fireplace and freestanding tub, sipping hot chocolate in a rustic game and reading room with a raftered ceiling, and ice skating and cross-country skiing in the crisp mountain air. Sounds pretty perfect, doesn't it? Especially when you add in seasonal touches.
Sponsored Content
Learning more about our readers' travel habits and preferences ensures Global Traveler delivers the content you desire. As the travel industry has adapted and changed over the last few years, it's more important than ever to connect. To best meet your short- and long-term travel content needs, please help us!
For the first time in Olympic history, when the 2024 Summer Olympics kick off on July 26, 2024, they will not do so in a stadium. Instead of an Olympic venue, the entire city of Paris will become the Olympic stadium, hosting the games among monuments, on bridges and on the grounds of some of the world's most historic sites. The Opening Ceremony will take place on the River Seine, where athletes will drift along on a flotilla of boats as spectators wave them on from the quays and bridges throughout the city.