Not unlike many cities in North America, the wide streets of downtown Salt Lake City used to be practically deserted once the business day ended. Workers might stay late to catch a performance of the Mormon Tabernacle Choir or have a business dinner at Christopher's Prime Steakhouse, but few options lured people to the downtown corridor.
Fast-forward two decades, and Salt Lake City has become one of the country's most desirable cities in which to live, a low-key version of Denver surrounded by similar majestic peaks. With its proximity to Alta, Snowbird and Park City and the promise of a healthy lifestyle, Salt Lake City experienced a population explosion spurred on by folks yearning for a better quality of life. No longer is the city, home to the headquarters of the Church of Jesus Christ of Latter-day Saints, lacking in diversity. In fact, almost half the population of 170,000 is not Mormon. An ethnic population hovering around 35 percent led to an explosion of indigenous fare and a growing reputation as a foodie destination. Even a thriving bar scene emerged.
Most locals point to the success of the two-year-old open-air shopping center, City Creek, as a key component for the recent revival of Main Street. The $2.3 billion redevelopment features outdoor walkways that connect stores like Nordstrom and Macy's with fountains, fireplaces, waterfalls and creeks stocked with fish.
"The retail is essential, but equally important is that City Creek brought us 900 units of housing. More urban dwellers after dark is the catalyst that spurs on a renewed vibrancy for all," says Scott Beck, CEO, Visit Salt Lake.
City Creek inspired a resurgence of restaurants and bars downtown, with more than 40 new venues opening since 2012. At spots like The Copper Onion, you'd be wise to make a reservation since wait times can be long, especially for Saturday brunch. The innovative fare stems from the chef and owner, who honed his talent at restaurants in New York for close to a decade. At Naked Fish Japanese Bistro, take off your shoes, grab one of the sunken tables and get ready for some of the freshest sushi in the Southwest. The chef gets his tuna, salmon, yellowfish and oysters shipped daily from San Francisco. The lightly fried tempura offers a good sushi alternative.
Ty Burrell, who plays a loving father on the hit television comedy Modern Family, opened the simply titled Beer Bar in April. Set in a beer garden that evokes the feeling of the Hofbräuhaus, the restaurant serves 150 varieties of beer, best washed down with a housemade bratwurst and Belgian fries. Burrell also owns the cocktail bar next door, Bar X.
An integral part of the vibrant downtown scene is the 679,000-square-foot Salt Palace Convention Center, one block from City Creek. Atop the facility is one of the nation's largest rooftop solar panel arrays (more than 6,000 panels), installed in 2012 and offsetting approximately 1 percent of the center's annual electric consumption.
Recently passed legislation paved the way for a new convention hotel, a 1,000-room property adjacent to the Salt Palace. The developer will be selected in early 2015, with construction beginning shortly thereafter. In the meantime, two new properties adjacent to the Salt Palace will open within a year. The Hyatt House Salt Lake City/ Downtown, a 157-room extended-stay lodging, plans to debut in November. Opening next spring or early summer is a 175-room Courtyard by Marriott.
The opening of the Airport TRAX light rail line in April 2013 made traveling to and from the airport a breeze, providing a 20-minute trip and costing only $2.50. Salt Lake City International Airport just broke ground on a $1.8 billion overhaul which will boast a brand-new terminal when finished in 2022. The existing airport, built to handle 10 million passengers annually, already sees twice that number, with anticipated growth to 23 to 24 million passengers once the renovation is complete.
Also on the horizon, a new 2,500-seat performing arts center, the Eccles Theater, will host touring Broadway shows, concerts and comedy acts when it opens in 2016, smack dab in the heart of downtown.
The Natural History Museum of Utah reopened in a new building in 2012 next to Red Butte Garden in the foothills of the Wasatch Range. With its wealth of Native American culture, active dinosaur digs and fascinating geological formations at five national parks in the southern part of the state, it makes perfect sense that Utah hosts one of the country's finest natural history museums. Enter the stylish building to see colorful Navajo baskets, beaded Paiute jewelry and a floor devoted to dinosaurs. You can even peer through a window and watch a paleontologist clean the fossilized bone.
Dine and shop with locals at one of the emerging residential neighborhoods on the edge of the downtown corridor. At the intersection of 900 East and 900 South streets, the 9th and 9th neighborhood was once a favorite of University of Utah professors. Lately, it's re-energized by an influx of young couples and families lured by its two-story bungalows and Victorian houses.
When the weather is nice, the sidewalks hum with people sipping lattes at Coffee Garden; strolling to Middle Eastern or Thai restaurants or the acclaimed farm-to-table establishment Pago; catching a movie at the arthouse Tower Theatre; and shopping for orchids, purses, gifts and stylish outdoor wear. Since Salt Lake City is considered one of the sunniest major metropolises in North America, your chances are good the weather will be sublime.
SCENIC DRIVES
Park City might have scored Olympic gold, but it was silver that built this city. The mineral was discovered in the surrounding hills in 1868, and soon thousands of miners arrived seeking their fortunes. Two- and four-story buildings line the historic Old Town district, evoking those bygone days. It's easy to imagine a rowdy miner swinging out the doors of the No Name Saloon, only to be arrested by the local sheriff and thrown into the Territorial Jail, downstairs in the Park City Museum. Both sites still exist, along with 62 additional buildings on the National Register of Historic Places.
The drive from Salt Lake City to Park City is only 40 minutes via I-80 East. A far more scenic route is to head southeast of downtown toward the Wasatch Mountains and drive up Big Cottonwood Canyon (where Solitude and Brighton resorts are located). Between the two resorts, take a small road to Guardsman Pass and down the back side into Park City. Finish the loop by heading back on I-80 West.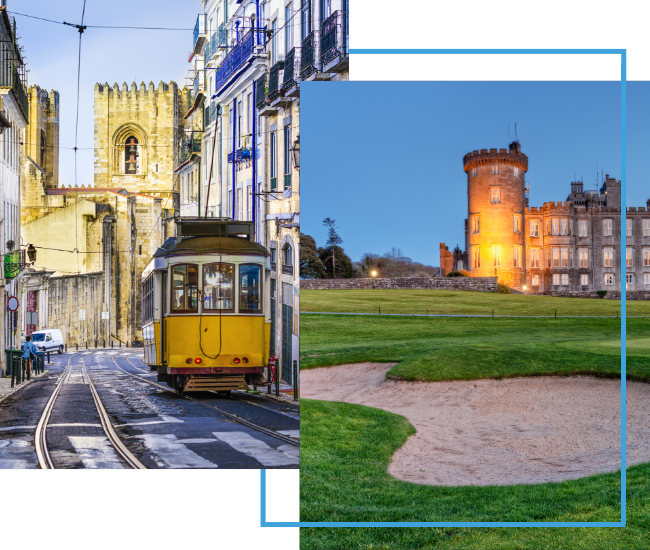 FX Excursions
FX Excursions offers the chance for once-in-a-lifetime experiences in destinations around the world.
Explore Excursions
There may not be snow in Los Angeles this season, but Waldorf Astoria Beverly Hills is certainly full of the holiday spirit, with Christmas, Hanukkah and New Year's events happening in the hotel's gorgeous event spaces.
Sponsored Content
In an increasingly digital and interconnected world, the Global Business Travel Association (GBTA) Convention remains an indispensable platform for business travel industry professionals seeking to make the most of the power of face-to-face connections. Taking place August 13–15 in Dallas, the 2023 GBTA Convention provides the unique opportunity for professionals and companies to join visionaries, thought leaders and industry experts for meaningful networking, cutting-edge insights and inspiring innovation.
Looking for fun things to stuff into the toe of a few holiday stockings? Here are some great choices: