Despite the British having their way in Hong Kong for more than a century, Chinese culture still dominates the city's society. Though English is an official language, along with Cantonese, my initial explorations revealed that a surprising number of people in Hong Kong don't speak a lick of English. Indeed, in some areas I was hard-pressed to find signs or menus in anything other than Chinese characters. Even more evident to the newly arrived is the overriding cultural presence of feng shui. The Chinese here are tuned in to spiritual harmony to the point of paralyzing superstition, so every building of note – if the designers know what's good for them – is planned inside and out under the careful guidance of a feng shui master. What's more, as feng shui equilibrium is subject to minor fluctuations annually and even monthly, these gurus do a brisk business keeping Hong Kong balanced. True story: Hong Kong's previous governor, Tung Chee Wah, who stepped down in March, refused to live in the governor's mansion. His reasoning? The negative aura of the nearby sharp-edged Bank of China building, a decided affront to feng shui, cut right through the residence.
I loathe using the tired metaphor "forest of buildings," but when discussing Hong Kong there's just no avoiding it. Astounding numbers of skyscrapers line the waterfront of northern Hong Kong Island and sprawl across the steep ascent to Victoria Peak. In any other city this arrangement would likely be off-putting, but the aforementioned feng shui and the care that go into designing these structures make the view of Hong Kong unexpectedly appealing day or night, though my vote goes for night. Many buildings are illuminated by lighting schemes designed to draw a little extra attention after the sun goes down. These efforts come together in the collaborative "Symphony of Lights" performance at 8 each evening, when 20 buildings along a mile-long stretch of Hong Kong Island take center stage in a 15-minute laser-light show set to music. During holiday celebrations – and with Hong Kong observing both Western and Asian holidays, there are plenty of them – dazzling pyrotechnics are added to the show.
While the tip of Kowloon Peninsula is the ideal position from which to absorb the glass-and-metal splendor of Hong Kong Island, I found the vista-to-end-all-vistas on Victoria Peak, 1,810 feet above the harbor. Although you can make the climb on foot, I opted for the less punishing tram, in operation since 1888, which conveys the bulk of the peak's 6 million annual visitors. Once at the top, I had the choice of walking a little farther west to the absolute highest point, ducking into the wok-shaped Peak Tower with its variety of viewing terraces or, no joke, stepping into the conveniently located mall for all my Victoria Peak shopping needs. Morning is the best time to ascend the peak, as clouds typically roll in by afternoon. Weather can fluctuate wildly at the top, so monitor the forecast or risk having your view obscured by a renegade cloud.
Depending on your aesthetic preferences, Hong Kong is either a shopper's paradise or a frenzied aural and visual assault of uber-commercialism. As in most Asian cities, all Hong Kong neighborhoods have root characteristics that sum up their offerings. Here's a sampling: Mong Kok, bustling with residential and shopping activity; Yau Ma Tei, same but even more shopping; Jordan, pubs, topless bars and shopping; Tsim Sha Tsui, hotels, tourists and shopping; Causeway Bay, crazed, high-end shopping. If you're after a less extravagant shopping excursion and don't mind a bit of culture shock, a day trip to the Shenzhen SEZ (Special Economic Zone), just over the border in China, fits the bill.
While I found walking the streets of Hong Kong to be a resolve-testing trial of advanced navigation and sensory overload, hoofing it doesn't hold a candle to taking transportation. Driving is masochistic, parking is torture and cycling is suicidal. Fortunately, Hong Kong's public transportation is delightfully robust, cheap and reliable. The MTR subway system skirts the shore of Hong Kong Island and branches out to all corners of the Kowloon Peninsula. Double-decker buses and trams are a slow, enjoyable way to get around, though there are also faster yet equally scenic ferries. Finally, the 870-yard-long outdoor Central-Mid-Levels Escalator and Walkway System, the world's longest, is an alluring curiosity for visitors and a definite plus for anyone living atop Hong Kong Island's steep vertical slopes.
Hong Kong also offers a variety of leisure options that one would expect in a mega-urban zone. On the tip of Kowloon Peninsula alone, there are the Hong Kong Space Museum (http://hk.space.museum), the Hong Kong Museum of Art (http://hk.art.museum) and the decidedly kitschy new "Avenue of Stars" waterfront walkway, with photo-opportunity stops and sidewalk handprints from Hong Kong film stars such as Bruce Lee, Chow Yun Fat and the ubiquitous hometown boy, Jackie Chan. You can roam the night market on Temple Street in Yau Ma Tei – which, in a grand departure from other Asian night markets, offered items that I actually wanted to buy – or stroll through SoHo and Hollywood Street for antiques and art. Later in the evening, the Wan Chai area is the place to be, with the highest concentration of stylish restaurants and clubs in Hong Kong.
And what of Hong Kong's much discussed future under its new overseers? "One nation, two systems" is China's official approach to governing the territory. Under its agreement with Britain, China cannot alter Hong Kong's social, economic or legal systems until 2047. However, the smooth transition seems to suggest that as long as Hong Kong continues to turn a profit and behave itself, the city will remain a capitalist center of good vibrations.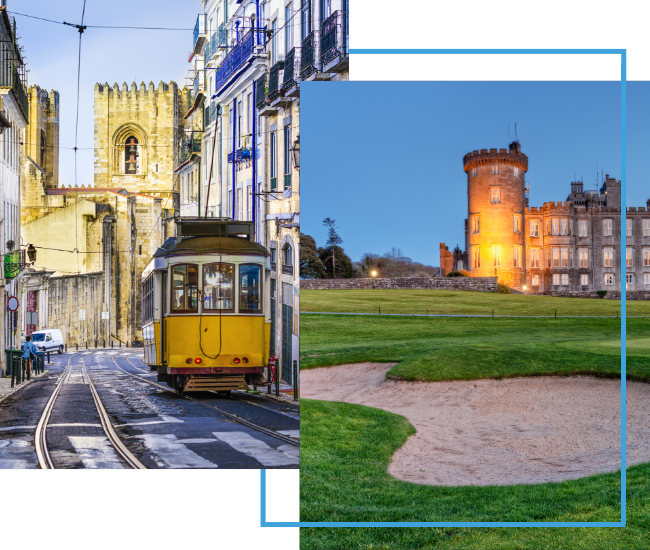 FX Excursions
FX Excursions offers the chance for once-in-a-lifetime experiences in destinations around the world.
Explore Excursions
More than 22 million visitors pour into Bangkok each year, adding to the roughly 11 million residents of the Thai capital famous for its bustling streets. Packed with food carts, markets and cultural spectacles, life in Bangkok is unusually defined by its vibrant street scene, both day and night. That means you don't necessarily need a solid plan when heading out on any given evening.
Sponsored Content
From the moment you step onboard Air Tahiti Nui's Tahitian Dreamliner, you will be transported to The Islands of Tahiti. The French Polynesian carrier considered every detail to awaken its passengers' senses, creating the feeling you are already on the Islands while 30,000 feet in the air.
As first-time restaurateurs, but with plenty of hospitality-related experience, Ria and Kevol (Kev) Graham were not entirely comfortable opening their first restaurant in the Brooklyn neighborhood of Williamsburg, where several upscale restaurants and 5-star hotel dining is just a block away. And to make matters worse, they opened in July 2020, when New York City was in the middle of the COVID-19 pandemic.