WITH SO MANY PICTURESQUE and enchanting Greek islands to choose from, it can be a bit daunting to select just one charming locale for a getaway. Of the 227 inhabited islands in Greece (of nearly 6,000), these three favorite destinations offer unforgettably authentic yet diverse experiences: Santoríni, Crete and Rhodes.
The sun was about to set, and we hastened our pace along the rocky coastal trail to reach our destination, the scenic town of Oia on Santoríni's northern tip. My husband and I decided to hike the six miles from Fira that afternoon to see the stunning views of the sun melting into the horizon, a must-do activity on Santoríni. Part of the journey brought us along the narrow, winding footpath and then later along a trail of volcanic soil, past whitewashed homes, churches and other structures topped with iconic cobalt blue domes. Along this cliffside walk, we soaked in the panoramas of the famed caldera, glistening brilliantly in the late-day sunshine. We arrived, took our place among the assembled crowd facing west and celebrated the end of another day in paradise.
If you're seeking to step into a picture postcard, Santoríni is certainly the place to do it. Visitors can't get enough of the jaw-dropping sapphire Aegean Sea, and an abundance of hotels and guest houses deliver on the mesmerizing view. It's no wonder this island casts a spell on those who visit … the mythical home of the lost city of Atlantis, it offers pure magic. The southernmost island in the Cyclades lies about 120 miles from the Greek mainland and is known for its legendary vistas and laid-back vibe. Featuring mountainous terrain, everything here is on a slope, with meandering footpaths steep and uneven in places.
As glorious as it is, Santoríni offers more than exceptional views. Visitors can take in cruises to the volcano, snorkeling trips and other water activities. On land one can easily rent a car or hire a local guide for an island tour. Gorgeous beaches (black, white and red sand) abound and range from rustic and remote to busy — such as Perissa and Perivolos — offering chairs, umbrellas, cafés and other facilities. Wine enthusiasts can swing by some of the island's many wineries for tastings and tours and learn about indigenous grapes such as Assyrtico. History buffs appreciate the ancient Minoan city of Akrotiri and several museums, including the Archaeological Museum of Santoríni. Exquisite shops line narrow passageways, offering handcrafted jewelry, art and other items. And, of course, food lovers adore the variety of restaurants elevating this island to a gastronomic destination. Specialties include Greek lamb; pork and seafood dishes such as grilled octopus and dorado, the white, flakey, Mediterranean fish; as well as classic moussaka and fresh, locally grown vegetables.
On the island of Crete, the first traveler I met was a British woman reclining on a lounge chair by the swimming pool and reading a book at our boutique beach hotel, Ammos.
"You're only here for a few days?" she asked incredulously, taking pity on my limited vacation time. "We're staying for six weeks." I glanced at the waves lapping at the tranquil shore of the Cretan Sea a few steps away and clearly understood why someone would choose this destination for an extended trip.
While you can easily spend years exploring Greece's largest island, Crete houses a number of incredible world-class attractions you can visit within a few well-planned days. With a rugged coastline and expansive mountain range, the island offers a diverse landscape — including steep gorges and winding rivers — alongside historical sites dating back centuries, such as the ancient palace and ruins of Knossos. Located on the northern coast near Heraklion, the island's capital, this spellbinding archaeological excavation should not be missed. The heart of Minoan culture thousands of years ago encompasses more than 20,000 acres.
On the western side of the island, Crete's second-largest seaside city, Chania, features a picturesque Venetian harbor where locals and tourists gather throughout the season. Visitors can dine at a number of lively restaurants and cafés along the water and wander along the narrow, twisting streets, popping in and out of the many boutiques. Those curious about local history are in luck, as Chania boasts a naval museum, archaeological museum and maritime museum. And if you prefer relaxing on the sand and taking a dip in the turquoise sea, nearby beaches are easily accessible and ideally suited for swimming.
Discover other highlights between Chania and Heraklion. The medieval port city of Rethymno blends the old and the new with winding streets and a creative vibe, and a multitude of shops offer crafts from local artisans. Meandering around the old town proves delightful, as the diverse architecture features Venetian, Turkish and Greek design. Much like the town itself, Rethymno's restaurants and bars blend traditional and modern, featuring classic cuisine accented with a stylish ambience. The walled Venetian Fortezza (fortress) perched above the city provides dazzling views from the area's highest point. Immediately to the east lies a wide, sandy beach complete with lounge chairs, umbrellas and nearby facilities.
Located in southeastern Greece, the rugged and spellbinding island of Rhodes is the capital of the Dodecanese and was once a major trade hub. With a rich, multicultural history, it's a haven for design enthusiasts, who can easily see the Roman, Turkish, Greek and Italian influences in the amalgamation of diverse architecture throughout the entire area. Although the island of Rhodes can't be fully discovered without a car or other mode of transportation, the city of Rhodes proves best explored by walking. In fact, only residents are allowed to drive an auto within the Old Town walls.
It is great fun to get lost in this charming city. With more than 200 unnamed twisting and narrow streets, it offers a prime opportunity to embrace adventure as you wander around the labyrinth of cobble-paved lanes and appealing squares. Arriving in the city provides an authentic and exhilarating experience as well. Recognized as one of the oldest continuously inhabited medieval cities in Europe, the Old Town welcomes visitors through impressively majestic gates, setting the proverbial stage by offering an invitation to take a step back in time.
Strolling along the bustling Street of the Knights, the main drag, visitors have the opportunity to browse an array of shops, pause for a Greek coffee or savor a meal at a neighborhood taverna. Some of the restaurants and cafés offer rooftop dining with stunning views of the sea and port.
The city's top sites include the Palace of the Grand Masters of the Knights of Rhodes (aka Kastello). Refurbished in 1940, this stunning castle features Gothic architecture and houses museums and artifacts unique to Rhodes. The Archaeological Museum of Rhodes, housed in the former Hospital of the Knights, also proves a favorite destination among history lovers. Visitors can see the harbor entrance, where the famed Colossus of Rhodes statue once stood. This bronze wonder of the ancient world fell during an earthquake in ancient times.
Outside the city you'll find many gorgeous beaches, quaint villages and ancient sites around the island. A few top attractions include the beautiful village of Lindos and the nearby acropolis dedicated to Athenia Lindia, with its spectacular views of the city and surrounding crystal-blue waters. On the western end, the Valley of the Butterflies nature reserve attracts thousands of fluttering creatures from spring to fall. And what's a trip to Rhodes without a beach day? The island's west side is ideal for wind or kite surfing, while the eastern shores offer an abundance of beaches (with and without facilities) for snorkeling, stand-up paddle surfing or swimming. A few of the more popular are Elli Beach, Kallithea Springs and Anthony Quinn Bay, named after the famous actor who starred in the 1964 film Zorba the Greek and who loved and vacationed on the island.
Greek Isles Info to Go
First-time tourists to Greece may not be aware the islands are not all easily accessible to each other, so build in extra time for travel among them. (Often, travelers must return to Athens before flying to another island.) Depending on the day, several types of ferries operate to some of the islands, so it's essential to check timetables and book advance flights, keeping in mind the seasons affect the schedules. Several airlines, including Delta Air Lines, offer direct flights from New York (JFK) to Athens (ATH). A connecting flight (or ferry) is required to reach the islands.
Where to Stay in the Greek Isles
AMATHUS ELITE SUITES This luxury property situated on the shores of the Aegean boasts exceptional vistas and high-end amenities throughout, including modern rooms, a swimming pool, a spa and several dining options. 100 Iraklidon Ave., Ixia, Rhodes $$$
AMMOS HOTEL Situated on a private beach, this boutique property offers modern rooms with terraces and sea views, a pool and restaurant with homemade specialties. It's a five-minute drive from the historical harbor town of Chania. Irakli Avgoula, Chania, Crete $$$
ANTELIZ SUITES With breathtaking views of the caldera, this charming hotel features a swimming pool, balconies and complimentary breakfast brought to your room. Located along the footpath, it's a 10-minute walk to the town of Fira. Fira, Santoríni $$$
Restaurants in the Greek Isles
CHRISOSTOMOS Situated in Chania, this taverna, known for its local flavor, sources all ingredients from Crete. The menu includes beloved family seafood and meat dishes along with housemade cheeses. Deykalion and Ikarus, Port of Chania, Crete $$–$$$
KYMA Overlooking the lovely Lee Beach, this stylish restaurant offers splendid alfresco dining on its expansive terrace. It serves up an array of traditional and modern delights such as fish, slow-cooked kabobs and homemade pastas. Pefkos Village, Lee Beach, Rhodes $$$
SEASIDE BY NOTOS With a contemporary ambience on the beach, this restaurant and lounge offers a multitude of innovative delights and indoor-outdoor seating. Seaside provides a surprising twist on Greek favorites, such as moussaka with shrimp and seafood. Perivolos-Agios Georgios Beach, Santoríni $$$$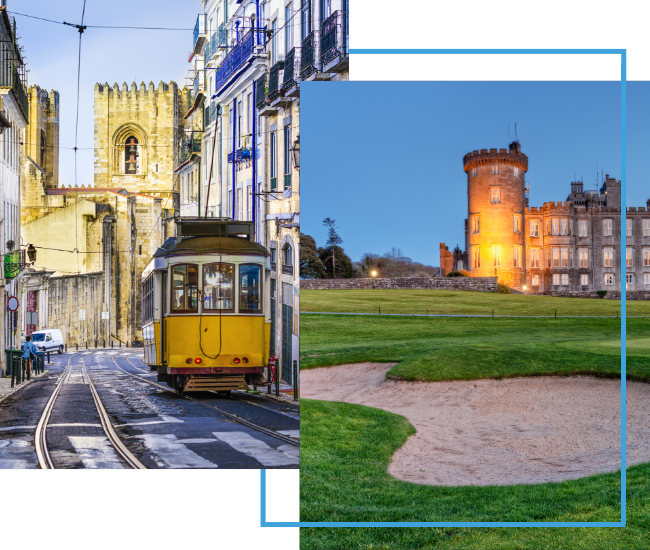 FX Excursions
FX Excursions offers the chance for once-in-a-lifetime experiences in destinations around the world.
Explore Excursions
Travel can take a toll on your body and soul; these products keep you looking (and feeling) good. From a clever shoe that puts a spring in your step (and is effortlessly easy to put on and remove) to a lightweight hair dryer and a night cream that works wonders on tired, dehydrated skin, here are three must-haves to tote on your next trip:
Sponsored Content
The Islands of Tahiti are among the most beautiful and sought-after vacation destinations in the world. The endless images of overwater bungalows with Bora Bora's majestic peak towering over waters of every shade of blue have an intrinsic pull. But with 118 islands and atolls to explore, there is so much more to this spectacular region of the Pacific.
Pleasant weather, autumn foliage and vibrant flowers are among the many delights awaiting nature lovers at botanical gardens and arboretums across the United States. However, some of these green spaces take on additional color this month and through Halloween when enterprising gardeners, landscape architects, management and other creative minds cast a spell with themed environments running the gamut from spooky to utterly bewitching.