THE UPSIDES OF BUSINESS AND LEISURE travel include opportunities to visit new places, meet new people, enjoy fresh adventures and get things accomplished.
The downsides: All that travel can leave even the hardiest traveler road-weary, backsliding on diet and fitness routines, severely jetlagged or sick.
The good news is travelers determined to stay well while on the road no longer need to wait until they arrive at their hotel to access healthy amenities. Recognizing many passengers seek health and wellness experiences at each step of their journey, airports and airlines partner with businesses that focus on wellness to offer everything from spas and gyms to healthier food options, sleep tips and yoga instruction.
Some of these offerings are designed to cash in on expenditures today's travelers make in the fast-growing wellness tourism market, which the Global Wellness Institute predicts will exceed $919 billion in 2022. Others, such as airport walking paths and in-flight yoga instruction videos, are designed to help passengers stay calm and healthy during what is often the most stressful part of their journey.
IT'S GETTING EASIER to pass up cocktail bars and fast-food venues in airport terminals. Vegan, vegetarian and plant-based restaurants, such as Floret at Seattle-Tacoma International Airport and HealthyTOKYO at Haneda Airport, draw fans. Elsewhere, airports such as Salt Lake City International and London Heathrow publish online guides to help passengers find dining concessions that match special dietary needs.
Many airports around the country have marked paths with mileage counters to encourage travelers to skip the moving walkways and instead walk through the terminals. For example, marked paths at McCarran International Airport in Las Vegas range from half a mile to 1.5 miles in length, while the Fitness Trail inside Phoenix Sky Harbor International rewards walkers with views ranging from Camelback Mountain to one of the country's tallest FAA control towers.
Roam Fitness, the compact post-security airport gym with cardio equipment, free weights, loaner workout gear and shower rooms at Baltimore/Washington International, is on track to open a second location at San Francisco International Airport this summer. Elsewhere, travelers can purchase day passes to use fitness facilities at airport hotels such as the Hilton Chicago O'Hare Airport, the Westin Detroit Metropolitan Airport and the Grand Hyatt DFW.
For those who like to multitask, WeWatt bike desks allow passengers to pedal and charge gadgets at airports in Brussels (BRU), Amsterdam (AMS), Singapore (SIN), Geneva (GVA), Indianapolis (IND) and other cities, while Varidesk's new complimentary, co-working space at Dallas/Fort Worth International Airport offers standing desks and plenty of power hubs.
There are yoga rooms (often with loaner mats) at airports in San Francisco (SFO), Dallas/Fort Worth (DFW), Burlington (BTV) and at both O'Hare (ORD) and Midway (MDW) in Chicago. Some airlines include yoga spaces inside their airport lounges. The latest, The Sanctuary in Cathay Pacific's Business Class Lounge at The Pier at Hong Kong International, features one space dedicated to yoga and another designed for meditation.
Airport spa chains such as XpresSpa, Terminal Getaway Spa and BeRelax, along with independents such as EnRoute Spa at Indianapolis International and departure spa at Newark Liberty, offer travelers everything from relaxing hand, foot and back massages to rejuvenating oxygen treatments. And a fast-growing pack of airports sends teams of therapy dogs (and the occasional cat, pig or miniature horse) and their handlers through the terminals to engage passengers and help them de-stress.
For stress-busting alone time — and naps — Minutes Suites, Sleepbox and the Yotel chain are expanding the number of airports in which they rent cozy, short-stay rooms.
MANY AIRLINES DO their part as well, with offerings such as healthier in-flight meals, better lighting, in-flight yoga instruction, aromatherapy and partnerships with groups well-known for providing wellness programs on the ground.
A helpful tool for passengers flying on U.S. and Canadian airlines is the annual Diet Detective report issued by Hunter College NYC Food Policy Center. The 2018–2019 edition used 11 criteria, including calorie counts, to rank the meals of 11 airlines, giving top marks to Alaska Airlines and Delta Air Lines.
Sitting on an airplane for a long time can be uncomfortable, unhealthy and boring, so Turkish Airlines, Cathay Pacific and many other airlines offer videos in the in-flight entertainment line-up with guided yoga and meditation exercises that can be done in an economy- or premium-class seat. KLM recently partnered with the Chillhouse wellness center in New York to offer a series of in-flight "Self-Care" tips that include taking a little turmeric before or during the fight to help fight inflammation.
Scent can help relax travelers, and airlines ranging from All Nippon Airways and Alaska Airlines to United Airlines and Virgin Atlantic adopted or created signature scents used at checkin counters, in lounges, hold areas, lavatories and in the cabin.
Recognizing long- and ultra-long-haul flights exceeding 18 hours are no longer uncommon, airlines get creative with some wellness-focused perks. Australia's Qantas Airways is working with the University of Sydney's Charles Perkins Center on strategies to help passengers handle long-haul flights such as the carrier's 17-hour Perth (PER)–London (LHR) route. To combat jet lag and promote healthy flying, the team is tinkering with everything from cabin lighting and temperature to the design of the in-flight menu and the timing of the delivery of meals.
When it began flying the world's longest commercial flight between Singapore (SIN) and Newark (EWR) — a journey of 18 hours and 45 minutes — Singapore Airlines introduced a partnership with luxury wellness brand Canyon Ranch that focuses on healthy cuisines and general well-being. In addition to offering meals that take into consideration longer flight durations and less body movement, the program includes special cabin lighting, strategies to improve rest and relaxation, and guided stretching exercises via the seatback systems.
In the not-too-distant future, passengers on long-haul flights may have the option of leaving their seats for hours at a time and descending into the airplane's cargo deck for a nap or some other activity. In April 2018 aircraft manufacturer Airbus and Zodiac Aerospace (now Safran) floated the idea of putting interchangeable modules with sleeping berths into the lower decks of an Airbus A330.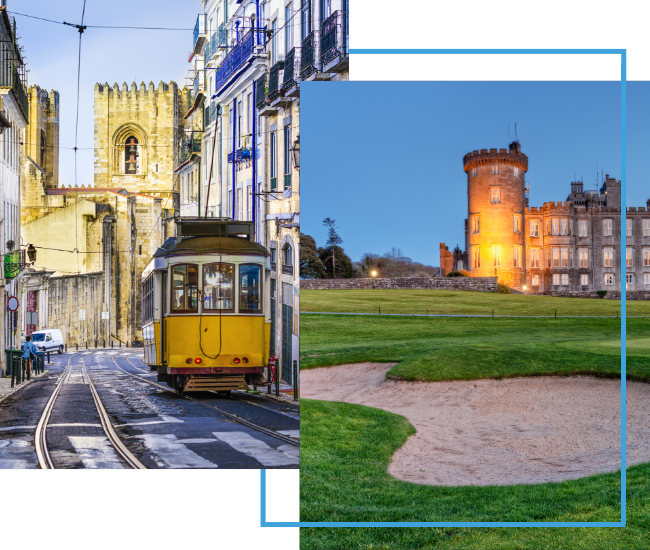 FX Excursions
FX Excursions offers the chance for once-in-a-lifetime experiences in destinations around the world.
Explore Excursions
Pleasant weather, autumn foliage and vibrant flowers are among the many delights awaiting nature lovers at botanical gardens and arboretums across the United States. However, some of these green spaces take on additional color this month and through Halloween when enterprising gardeners, landscape architects, management and other creative minds cast a spell with themed environments running the gamut from spooky to utterly bewitching.
Sponsored Content
Don't risk losing all the money you've spent if you must cancel your trip at the last minute. Allianz Travel Insurance can give you:
For travelers who love all things autumn, Crystal Springs Resort, New York City's closest destination resort, features special offers and experiences to meet the demands of everyone's fall bucket list. Located only 80 minutes outside New York City in Sussex County, New Jersey, Crystal Springs Resort offers a quick getaway to enjoy fall foliage. Are any of these new offers or experiences on your bucket list?