NO ORDINARY BEDTIME ROUTINE HERE. At a particular luxury hotel in one of India's fastest-changing cities on the fringes of Hyderabad, I find a tray of healthy nibbles, a glassful of specialty hot milk and some aromatic essential oil-infused sprays — one for the pillow and the other for soothing tension. There's even a handy bedside pamphlet illustrating yoga poses.
Here at the ITC Kohenur, everything is meant to help kickstart sleepy time.
I'm staying at this new Luxury Collection Hotel in Hyderabad's new business district, HITEC City, to recharge my batteries. The parent company, ITC Limited, approaches sleep with a holistic wellness mantra built into each of its 13 luxury hotels. "I can give you all the bells and whistles; but if I haven't invested in giving you good sleep, I have no reason to be in the business," says Nakul Anand, executive director, ITC Limited, whose company represents 106 hotels in India.
On the 14th floor of this unique diamond-inspired, LEED platinum-certified building, a collection of Wellness Rooms is specially designed to help long-haul sleep-deprived guests get their eight hours of Zs. Each Wellness Room offers optimized pressure for vitamin C showers to enhance health, room plants for improving air quality, a yoga mat for stretches, and well-being associates who are like personal butlers.
Tucked beside my fluffy king-sized bed, a sleep kit includes an eye mask and other natural sleep aid accouterments. In 2017 ITC introduced the "Sleep Like a Baby Kits" to ensure guests staying in its luxury hotel collection enjoy a good night's sleep. Light levels; an exclusive ITC music meditative playlist; multiglazed windows for sound, heat and light insulation; and room design were part of the "Sleep" project.
"The research is premised on the belief that a person doesn't sleep by bed alone, and that all the five senses have a bearing on a great night's sleep," adds Bindu Panicker, general manager of corporate communications, ITC Limited Hotels Division.
Studies show good sleep equals a better mind, body and soul. Dr. Jeffrey Durmer, chief medical officer and cofounder, Atlanta-based FusionHealth, a top-rated sleep health care company, warns sleep deprivation adds to health issues. "You may not have diabetes today, but you will push yourself down that road (and many others like it) much more quickly by giving up your sleep than you might ever have expected," says Durmer, who develops sleep health programs.
In the Catskills outside New York City, the former Kutsher Resort morphed into the YO1 Wellness Center. The state-of- the-art retreat incorporates the ancient Indian therapies of Ayurveda, naturopathy and yoga. On sleep, Rhoda Climenhaga, L.Ac, lead acupuncturist, YO1 Wellness Center, notices too often people don't slow down. "One of the most important problems people with sleep issues have in common [is] being too active," she says, and recommends some nice, easy time — about one to two hours before going to bed with no big meals — is vital.
The hospitality industry stands in full force behind good sleep. Pillow menus, black-out curtains, even eye masks with matching ear plugs have been put bedside at many hotels to ensure hotel guests get good sleep. Gabrielle Blitz Rosen, partner and chief content officer, Full-Time Media, led social media departments for major travel brands and notes wellness programs incorporating R&R have become so on-trend, the old premise "Silence is golden" really does hold merit.
"Companies today have included silence in unique ways," she says, listing silent dinner venues that popped up in countries such as Italy as well as a posh wellness retreat in Mexico that features a silent dining room for organically sourced meals. "From the hotels and restaurants, it's giving people the opportunity to pause, calm down and meditate and relax to come back to center," says Blitz Rosen on the new, quiet revolution she suggests inevitably leads to good sleep.
In 2015 the independent Quietroom Foundation, a Dutch-based organization that monitors the qualification of hotels for the Quiet Room label, awarded the Hotel Regina Paris at its first Global Quiet Hotel Awards. Located near the Louvre, the 5-star renovated property scored high on each evaluation, from the hotel's location and room numbers with a QR label to the design and build for soundproofing, among other points.
On noise levels, this past January I stayed in New York City's Bowery on the Lower East Side. At this historic hub in "The City That Never Sleeps," I surprisingly encountered a good night's sleep at the new CitizenM New York Bowery hotel. Guests staying at the world's tallest modular hotel get to select sleep options in their compact dwelling. Boasting a wall-to-wall thick window and an extra-large kingsized bed facing the city lights, decked out in a luxury duvet and soft pillows, the entire room is controlled by a MoodPad (iPad) of custom-made controls for curtains, blinds, temperature, TV and pre-programmed LED lighting for relaxing. I chose "Gentle" for my wake-up alarm and awoke to a 2001: A Space Odyssey-like HAL 9000 female voice counting numbers from 100. It was a digital voice recording.
"We like integrating audio and lighting as part of our smart room technology. There are also preset moods in the room ranging from party, romance and working," adds Robin Chadha, chief marketing officer, on the futuristic sleep approach.
On the West Coast, in Rancho Palos Verdes, California, a unique "Sound Sleep" experience has sleep-deprived guests at Terranea Resort lining up for this R&R concept. The hotel's spa incorporates the guest's circadian rhythm in the "Sound Sleep" treatment. "We take a new approach to wellness by paying particular attention to the timing of a guest's visit," says Sharon Holtz, spa director, Terranea Resort, adding the treatments are organized into Morning & Early Afternoon, Bridging Time and Late Afternoon & Evening. She further explains, "The therapist focuses on moving energy within one's body, pushing pent-up stress outward with strokes timed to the beat of ambient music. Surrounding scents and essential oils further complement and bring a sense of deep relaxation."
In the laid-back surf town of Dana Point, California, guests staying at the Tuscan-inspired Monarch Beach Resort take advantage of private dream sessions with a renowned dream expert. "Clients often leave a dream session feeling inspired to deal with particular life situations," notes dream expert and author Anna-Karin Bjorklund on the program at the resort's Miraval Life in Balance Spa.
For more good sleep, the largest privately owned hotel chain in Northern Ireland invested in 350 Cloud Beds at its new Grand Central Hotel Belfast, opened last June. "This is the biggest bed order we have ever placed, so it is safe to say we know our stuff when it comes to getting a good night's sleep," says Julie Hastings, marketing director, Hastings Hotels, whose company now offers 1,700 Cloud Beds. Custom- made by King Koil in Ireland, the Cloud Bed features a deep pillow layer of soft cushion and 1,600 independent pocket springs to conform to the body shape. You get that dreamy night's sleep from the floating-on-clouds experience.
Lastly, in London some travelers staying at DUKES LONDON discovered the benefits of a Beditation Butler. The art of Beditation is practiced on a daily basis for guests staying in the Duchess Rooms. "Guests will feel calm and relaxed the moment they walk through the door," says Debrah Dhugga, managing director, DUKES LONDON, on the arrival experience. The 90-room and 15-suite hotel uses a signature scent of hyacinth and bluebell aromas. The Beditation Butler offers a sleep experience fit for a duchess. Find meditation podcasts and playlists and loose-leaf herbal teas that make you hit the pillow in divine fashion.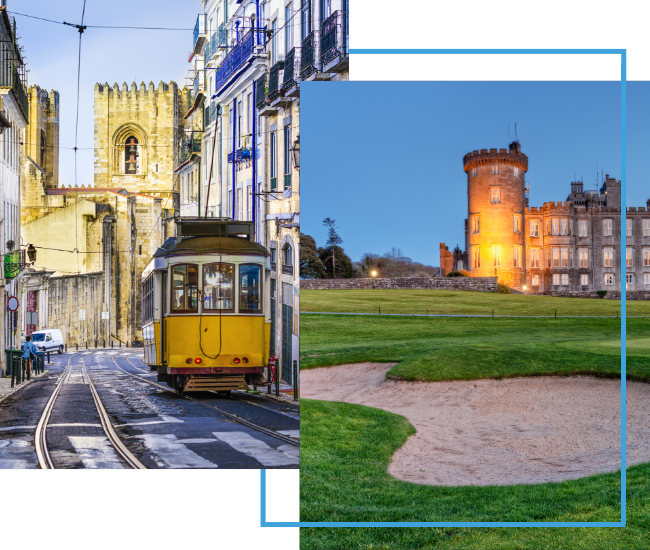 FX Excursions
FX Excursions offers the chance for once-in-a-lifetime experiences in destinations around the world.
Explore Excursions
Did the new film Oppenheimer rouse your interest in the nefarious world of international espionage? You can go straight to the real-life setting for covert actions this November (Nov. 10–12), when La Fonda on the Plaza in Santa Fe hosts a specially themed "Spies, Lies and Nukes" weekend. The hotel actually served as the retreat location for Manhattan Project scientists, who stayed at La Fonda on the Plaza to take a break from the stress of their work. During the weekend, the property's La Fiesta Lounge will make a tasty nod to those days by serving up a special Atomic Martini.
Sponsored Content
Nashville's once-modest skyline continues to evolve as its luxury market grows. Lavish hotel properties are added to the landscape while acclaimed chefs stake claim in the robust culinary scene and premier cultural offerings round out the city's repertoire.
Ever want handcrafted martinis and freshly shucked oysters delivered straight to your room? The Read House's New Martinis & Pearls service has you covered. Shining in 1920s-themed decor, the historic hotel in the heart of Chattanooga offers a true Gatsby-esque experience, now further elevated with this upscale amenity. Guests can now indulge in their perfectly chilled martini, made to order, and "pearls" (oysters) in the comfort of their room.