Arrival/Check-in: We arrived on a morning flight to Bilbao, and after a 10-minute drive, we were welcomed and checked in quickly — in time for a nap before lunch to recover from the overnight journey. From the interior glass elevator en route to our room, we could more fully appreciate the soaring (and stunning) atrium and its monumental eight-story wire mesh pillar filled with sea-worn rocks.
Guest Quarters: Our second-floor room looked directly outside, eye level with Jeff Koons' Puppy, a two-story-tall West Highland terrier pup sculpture completely carpeted in blooming plants. Part of the Guggenheim Bilbao's permanent art collection, Puppy has become as much an icon of the city as Frank Gehry's masterpiece building itself — also in full view across the street.
Between the bathroom and the sleeping area was a glass-enclosed room (with optional blinds) holding a huge soaking tub and an open spa shower with a teak slat floor. Never have I found such a complete line of bath amenities — a total of eight bottles plus soap; dental, personal,  facial and shoe-shine kits; and several other items, enclosed in Lucite boxes over each of the two contemporary-design sinks. Between them was ample vanity space.
A desk with outlets ran the length of one wall, and the king-sized bed had lights on either side, although they were not especially well set for lengthy bedtime reading. The closet had removable hangers and a shelf large enough for one piece of luggage; a rack was provided for the other one. Although there was supposedly WiFi in the rooms, we were never able to connect; judging from the number of guests waiting to use the terminals in the small business center, many others were also without it.
Original art decorated even the bathroom. In the halls were mural-sized brush drawings of stick-like people and animals that carried through the hotel's lighthearted art theme. Nightly turn-down included a little black cat, dog or sheep squeaky toy along with chocolate. After a few days'  stay, we had a fine collection of them!
Services/Amenities: The décor of the public areas was striking both for its chic style and its almost playful use of color and form. In the atrium, along with the pillar of water-worn stones, was a stair-stepped fountain where water cascaded around arrangements of dishes and stemware. The furniture here and in the lobby lounge was arrestingly bold in black, white and red. We found the reception staff very helpful, checking on our ongoing hotel arrangements, holding packages and advising on our local itinerary.
A lavish breakfast buffet was served on the seventh-floor terrace overlooking the golden panels of the Guggenheim, awash in morning sunlight. Each morning the buffet offered half a dozen varieties of fresh fruit, as many cheeses, a selection of Spanish hams and cured meats, fresh pastries and breads, crêpes, made-to-order omelets and several local breakfast dishes. We had the option of dining indoors or outside, both with superb views.
The Experience: The service, décor and hospitality were a match to the excellent location; we would certainly choose it again.
GT Checklist
Doorman/valet
Less than 10 minutes for check-in
Separate tub/shower
Large vanity
High-quality towels
Large, flat-screen television
Large desk with convenient outlets
Complimentary in-room WiFi
Ample lighting
High-quality bed linens
Choice of Pillows
Powerful, unattached hair dryer
Iron and ironing board
Easy-ts-set alarm clock
On-site restaurant and bar
24-hour room service
In-room coffeemaker
Large, complimentary laptop safe
Gran Hotel Domine Bilbao
Alameda de Mazarredo 61
Bilbao 48009 Spain
tel 34 944 253 300
www.hoteles-silken.com/gran-hotel-domine-bilbao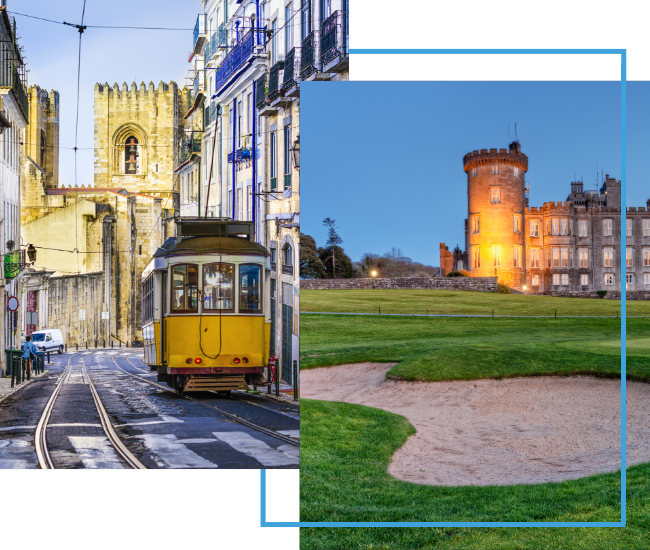 FX Excursions
FX Excursions offers the chance for once-in-a-lifetime experiences in destinations around the world.
Explore Excursions
Imagine yourself lounging in a stone cottage suite with a fireplace and freestanding tub, sipping hot chocolate in a rustic game and reading room with a raftered ceiling, and ice skating and cross-country skiing in the crisp mountain air. Sounds pretty perfect, doesn't it? Especially when you add in seasonal touches.
Sponsored Content
The Islands of Tahiti are among the most beautiful and sought-after vacation destinations in the world. The endless images of overwater bungalows with Bora Bora's majestic peak towering over waters of every shade of blue have an intrinsic pull. But with 118 islands and atolls to explore, there is so much more to this spectacular region of the Pacific.
For the first time in Olympic history, when the 2024 Summer Olympics kick off on July 26, 2024, they will not do so in a stadium. Instead of an Olympic venue, the entire city of Paris will become the Olympic stadium, hosting the games among monuments, on bridges and on the grounds of some of the world's most historic sites. The Opening Ceremony will take place on the River Seine, where athletes will drift along on a flotilla of boats as spectators wave them on from the quays and bridges throughout the city.