AWASH IN HAUTE-COUTURE FLAIR, world-famous restaurants, revelatory museums and iconic sites, Paris is widely regarded as one of the most magnificent cities in the world. But there's more to Paris than beauty and culture: This hard-working French capital generates more than 30 percent of France's gross domestic product through businesses representing a wide range of industry sectors that include pharmaceuticals, cosmetics, aeronautics and digital systems. Paris also hosts 27 Top 500 corporate headquarters — more than any other city in Europe — and boasts the fifth-largest urban economy in the world.
For business travelers, this means everything you need to do your job — a strong transportation network, a choice of locations for business entertaining and meetings, loads of lodging options and a workforce comfortable with international business representatives — is at your fingertips.
Start with transport. Two large international airports make Paris accessible from anywhere in the world; RER trains, an easy-to-navigate subway system — the Metro — and legions of taxis have you in town less than an hour after clearing immigration.
Lodging proves equally accessible. Hotels abound within the city's 20 arrondissements, or boroughs; choose one near the city center and you'll be able to get anywhere quickly on the Metro. If your agenda includes breakfast meetings, consider a larger property where the first meal of the day is served in a quiet space where you won't have to line up at a buffet or speak over clattering cups. One option: the Hôtel Ritz Paris, where L'Espadon serves a full breakfast under a domed skylight seven days a week. The hotel's location on the Place Vendome makes it a convenient location from nearly anywhere as well. On the Left Bank, where boutique hotels are the norm, the full-service Hôtel Lutetia, an elegant outlier, reopened in early 2018 after a full renovation. The breakfast menu in chic L'Orangerie includes gluten-free and organic choices.
If you'd rather discuss business over a meal later in the day, opt for lunch over dinner, considered more of a social occasion. Still, it's best to wait until the end of the meal to discuss nuts and bolts. Instead, chat about culture, food and wine; skip discussions about politics and anything of a personal nature.
Whether you choose lunch or dinner, reservations are vital at most restaurants in Paris. Alain Ducasse's Versailles-inspired, 2-Michelin-starred restaurant within Le Meurice hotel remains one of the city's top dining rooms; for a meal that includes the glittering lights of Paris as your backdrop, head to The Peninsula Hotel's L'Oiseau Blanc rooftop dining room. Helmed by one of the first female chefs ever awarded three Michelin stars, Anne-Sophie Pic's La Dame de Pic serves updated French classics in a polished, comfortable setting. Book a round corner table for privacy with a view of the scene.
Dinner in France generally consists of a three-hour affair with multiple courses and several wines. After the host wishes his guests bon appétit, Parisian diners eat slowly but with gusto, enjoying each bite. Bread is generally served as an accompaniment rather than something to nibble before dinner; it's customary to place your bread on the table next to your dinner plate. French manners also dictate both hands should remain on the table at all times; take care you don't allow your elbows to join the party.
Although most Parisian executives speak English, learning a few simple French words and phrases — starting with hello, please, thank you, nice to meet you and have a good evening — will earn respect from your hosts. Introduce yourself using your first and last names as well as your title; call your associates Monsieur or Madame until they make it clear you're on a first-name basis.
Beyond stellar dining, one of the best things about a business trip to Paris is the chance to explore the city during your downtime and enjoy its iconic vistas. The Eiffel Tower, erected in 1889 as a temporary structure, mesmerizes from any distance but presents a distinct panorama from each of its three levels. From the top-floor balcony of the Musée d'Orsay, occupying a former train station, the graceful Seine curves and sparkles. Visitors who climb the stairs to the viewing platform atop the Arc de Triomphe, honoring Napoleon's Grande Armée, are rewarded with a view down the length of the tree-lined Champs-Élysées. If you'd like to take in a museum but need to slip in a quick visit between meetings, pop into the Rodin Museum, a stunning 18th-century manse filled with thousands of the artist's sculptures and drawings as well as works from Monet and Van Gogh, located amid the boutiques and atmospheric cafés of Saint-Germain-des-Prés on the Left Bank.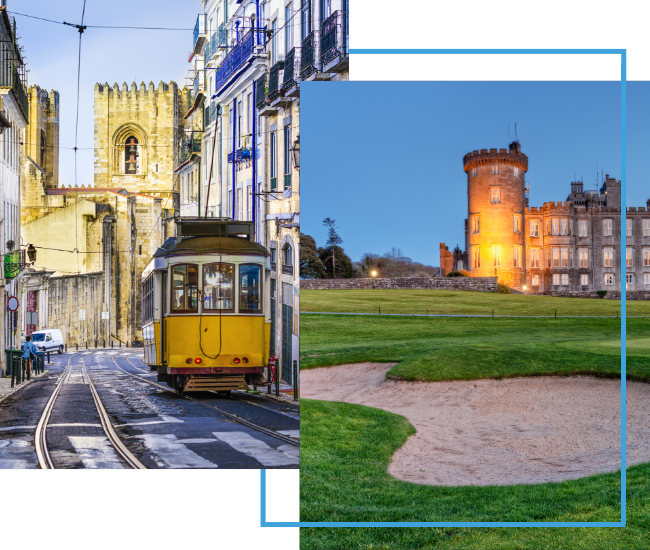 FX Excursions
FX Excursions offers the chance for once-in-a-lifetime experiences in destinations around the world.
Explore Excursions
There is something magical about sipping a glass of local wine while watching the sun slip into the Aegean Sea as the afterglow tinges traditional, white-washed Cycladic houses with glorious shades of rose, purple and gold. Ancient Greeks believed Helios, the Sun God, caused sunsets by driving his fiery chariot into the sea. Standing at water's edge in Mykonos, watching the sky slowly turn from purple to inky black, you almost believe it.
Sponsored Content
In an increasingly digital and interconnected world, the Global Business Travel Association (GBTA) Convention remains an indispensable platform for business travel industry professionals seeking to make the most of the power of face-to-face connections. Taking place August 13–15 in Dallas, the 2023 GBTA Convention provides the unique opportunity for professionals and companies to join visionaries, thought leaders and industry experts for meaningful networking, cutting-edge insights and inspiring innovation.
The prospect of a post-visit treasure hunting session inside the shops of landmark museums such as the Louvre in Paris, the Uffizi Gallery in Florence and The British Museum in London can be irresistible. However, some of Europe's smaller and more unusual museums boast retail spaces with a surprising "wow" factor, often as well-curated as the galleries.