THE CULTURAL AND NATURAL DIVERSITY around the world is breathtaking; however, in the past it was up to each country to protect that heritage. For decades, UNESCO — the United Nations Educational, Scientific and Cultural Organization — bestowed locations with the World Heritage Site designation, requiring the protection of properties with "outstanding universal value" in order to be listed. To quote directly: "To be deemed of Outstanding Universal Value, a property must also meet the conditions of integrity and/or authenticity and must have an adequate protection and management system to ensure its safeguarding." By doing so, all countries of the world took a big step forward in promoting a world consciousness of the innate value of country heritages — both cultural and natural.
UNESCO inscribed the first World Heritage sites in 1978, with 12 making the list. The United States contributed two of the 12 that year: Yellowstone National Park, the most seismically active area of the Rocky Mountains with more than 200 features like geysers, hot springs, mud pots and fumaroles; and Mesa Verde, an architectural tribute to the lost Anasazi (Ancestral Pueblans) civilization. The Galápagos Islands, famous for the sheer number of unique and endemic species, also made the list, as did two sites from Canada: Nahanni National Park in the Northwest Territories for its river, cave and canyon landscape; and L'Anse aux Meadows, a national historic site in Labrador marking the earliest European presence in North America.
TODAY THE UNESCO WORLD Heritage list includes 1,092 properties. Of these, 845 are deemed culturally significant while 209 meet the natural criteria, and 38 properties contain a mixture of both cultural and natural value. That's the upside. The downside? Two have been delisted (Arabian Oryx Sanctuary of Oman and Dresden Elbe Valley in Germany), and 54 properties are in danger. And the list does not recognize gender equality, either, as two religious sites are restricted to men only — Okinoshima Island in Japan and Mount Athos in Greece.
Initially, it was believed a UNESCO World Heritage listing would bestow prestige and prove economically beneficial to countries by promoting tourism and providing incentives to protect cultural and natural heritage for future generations. Unfortunately, that hasn't always been the case. While the list of manmade and natural landscapes around the world may be dazzling, the reality is environmental issues stemming from over-popularity by making the list, terrorism and perceived cultural bias can detract from the original noble purposes of UNESCO. For example, in 2016 the organization was challenged for referring to sites in Jerusalem through a Muslim lens, thus detracting from Jewish people and their historic connection.
SOME SITES, ONCE THEY MAKE the World Heritage list, discover the designation may not be permanent. The List of World Heritage in Danger was designed to bring world attention to areas requiring corrective measures and cooperation. Listings can result in positive outcomes; the Galápagos Islands and Yellowstone National Park have subsequently been removed from this list because of positive developments. Another danger listing — Everglades National Park — was on the list from 1993 to 2007 and again since 2010 because of "continued degradation of the site resulting in a loss of marine habitat and decline in marine species."
Removal from the list occurs when there are improvements in management and conservation to the original reasons for inclusion. However, UNESCO succumbed to sustained lobbying efforts by the Australian government to de-list the Great Barrier Reef as late as 2016, in direct defiance of evidence showing widespread destruction and substantial die-off of the coral reef.
THE UNITED NATIONS' cultural agency meets annually to decide the newest nominations to join the UNESCO World Heritage List. Debate centers around 10 criteria, of which at least one must be met in addition to being of "outstanding universal value." That translates into unmatched natural beauty or environmental, cultural or historic significance that can include art, architecture, cultural traditions, landscape and Earth's history, according to UNESCO. It can also include communities of plants and animals.
But first a site must be nominated. To be considered for nomination to the World Heritage Site List, a property must be designated on a Tentative List. This is merely a cumulative inventory of those properties countries/ nations intend to consider for nomination. For example, over the years the United States designated these properties for the Tentative List Process (ironically, that is where they remain): Petrified Forest National Park (2008), White Sands National Monument (2008), Dayton Aviation Sites (2008), civil rights movement sites (2008), Ellis Island (2017) and the Brooklyn Bridge (2017).
FOR MANY TRAVELERS, the World Heritage list provides yet another opportunity to create a bucket list, offering the necessary motivation to directly experience some of the world's greatest heritage. But with more than a thousand sites currently listed, where does one start?
I find the easiest way is to visit the ones in your home country. Begin with the state where you reside; for me, that's New Mexico. The list includes cherished treasures such as Carlsbad Caverns National Park, Chaco Culture National Historical Park and Taos Pueblo.
Then expand your horizons by including the listed national parks. They are the Everglades, Grand Canyon, Great Smoky Mountains, Mammoth Cave, Mesa Verde, Olympic National Park, Redwood National Park and State Park, Yellowstone and Yosemite.
Next, go global. With 110 countries under my belt and still counting, some of my favorite UNESCO sites include Uluru-Kata Tjuta National Park in Australia; Wachau Cultural Landscape, Austria; Okavango Delta, Botswana; Angkor, Cambodia; Canadian Rocky Mountain Parks; Mausoleum of the First Qin Emperor (terracotta warriors) in China; Lednice- Valtice Cultural Landscape, Czechia; Galápagos Islands, Ecuador; Cathedral of Notre-Dame, Former Abbey of Saint-Remi and Palace of Tau, Reims, France; Upper Svaneti, Georgia; Upper Middle Rhine Valley, Germany; the Acropolis, Athens; Budapest, Hungary, including Banks of the Danube, Buda Castle Quarter and Andrassy Avenue; Masada, Israel; Archaeological Areas of Pompei, Herculaneum and Torre Annunziata in Italy; Mount Kenya National Park/Natural Forest, Kenya; Kathmandu Valley, Nepal; the Kremlin and Red Square, Moscow; Singapore Botanic Gardens; Göreme National Park and Rock Sites of Cappadocia, Turkey; Ngorongoro Conservation Area, Tanzania; and Mosi-oa-Tunya/Victoria Falls in Zambia.
Wherever and whatever you visit, UNESCO World Heritage sites are all part of an enriching and culturally enhancing experience that can only promote intercultural understanding of manmade heritage and appreciation of the awe-inspiring natural world in which we live.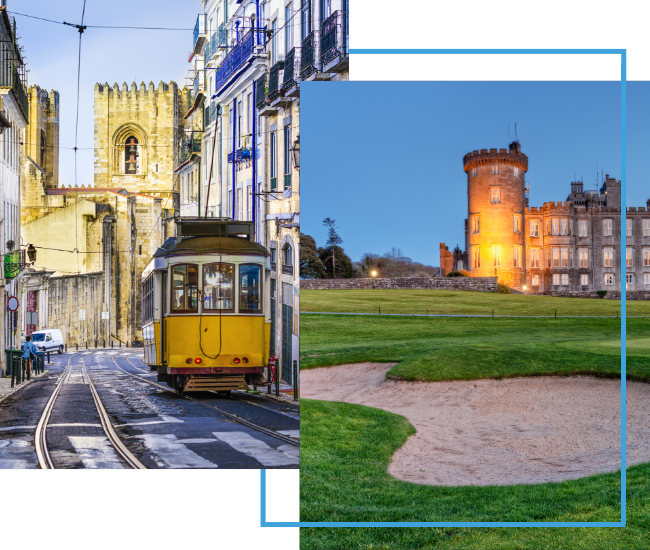 FX Excursions
FX Excursions offers the chance for once-in-a-lifetime experiences in destinations around the world.
Explore Excursions
Corsica with steep, gray cliffs overlooking the Mediterranean and sandy beaches attracting summer visitors, is a French-governed island sometimes confused with Sardinia and Sicily, Italian islands to the south. Fortunately, all three islands share the same love for good wine, food and sun-splashed beaches.
Sponsored Content
In an increasingly digital and interconnected world, the Global Business Travel Association (GBTA) Convention remains an indispensable platform for business travel industry professionals seeking to make the most of the power of face-to-face connections. Taking place August 13–15 in Dallas, the 2023 GBTA Convention provides the unique opportunity for professionals and companies to join visionaries, thought leaders and industry experts for meaningful networking, cutting-edge insights and inspiring innovation.
If you're ready to do a little holiday catch-up with your besties, make a beeline for Conrad New York Downtown. The lobby metamorphosed into a holiday forest of heavenly scented, decorated Virginia Spruce trees. Make your first stop ATRIO Barista Station in the lobby for a complimentary hot spiced apple cider (until Dec. 3) or hot chocolate (Dec. 22­–24).