Name: David Rabkin
Title: Senior vice president, Consumer Lending Products
Company, city: American Express; New York, N.Y.
Number of employees: 63,500 worldwide
Recent project: Working to raise the bar in delivering value associated with our affinity cards, including partner-specific benefits like frequent-flyer rewards and services like priority boarding
First job: At 15, I scooped ice cream at Baskin-Robbins; postcollege, I was a sales representative for Proctor & Gamble in San Francisco.
Little-known fact about you: I've worked in 20 countries and lived in six, including two and a half years in Jamaica.
David Rabkin's Business
Essential business philosophy: Strategy is what you do, which is not necessarily the same as what you say you will do.
Best way to keep a competitive edge: Be closer to your customers than your competitors are. Listen to them.
Yardstick of success: Is my team engaged? If you hire the right people, you create a meaningful, winning team.
David Rabkin as a Traveler
What is the most important item you take when traveling? My American Express card
How do you spend your time on board? Using my iPad; since the availability of in-flight Internet, this has become the ultimate device for work and entertainment.
What is your favorite restaurant in the world? Jardineira Café, São Paulo
What is your favorite destination in the world? Israel
About American Express
What do the American Express co-branded credit cards offer frequent travelers? At American Express, our heritage is travel. In fact, we are one of the largest travel agencies in the world and one of the world's largest co-branded card issuers. Our cards offer a number of benefits for travelers, ranging from lounge access to hotel and airline loyalty program rewards.
In addition to our co-branded cards, we have credit and charge cards that feature our Membership Rewards Program, which allows cardmembers to pay for travel directly with points or transfer points into a frequent-flyer program like Delta SkyMiles.
Our Platinum card offers premium benefits like lounge access and an international airline program, as well as hotel benefits including late check-out, room upgrades when available and free breakfast when you book through our Fine Hotels & Resorts program. We also offer a Blue Sky Preferred card that features a $100 airline credit to use for incidentals like checked bag fees.
Which travel-related brands are affinity card partners? We have a full line-up of cards with Delta Air Lines which offer a range of benefits from complimentary bags and priority boarding to Medallion Qualification Miles and companion tickets. Our JetBlue card offers new discounts, like 50 percent off in-flight purchases. For hotel partners, we offer two co-branded Hilton HHonors credit cards, earning multiple points on every eligible dollar spent; and our Starwood Preferred Guest credit card is widely recognized as one of the best travel rewards cards.
What are the plans for the future in terms of affinity cards? We are always looking for new partners to expand our portfolio with benefits and services that appeal to new customers. That's an ongoing process.
We're also testing new ways to engage with our cardmembers through social media and dynamic emails. We're using these channels to serve up special offers and deals from our partners that are most relevant to cardmembers in real time.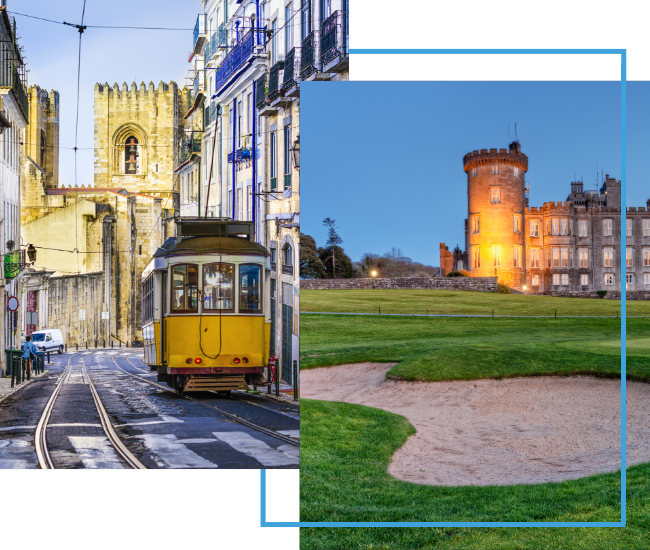 FX Excursions
FX Excursions offers the chance for once-in-a-lifetime experiences in destinations around the world.
Explore Excursions
Less than five years ago the world's first hybrid cruise ship, Hurtigruten Expeditions' MS Roald Amundsen, set sail for Antarctica in November 2019 with 450 passengers. The battery-hybrid-powered ship, named for the first man to cross the continent and reach the South Pole, was built specifically for voyages in polar waters. Its battery-hybrid power reduces the ship's consumption and CO2 emissions by 20 percent compared to equally sized ships.
Sponsored Content
Are you looking to enhance your business trip with a little leisure? Look no further than Portugal, a country renowned for its captivating blend of history, culture and natural beauty. And with TAP Air Portugal, you can effortlessly transform your business trip into an unforgettable bleisure adventure. Discover why Portugal and TAP Air Portugal are the perfect combination for an enriching and rejuvenating experience.
A few months ago, I flew Polaris business class on a United flight from Dulles (IAD) to Paris (CDG). It was only when I got to my hotel in Paris I realized that I didn't have my iPad or its bag or accessories. Since I had been working on it in the restaurant in the Polaris lounge and then went directly to the gate, I knew I either left it propped up on my table when I packed up or in my business-class seat. But what was the best method to alert the airline about my careless mishap and (hopefully) retrieve it? With spotty data and WiFi, searching for information on my phone was frustrating and slow. Here's what I learned from the anxiety-inducing experience (and unexpected ending) about what to do if you leave something behind on your flight: