Name: David Morgan-Hewitt
Title: General manager
Company, city: The Goring; London, England
Number of employees: 170 (2.5 staff per guestroom)
Recent project: The Goring's complete refurbishment
First job: At university, I took a summer job as a barman in a lovely hotel in Norfolk, U.K.
Little-known fact about you: I am the honorary catering advisor to the British Army, evaluating the quality of catering for troops at bases around the U.K.
About Your Business
Essential business philosophy: Quality and service always win the day.
Best way to keep a competitive edge: Cherish your guests, anticipate what they want and deliver it consistently.
Yardstick of success: Success is the number of guests who choose to return. We have 63 percent returning and constantly focus on growing this. One yardstick is TripAdvisor, where for some time we have been in London's top 10. Happy and returning guests are my greatest reward.
David Morgan-Hewitt as a Traveler
What is the most important item you take when traveling? My silk dressing gown so nobody need walk in on me naked!
How do you spend your time on board? I switch off, stretch out and catch up on movies I have missed as a result of my busy schedule.
What is your favorite restaurant in the world? The Goring Dining Room when in London; The Fat Duck in Bray when venturing further afield.
What is your favorite destination in the world? My cottage in the country. Abroad, I adore the service and setting of The Mandarin Oriental, Bangkok.
About The Goring
The Goring is a London icon. Share the property's fascinating history.
Otto Goring opened the hotel in 1910. Having passed through four generations, the hotel is run by Jeremy Goring, Otto's great-grandson, and endures as the last family-owned luxury hotel in London. The Goring was the first hotel in the world with central heating and bathrooms in every room, the only London hotel to be a member of the prestigious Relais & Châteaux, and the first to receive a Royal Warrant from Her Majesty The Queen. These attributes speak of the hotel's attentive service, its character and charisma, and above all the family's passion for quality. Each generation served as a loving custodian, providing comfort, good food and a warm welcome.
What does your Belgravia location offer travelers?
Adjacent to Buckingham Palace, The Goring is perfectly placed for work and play. Those on business are well-connected to the commercial districts, The City and Docklands. Our 24-hour business center is of particular use; four private event spaces are ideal for small, high-level meetings; and the team offers discretion, professionalism and close attention to detail.
For leisure, the beautiful Royal Parks are on the doorstep; many top sights, including the Natural History Museum, the Victoria & Albert and the London Eye, are close by. Shoppers are near Knightsbridge and Mayfair, while the nearby West End and Theatreland dazzle anyone seeking entertainment. Our concierge team, headed up by Big John, can arrange an itinerary to suit any needs, providing a true flavor of London.
Tell us about your guestrooms and future plans.
The Goring entered a new era, working with top British interior designers — David Linley, Tim Gosling and Nina Campbell — to blend works of quality from different eras to create a harmonious and timeless effect.
Guestrooms are individually decorated and showcase excellent British craftsmanship in a time-honored style that seamlessly flows with the most up-to-date technology. Guests enjoy true indulgence in the suites, which are quintessentially English in style and full of old-school charm with marble fireplaces and fabulous antiques.
The jewel is the two-bedroom Royal Suite, which Jeremy Goring commissioned to mark the hotel's centenary. Former fashion designer and interiors specialist Russell Sage created the feel of a London apartment. Running the length of the hotel with a balcony overlooking The Goring Gardens, the suite oozes craftsmanship, from specialist paint finishes to the finest handwoven Gainsborough silks and royal artifacts — including a life-size portrait of Her Majesty Queen Victoria in the master bath shower, protected by aircraft glass. The suite offers a stocked decanter bar, personalized robe and slippers, fresh fruit and flowers, personalized stationery, handmade chocolates and more.
Beneath our 5-star exterior is a serious streak of fun. Classic British eccentricity pervades, from an "Ooh!" light setting in bedrooms to fluffy sheep footstools. This is what guests can experience now and in the future — enduring style, quality and attentive personal service, all served up with a cheeky grin.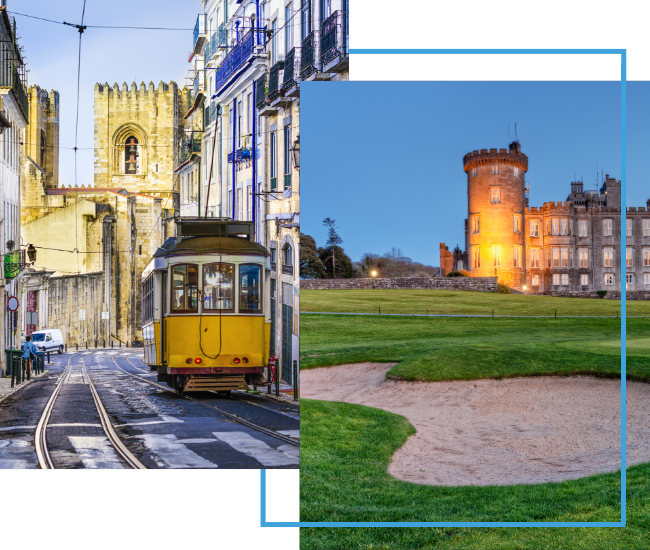 FX Excursions
FX Excursions offers the chance for once-in-a-lifetime experiences in destinations around the world.
Explore Excursions
As another phenomenal year of travel comes to an end, it's time, as always, for Global Traveler to celebrate and award those who do it best as we announce the 2023 winners of the GT Tested Reader Survey awards. But that's not the only cause for celebration here: We've hit another major milestone, as this marks our 20th year honoring the best of the best inn world of travel!
Sponsored Content
IHG Hotels & Resorts is thrilled to announce the launch of a new mobile product feature for members: IHG Wi-Fi Auto Connect. This feature is now available exclusively in the IHG One Rewards mobile app for both iOS and Android users and will automatically connect IHG One Rewards members to WiFi upon arrival at more than 5,000 IHG hotels worldwide — no separate passwords or log-ins needed. This is in addition to the exciting benefits of being an IHG Business Edge member. IHG Business Edge provides small- and medium-sized businesses access to a user-friendly portal that displays comprehensive spending and savings data while providing the convenience of direct booking with a guaranteed discount.
The highly anticipated GT Tested Reader Survey has more reason to celebrate in 2024 than ever before. This year marks the 20th anniversary of our GT Tested Reader Survey awards, with many of the winning brands earning milestone accolades for years of dedicated and consistent service.