Arrival/Check-In: Check-in was confusing, largely caused by my group as we debated whether to add a half-day to our check-out rather than spend a few hours homeless. We chose to check out in the morning, which might not have been the best decision in retrospect. The poor check-in clerk was a little befuddled by the back and forth. When we were finally ready, the staff showed us to our rooms and delivered all of our oversized bags. The view of the Mediterranean was spectacular.
Guest Quarters: I felt like I was in a James Bond movie with Sean Connery, as I think that was when the Dan Hotel was built. Don't get me wrong; everything works and there are many amenities, but the property could use "a shave and a haircut," as they say. The room was rather small, with the bathroom on the immediate right and a closet on the left as we entered. A long built-in served as storage, TV/entertainment center and desk, running along the left side and ending at the window. On the right stood a king-sized bed flanked with night tables and a small sofa on the opposite side of the window. The views of the beach were spectacular. What a beautiful location — and, yes, I did go for a swim!
Services/Amenities: What the Dan lacks in modernization, it gains in some areas in services and amenities. The breakfast in Yam Breakfast was crowded, as if the guests had never eaten before, but it offered a wide range of items and several different buffets plus cooked-to-order items.
After touring Tel Aviv all day, we had about four hours to wait until our driver took us to Ben Gurion Airport. We waited in the lobby lounge bar, checking emails. I took the free time to follow a circuitous route, partially outside with an enclosed walkway over boards, to a huge indoor pool. That was the ticket to a relaxing and refreshing flight back. After a few laps and a shower, I was as fresh as a daisy and ready for the return flight.
When we checked out for the day tour of Tel Aviv, we left our bags at the baggage check, which was, frankly, a mess. When we returned, it was chaotic; and I had to go back in the little storage room to track down our bags and drag them out for our driver. The doorman had left for the evening, and the security guard cared nothing for our predicament. It was not secure or up to the standards one would expect, and I was concerned about the security of our belongings.
The Experience: Famous guests of the Dan include the Clintons, Paul McCartney, Michael Jackson, Madonna, The Rolling Stones, U2, Lady Gaga and Sharon Stone — and now me. Bond would have stayed here and would have enjoyed the pool and beach.
GT CHECKLIST
[checklist]
[item check=yes]Doorman/valet[/item]
[item]Less than 10 minutes for check-in[/item]
[item check=yes]Separate tub and shower[/item]
[item]Large vanity[/item]
[item check=yes]High-quality towels[/item]
[item check=yes]Powerful, unattached hair dryer[/item]
[item check=yes]High-quality bed linens[/item]
[item check=yes]Large, flat-screen television[/item]
[item check=yes]Large desk with convenient outlets[/item]
[item check=yes]Large, complimentary laptop safe[/item]
[item check=yes]Complimentary in-room WiFi[/item]
[item check=yes]Complimentary bottled water[/item]
[item]Stocked minibar[/item]
[item check=yes]Ample lighting[/item]
[item]In-room coffeemaker[/item]
[item]Iron and ironing board[/item]
[item check=yes]On-site restaurant[/item]
[item check=yes]24-hour room service[/item]
[item check=yes]24-hour state-of-the-art fitness center[/item]
[item check=yes]Turn-down service[/item]
[/checklist]
The Dan Tel Aviv Hotel
Ha-Yarkon St. 99
Tel Aviv-Yafo, Israel
tel 972 3 520 2525
danhotels.com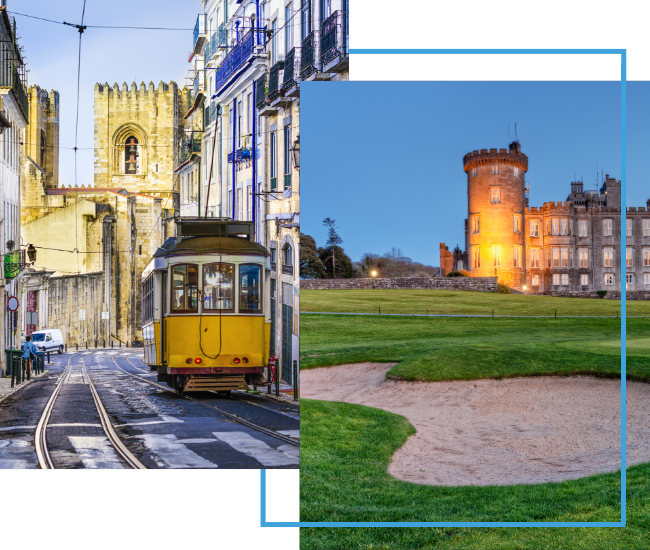 FX Excursions
FX Excursions offers the chance for once-in-a-lifetime experiences in destinations around the world.
Explore Excursions
Did the new film Oppenheimer rouse your interest in the nefarious world of international espionage? You can go straight to the real-life setting for covert actions this November (Nov. 10–12), when La Fonda on the Plaza in Santa Fe hosts a specially themed "Spies, Lies and Nukes" weekend. The hotel actually served as the retreat location for Manhattan Project scientists, who stayed at La Fonda on the Plaza to take a break from the stress of their work. During the weekend, the property's La Fiesta Lounge will make a tasty nod to those days by serving up a special Atomic Martini.
Ever want handcrafted martinis and freshly shucked oysters delivered straight to your room? The Read House's New Martinis & Pearls service has you covered. Shining in 1920s-themed decor, the historic hotel in the heart of Chattanooga offers a true Gatsby-esque experience, now further elevated with this upscale amenity. Guests can now indulge in their perfectly chilled martini, made to order, and "pearls" (oysters) in the comfort of their room.