Damascus in the evening rush hour is the definition of chaos. As an outsider, you wouldn't want to be driving through the city at this time of day, and certainly not across the six-way intersection of Sahaat Yousef al-Azmeh, and most definitely not at the wheel of a local taxi.
So what was I doing one Monday evening rush hour driving a local taxi across Sahaat Yousef al-Azmeh?
That question was at the forefront of my mind as I steered the beat-up yellow taxi through the disorderly jostle of other beat-up yellow taxis, beat-up cars, beat-up buses and the random pandemonium of motorcyclists, carts and pedestrians.
My reluctant conversion from tourist to taxi driver had taken place on the road to Damascus. I was returning from Bosra, close to Syria's border with Jordan, where I had spent the day clambering over magnificent Roman ruins. The taxi driver slept in the vehicle in tree-shade until I was done. Then we headed back to the capital.
Midway through the journey, we were halted at a military roadblock. The driver was asked to produce his license, but after a long pantomime of checking his pockets and various compartments in the car, he came up empty-handed. A soldier asked me for my license. I produced it, and was directed — not quite at gunpoint, but almost — to the driver's seat.
After a cursory familiarization with the controls and a fruitless reach for the seat-belt that wasn't there, I set off with the shamefaced driver sitting beside me. A military jeep followed us, remaining in the grimy rearview mirror the whole way.
Damascus is possibly the oldest continuously inhabited city in the world. Modern planners have tinkered with the infrastructure, putting in highways and flyovers, but away from the main thoroughfares we were immediately plunged into a haphazard street plan that has evolved over the course of 3,000 years and is better suited to camels than motor vehicles.
"Here?" I asked the erstwhile driver, pointing at a vacant stretch of curbside. He shook his head and indicated that I should bear left, then right, into a street so narrow that the pedestrians on either side had to flatten themselves against the storefronts to allow us to pass.
Satisfied that our military escort was no longer with us, the driver asked me to stop. There then followed an awkward interlude while we argued over the fare. Finally he conceded that the journey from Bosra should be off the meter, and I paid him half the pre-agreed price.
I watched the taxi trundle off down the street, then realized that I didn't have a clue where I was. Given that Syria had been labeled as part of the "Axis of Evil," being dumped in the middle of its capital city ought to have been a cause for alarm.
But my expectations of this country had been rapidly overturned on my initial arrival in Damascus two days earlier. Nothing had prepared me for the warmth and generosity of its inhabitants.
On my first afternoon I had been invited to join a group of men drinking tea from a flask on the threadbare grass of one of the city's parks. We chatted amiably for an hour. When I departed, they wished me a pleasant stay. Apart from the brief trauma of driving a taxi, that wish had been fulfilled.
But now I was stranded in the old town, thoroughly lost. I asked a passer-by for directions to the Street Called Straight, from where I would have my bearings. "I'll show you," he said, and although it took him well out of his way, he walked me through the labyrinth of biblical alleys to the famous route that runs northwest to southeast between the city's ancient walls.
For a quarter of its length, the street becomes Madhat Pasha Souq, and is covered by a perforated, rusty canopy. During the day, sunlight glistens through the constellation of holes in the roof, giving the impression of a star-spangled night sky.
If you tune out the traffic and the shops selling Casio watches and Korean televisions, the Street Called Straight can transport you back through space and time. Here you can experience sounds, scents and sights that have endured unchanged through the centuries.
The milestones of that long history are dotted all over the city. The National Museum provides a fine overview of the complex layers of Damascene civilization, from Egyptians to Assyrians to Persians to Greeks to Romans and then to Islam.
From the Street Called Straight, I navigated my way to the city's primary beacon of Islam, the Umayyad Mosque. Within the mosque's main hall, which is open to non-Muslims, a revered marble tomb is reputed to contain the head of John the Baptist, a reminder that the origins of Islam and Christianity are intertwined.
Of course, the two religions clashed fiercely in this part of the world for the duration of the medieval Crusades. As I skirted the outer wall of the mosque, I passed the modest mausoleum of Saladin, the great Islamic military commander who earned the respect of his Christian foes.
The previous day I had stood beside the tomb, rubbing shoulders with Arab tourists. One of them said to me, in struggling English, "Saladin, very good. Richard Heart of Lion, very good." By evoking those two ancient rivals, we were able to set aside the current discord between our cultures. I posed for a smiling photograph with my new companions.
Now, at dusk, the mausoleum was closed and Saladin lay in lonely darkness. I walked on, intending to head back to my hotel, but I was thirsty and decided to stop at a sidewalk café. I ordered a beer.
In many Islamic countries, drinking alcohol would have landed me in jail. But in Damascus, locally-brewed beer is widely available and is surprisingly potent.
I filled my glass with half of the liter bottle and took a long, refreshing sip. A group of Syrians at the adjacent table watched me. Catching my attention, they broke into smiles and invited me to join them.
I picked up my glass and bottle and took them to the vacant chair at their table. Sometimes that is all it takes to bridge a divide.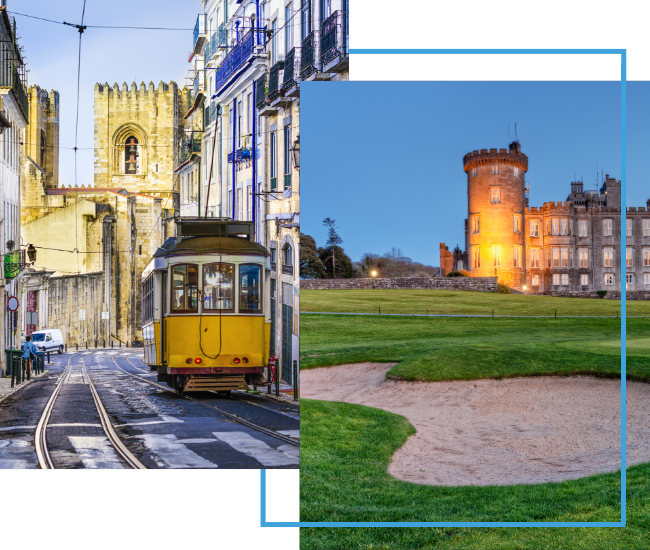 FX Excursions
FX Excursions offers the chance for once-in-a-lifetime experiences in destinations around the world.
Explore Excursions
Pleasant weather, autumn foliage and vibrant flowers are among the many delights awaiting nature lovers at botanical gardens and arboretums across the United States. However, some of these green spaces take on additional color this month and through Halloween when enterprising gardeners, landscape architects, management and other creative minds cast a spell with themed environments running the gamut from spooky to utterly bewitching.
Sponsored Content
Learning more about our readers' travel habits and preferences ensures Global Traveler delivers the content you desire. As the travel industry has adapted and changed over the last few years, it's more important than ever to connect. To best meet your short- and long-term travel content needs, please help us!
For travelers who love all things autumn, Crystal Springs Resort, New York City's closest destination resort, features special offers and experiences to meet the demands of everyone's fall bucket list. Located only 80 minutes outside New York City in Sussex County, New Jersey, Crystal Springs Resort offers a quick getaway to enjoy fall foliage. Are any of these new offers or experiences on your bucket list?