Arrival/Check-In: We were looking forward to spending some time in the birthplace of the Gallagher clan, Donegal, and we were not disappointed. Friends at Tourism Ireland suggested we stay at Lough Eske Castle, close to Lough Eske in a pristine 43-acre forest.
Once you enter the long drive to the castle, you feel yourself stepping back in time. The grounds contain many interesting sculptures, one of which is a dragon that greets you just before you drive to the front entrance. We pulled in and were amazed by the beauty of the castle stones and the modernization that turned a derelict, burned-out hulk into a truly special place. We parked in front and were immediately greeted by Michael, the bellman, who took us in, helped us with check-in and directed us to drive around the back of the complex for easier unloading of our bags. Michael met us there and offered his assistance, which was quite welcome as a light Donegal rain began to fall.
Guest Quarters: We stayed in guestroom 120 in the newer section of the hotel that leads to a courtyard of the main section of the castle. This was convenient for parking near our room and walking to the restaurants or around the grounds. The room was one large rectangle with a king-sized bed flanked by night tables and a workstation on the left. Double French doors led out to the garden and courtyard, and we could exit this door to get to the main house. The only problem was we could not lock these doors upon departure, so we ended up routing around the building. The bathroom, located to the left upon entering the room, was long and smartly appointed with double sinks and a large tiled shower. An equally large soaking tub sat on the opposite side of the sinks. The shampoo and bath products were from Mulvenna. Next to the bathroom was a large closet.
I found the electrical outlet quantity better than most hotels, with a large line of outlets above the desk. The only drawback was the lack of air-conditioning; we could leave the double doors open when we were away for the day or sleeping, but that did not seem secure. This is a common comment from travelers to Eske, as the summer months can get warm. Each room includes fans.
Services/Amenities: We enjoyed dinner and lunch at the Gallery Bar, where they pull some of the finest pints in Donegal. Bernard and Nigel made sure our glasses were kept filled while temping us with such dishes as the Solís burger, Irish smoked salmon and lamb stew.
In Cedars, Eske's signature restaurant, we enjoyed a fine dinner including local oysters and lamb rump, finishing with ice cream. Christine, our server, made sure we had a lovely Château La Fleur de Bouard to accompany this meal.
During my stay, I booked a 30-minute massage at the on-site Spa Solís, offering all types of treatments and an indoor pool, which can come in handy with Donegal's unpredictable weather. I also booked a tee time at the Donegal Golf Club at Murvagh for a windy round, which added to my Donegal experience (see Global Traveler September 2015). On a tour of Donegal Town, I enjoyed visiting Donegal Castle and the shops and restaurants. Make sure you visit the Slieve League Cliffs and Glencolmcille Famine Village, which are spectacular and just an hour's drive away. Be warned: Some of the roads are narrow!
GT CHECKLIST
[checklist]
[item check=yes]Doorman/valet[/item]
[item check=yes]Less than 10 minutes for check-in[/item]
[item check=yes]Separate tub and shower[/item]
[item check=yes]Large vanity[/item]
[item check=yes]High-quality towels[/item]
[item check=yes]Powerful, unattached hair dryer[/item]
[item check=yes]High-quality bed linens[/item]
[item check=yes]Large, flat-screen television[/item]
[item check=yes]Large desk with convenient outlets[/item]
[item check=yes]Large, complimentary laptop safe[/item]
[item check=yes]Complimentary in-room WiFi[/item]
[item check=yes]Complimentary bottled water[/item]
[item check=yes]Stocked minibar[/item]
[item check=yes]Ample lighting[/item]
[item check=yes]In-room coffeemaker[/item]
[item check=yes]Iron and ironing board[/item]
[item check=yes]On-site restaurant[/item]
[item]24-hour room service[/item]
[item]24-hour state-of-the-art fitness center[/item]
[item check=yes]Turn-down service[/item]
[/checklist]
Lough Eske Castle, a Solís Hotel & Spa
Donegal Town
County Donegal, Ireland
tel 353 749725100
solishotels.com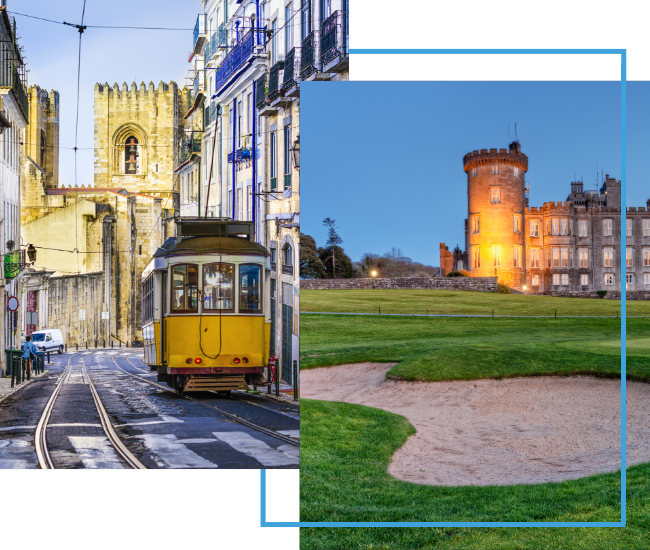 FX Excursions
FX Excursions offers the chance for once-in-a-lifetime experiences in destinations around the world.
Explore Excursions
Travel can take a toll on your body and soul; these products keep you looking (and feeling) good. From a clever shoe that puts a spring in your step (and is effortlessly easy to put on and remove) to a lightweight hair dryer and a night cream that works wonders on tired, dehydrated skin, here are three must-haves to tote on your next trip:
Sponsored Content
The Islands of Tahiti are among the most beautiful and sought-after vacation destinations in the world. The endless images of overwater bungalows with Bora Bora's majestic peak towering over waters of every shade of blue have an intrinsic pull. But with 118 islands and atolls to explore, there is so much more to this spectacular region of the Pacific.
Pleasant weather, autumn foliage and vibrant flowers are among the many delights awaiting nature lovers at botanical gardens and arboretums across the United States. However, some of these green spaces take on additional color this month and through Halloween when enterprising gardeners, landscape architects, management and other creative minds cast a spell with themed environments running the gamut from spooky to utterly bewitching.