In a city filled with inspiring Gothic churches, massive Baroque palaces and solid 19th-century stone edifices, could a visitor with a day to spare find minimalism in Vienna?
In Austria's lovely capital — where even the pastries are overly constructed with swirling towers of fresh whipped cream, mounds of powdered sugar and layers of marzipan — it really is possible to view architectural sites where Le Corbusier's words, "less is more" would apply.
Start the day with breakfast at the Scottish Abbey (tel 43 1 534 98 900), a former 12th-century Scottish Benedictine monastery that has been converted into a quiet and affordably priced hotel. The large rooms have simple, built-in wood furniture; and the buffet breakfast includes cold meats, cheeses, homemade bread and jams, muesli and fresh fruit. The Abbey's soothing bells and courtyard garden belie its city center location.
After breakfast, walk to the Haas-Haus (Stephansplatz), a glass, concrete and marble mixed-use building designed by Austrian architect and Pritzker Architecture Prize winner Hans Hollein. Haas-Haus was controversial when constructed in 1990, as it sits opposite St. Stephen's, Vienna's iconic 14th-century Romanesque and Gothic cathedral. The proximity of the newer building to the older one, perhaps too close for some architectural purists, results in a wavering reflection of St. Stephen's in the glass façade of Haas-Haus, home to a hotel, a restaurant and office space. The juxtaposition provides a beautiful vision of the city's architectural diversity.
The nearby Austrian Museum of Architecture (tel 43 1 522 3115) houses both permanent and temporary exhibitions offering a visual chronology of Vienna's Post-modern architecture, including two other controversial buildings: the 2004 T-Center, a "horizontal" skyscraper located in the Sankt Marx district; and the 2005 Zaha-Hadid Haus (at Spittelauer Lande), a multi-angled, white concrete housing complex elevated on stilts and constructed next to the Danube Canal. Iraqi-born, British architect Zaha-Hadid is the only woman to receive the prestigious Pritzker award.
Before leaving the architecture museum, have lunch at its Café-Restaurant MILO, designed by French architects Anne Lacaton and Jean-Phillippe Vassal. The interior's vaulted ceiling, covered with Asian-inspired tiles, hovers above a spare but functional restaurant space with floor-to-ceiling arched windows.
One of the most interesting architectural structures in Vienna can be found in the Simmering district, a few minutes from downtown Vienna via the A3 subway. Here, the interiors of four huge, late-19th-century natural gas tanks have been converted into apartments (top levels), offices (middle levels) and entertainment/shopping areas (ground levels). The four historic Gasometers, as they are called, were redesigned in the late 1990s by several noted architects, including France's Jean Nouvel and the Viennese firm Coop Himmelb(l)au. At 230 feet in height, all still with the original brick exterior, the Gasometers have become a surreal, Post-modern village all their own, with about 1,600 residents living in 500 apartments within the historic brick walls.
Spend the rest of the afternoon back in downtown Vienna at the Museum of Modern Art, also known as MUMOK: Museum Moderner Kunst Stiftung Ludwig Wien (Museumsplatz 1, tel 43 1 525 00), which presents art from the Classical, Modernist, Nouveau Réalisme, Fluxus, Pop Art and Viennese Actionism movements within an unusual-looking, Cubist, monolithic building with an exterior covering of basalt lava.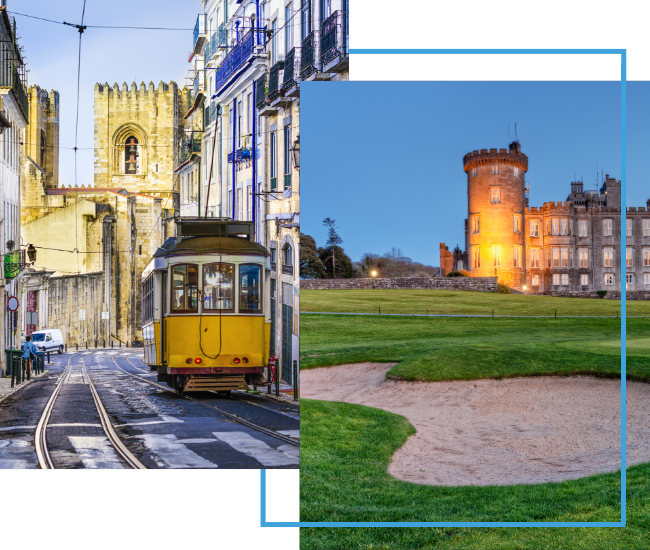 FX Excursions
FX Excursions offers the chance for once-in-a-lifetime experiences in destinations around the world.
Explore Excursions
There's no doubt the northern lights are awe-inspiring and spectacular. Unfortunately, they're also fickle and fleeting, and despite your best-laid plans of checking this item off your bucket list, sometimes Mother Nature's luminescent show just doesn't cooperate. But one cruise line has a new fail-safe in place.
Sponsored Content
In an increasingly digital and interconnected world, the Global Business Travel Association (GBTA) Convention remains an indispensable platform for business travel industry professionals seeking to make the most of the power of face-to-face connections. Taking place August 13–15 in Dallas, the 2023 GBTA Convention provides the unique opportunity for professionals and companies to join visionaries, thought leaders and industry experts for meaningful networking, cutting-edge insights and inspiring innovation.
Think you need a degree in sailing to enjoy a yachting holiday? Dream Yacht Worldwide, a leader in yacht charters, wants you to relax and enjoy the journey. Newly expanded to include the British Virgin Islands, Martinique, Tahiti and the Seychelles, the "Easy Crewed" offered by Dream Yacht Worldwide also include charter options in Greece and Croatia.