With so many capital cities clustered close together across continental Europe, travelers can easily overlook Brussels as they plan a family trip. Don't let that happen. There's much to see and do in little Belgium's big, royal metropolis — where the current inner-city population totals more than a million — with plenty of attractions enticing first-time and repeat visitors.
A fun place to start is the Municipal Instruments Museum, housed in what used to be the Old England department store, an eye-catching 1898 Art Nouveau landmark on Rue Montagne de la Cour. The museum showcases more than 1,500 instruments — keyboard, string and brass, classical and folkloric, vintage and contemporary. Interactive terminals and headphones (plugged into a fine-tuned stereo system) enhance the sight-and-sound experience. The MIM's sixth-floor restaurant/tea room includes a roof terrace, ideal for panoramic views of Brussels' widespread cityscape.
Close by, on hilltop Kunstberg terrain, the stucco Palace of Charles Alexander of Lorraine — its 18th-century Baroque apartments and salons recently restored — is now open for tours. A Grecian statue of Hercules guards a curving staircase, and overhead, 28 types of Belgian marble form the rotunda's central rosette.
A short downhill stroll gets you to the chic Sablon district, where sidewalk cafés, antiques shops, art galleries and trendy boutiques overlook Place du Grand Sablon. Here you'll find Pierre Marcolini, a pricey chocolatier; Wittamer, Brussels' choicest purveyor of fancy pastries; and Le Pain Quotidien, a chatty, family-friendly neighborhood restaurant. Place du Petit Sablon is a delightfully intimate Renaissance-style park wrapped inside wrought iron fences festooned with four dozen statues of 16th-century guild masters, each holding the tools of his trade. Space alongside Sablon's late-Gothic Notre-Dame church becomes Les Marché des Antiquaires, part of Europe's best antiques market and a haven for bargain hunters, open year-round on Saturdays (9 a.m.–5 p.m.) and Sundays (9 a.m.–1 p.m.).
Europe's most picturesque market square? Many travelers wouldn't hesitate to cast a vote for the Grand'Place. Cobblestone-paved, comparable in length and width to a soccer field and off-limits to automobiles, this truly grand "urban living room" is dominated by Brussels' 15th-century Hôtel de Ville town hall, quite photogenic after undergoing a thorough steam cleaning. Look up to see the 315-foot-tall spire's golden Archangel Michael, Catholic Brussels' patron saint, wielding a dragon-slaying sword. You might wish to take a guided town hall tour, costing about $3.45 per person or $2.75 each if you join a group of at least 12 sightseers.
The rest of the square is surrounded by 39 harmonious, 17th-century Flemish guild halls sporting pinnacles, parapets, turrets, scrolled gables and heraldic banners — a memorable experience at nightfall in summertime, when floodlights click on, a cue for loudspeakers to boom out classical music.
Daily, from early morning through the afternoon hours, vendors heap market stalls with fresh-cut flowers and exotic plants. In a horticultural spectacular inaugurated in 1791, produced every other year during the second weekend of August (next in 2012), gardeners turn more than a million multicolored begonia blossoms into a gorgeously patterned tapis de fleurs, or flower carpet, adorning 19,000 square feet of Grand'Place pavement.
If a shopping expedition happens to be on any leisure day's agenda, map-read your way to Rue Neuve, Boulevard de Waterloo and the broad, ever-busy Boulevard Anspach — a few blocks beyond the Grand'Place and the locale of Brussels' Bourse (stock exchange), a colonnaded, dome-topped, 19th-century "temple."
Be sure to book accommodations well in advance if your visit will coincide with Ommegang, or Walk-Around, next scheduled for July 5–7, 2011. True to tradition inspired in 1549 by Holy Roman Emperor Charles V, caped horsemen and their entourage — all in full pageantry regalia — parade from the Sablon to the Grand'Place, which is transformed for the occasion into an enchanting, make-believe medieval village that fascinates kids as well as their parents. Stilt-walkers toss sweets to children, leather-gloved crossbowmen shoot their arrows at targets and musicians toot their horns.
Narrow lanes emanating from the square's eastern perimeter lead to a high-density quarter called L'Ilot Sacré (Sacred Isle), where pedestrian-only Rue des Bouchers is jam-packed with seafood restaurants and the inevitable souvenir stores. That street, in turn, intersects with sky-lit Galeries Saint-Hubert, completed in 1847 as the first-ever-anywhere enclosed shopping arcade, now with a theater and cinema on the premises. Make it your weatherproof stopover for café-sitting and people-watching — plus your chance to indulge in some taste-tempting Neuhaus chocolates. Readily available in Brussels and elsewhere throughout Belgium, other famous national (and kid-pleasing) brands of creamy chocolates and pralines include Leonidas, Guylian and Godiva. While exploring the Grand'Place, learn more at the Museum of Cocoa and Chocolate.
In the comfort food category, Belgian cream cakes, crêpes and waffles (gaufres) are long-time national favorites. Then there's the potent, omnipresent Belgian beer — 400 varieties from 125 breweries — with brands ranging from Stella Artois and Leffe to Jupiler, Hoegaarden, Rodenbach and Lambik Biele, Timmermans and Vander Linden.
Adjoining the National Library, the Royal Museum of Fine Arts of Belgium (www .fine-arts-museum.be) combines the street-front Ancient Art and the subterranean Modern Art complexes. Both are world-class, providing an opportunity to compare paintings by Old Masters such as Bosch, Cranach, Rubens, Rembrandt, Van Dyck, Memling and Bruegel with those of 20th-century Belgian Surrealists René Magritte, Paul Delvaux and James Ensor. A separate room is devoted to Pierer Bruegel the Elder's much-reproduced imaginary scenes of placid, playful medieval village life, plus his terrifying vision of hellish damnation, The Fall of the Rebel Angels.
Nearby, on Rue de Sables, the family can get acquainted with an entirely different kind of national art form. A 1906 textile warehouse designed by Art Nouveau genius Victor Horta became the Belgian Comic Strip Center (http://www.comicscenter.net) two decades ago. Displays, figurines (available for sale) and archived publications immortalize the goofy escapades of European children's favorite characters: Tintin, Lucky Luke, Willie and Wanda, Spirou, the Smurfs and Gaston LaGaffe.
Eurocrats scurry to and from offices in the European Union district, about a mile east of the centuries-old heart of Brussels. Irish pubs, German Kneipe taverns and other expatriate watering holes are prevalent on side streets. Just beyond lies Cinquantenaire Park with its triumphal arch — much less famous than the one in Paris but bigger and equally monumental. The park also contains art and history museums. Do a little time traveling at Autoworld, which occupies a pavilion remaining from the city's 1958 World's Fair and features 100 years of international automobiles. Two U.S. stalwarts are black Cadillac convertibles used as presidential limousines: Roosevelt and Truman rode in the 1938 model, and Eisenhower used the '56 Caddie, as did John F. Kennedy during his celebrated 1963 appearance in Berlin. Near north-side Gare du Nord railroad station, 10,000 flowers bloom in the National Botanical Garden.
---
Info To Go
Fare for the half-hour taxicab commute from Brussels National Airport (BRU) to the city center averages $42–55. Save on expenses by taking the No. 3 STTB bus. For more information, visit the Tourist Office for Flanders (Belgium) website at http://www.visitflanders.us.
---
Lodging
Adagio Brussels Centre Monnaie
This well-maintained apartment hotel on a main shopping thoroughfare has 140 stylishly furnished, big-windowed units with fully equipped kitchens and communications amenities. Blvd. Anspach 20, tel 32 2 212 93 00, $–$$
Hotel Metropole
Loaded with chandeliered, 1895-period charm and décor, the city's best-known 5-star vintage property is situated among business, government and shopping quarters. Walk to the Grand'Place. Place du Brouckére 31, tel 32 2 217 23 00, $$$
Sheraton Brussels Hotel
If you want to "stay American," this sleek, 511-room high-rise suits the purpose with its five restaurants, spa and pool, conference center and business center. Place Rogier 3, tel 32 2 224 31 11, $$$–$$$$
---
Dining
Le Cap Sablon
Romantically situated on south-side Brussels' Place du Grand Sablon, this neighborly 20-table Belgian-French bistro is augmented by period décor and impeccable service. Rue Lebeau 75, tel 32 2 512 01 70 $–$$
Falstaff
Filled with Art Nouveau decorations, this brasserie near the stock exchange serves Flemish beef and beer stew and two dozen brands of Belgian beer. Rue Henri Maus 17, tel 32 2 511 87 40 $

La Maison du Cygne
This 4-star restaurant is an epicurean delight with a well-stocked wine cellar. Window tables offer views of Grand'Place. Closed Saturdays at lunchtime and all day Sundays. Rue Charles Buls 2, tel 32 2 511 82 44, $$$$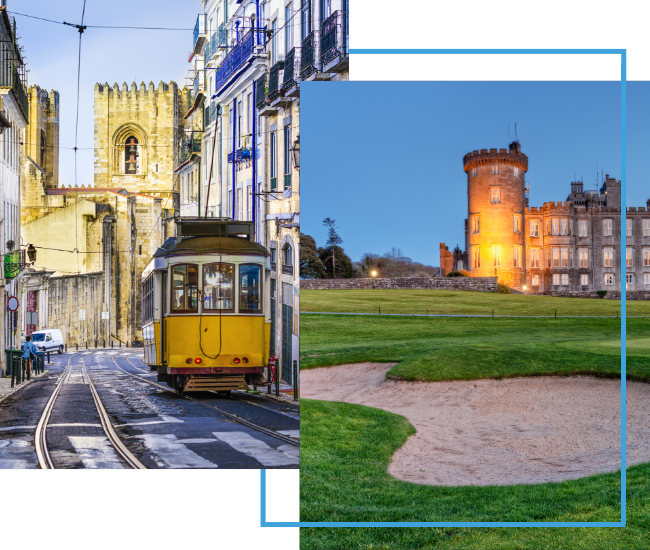 FX Excursions
FX Excursions offers the chance for once-in-a-lifetime experiences in destinations around the world.
Explore Excursions
Travel can take a toll on your body and soul; these products keep you looking (and feeling) good. From a clever shoe that puts a spring in your step (and is effortlessly easy to put on and remove) to a lightweight hair dryer and a night cream that works wonders on tired, dehydrated skin, here are three must-haves to tote on your next trip:
Sponsored Content
Whether it's the people, the craic (fun) or the coasts, travelers always find something to love about the island of Ireland. What fills your heart?
Pleasant weather, autumn foliage and vibrant flowers are among the many delights awaiting nature lovers at botanical gardens and arboretums across the United States. However, some of these green spaces take on additional color this month and through Halloween when enterprising gardeners, landscape architects, management and other creative minds cast a spell with themed environments running the gamut from spooky to utterly bewitching.