The first two days of our trip to Walla Walla, Washington, it was just my husband and me. While we enjoyed each other's company and sampling wonderful wines and chatting with the winemakers and tasting room staff, there was something missing. In the past our wine tasting excursions have always included at least one other couple — and, often, a whole group of us — whom we've known for decades and with whom we've shared life's ups and downs along with some great meals and memorable bottles of wine. So we headed out on Saturday with great excitement, knowing we'd be spending the day with longtime friends we had only seen once in person since 2019.
We met Teri and her daughter Suzie at Mark Ryan Winery's tasting room in downtown Walla Walla. Suzie's a bright young architect we've known since she was in grade school, and she added a multigenerational spark (and photography skills) to our day. Perhaps due to the fact it was the very beginning of the day, but we didn't get a lot of warmth and welcome from the host at first, but we enjoyed the wines, especially the 2018 Lost Soul 100 percent Syrah, which had a butterscotchy nose and luscious fruit that developed and lingered.
From there we stepped across the street for a quick lunch before heading south of town to one of our old favorites, Rulo Winery, where dear friends Paul and Julie joined us as we sat in the sun on the winery's crush pad, caught up and sipped wine. Owners/sole employees Vicki and Kurt (the winemaker) are warm, welcoming, down-to-earth hosts who produce wonderful wines at exceptional prices. Their '20 Rosé (everyone's making Rosé these days!) hinted at rhubarb and florals and was so refreshing. The rest of the wines we tasted were a little older than one generally gets to taste at a winery, allowing us to taste more developed wines. We tried a 2014 Walla Walla Chardonnay and the 2015 Rocks Chardonnay — with a lovely, soft mouth feel; a 2013 Syrah; and the 2015 Silo, a wonderfully balanced 100 percent Syrah.
We were fortunate to move from the wait list to an open tasting slot at Figgins (the family which opened the first winery, Leonetti Cellar, in Walla Walla over 40 years ago), where Dillon met us in the winery's barrel room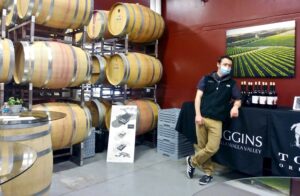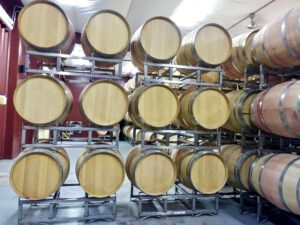 for a taste, first, of three wines from the family's Willamette Valley label, Toil Oregon. We then sampled the 2018 Figlia, a Petit Verdot and Merlot blend, rich and dark and with an incredibly long finish; add that to the list! We then moved on to the Figgins estate single-vineyard Bordeaux-style red blends from 2013, 2014 and 2017, with Cabernet Sauvignon, Merlot and Petit Verdot in the mix.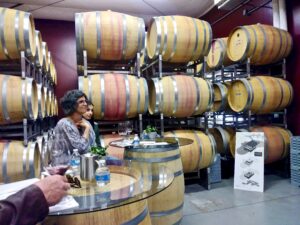 These were inky-dark with deep, luscious fruit balanced by the tannins. Too wonderful! We also got to see some of the renderings of the winery's planned tasting room that will sit in the midst of the estate's Mill Creek vineyard (of great interest to architect Suzie), with an opening target of 2022.
We took our friends next to Prospice,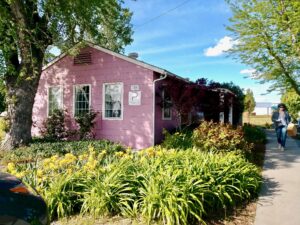 where we'd tasted the day before, because we really wanted them to try the wines and meet owners/winemakers Matt and Jay. This time the weather cooperated, and we enjoyed our tasting out on the newly introduced patio for a leisurely experience.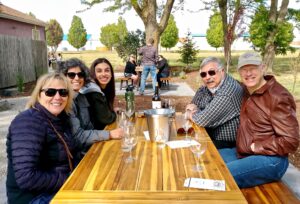 Our final tasting proved a bit more formal, as we arrived at Corliss Estates' magnificent, art-adorned tasting room set in a heritage brick building.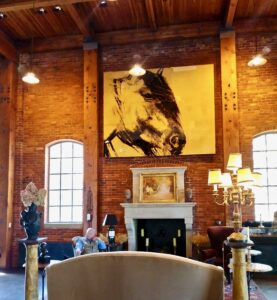 We were seated at an enormous wooden table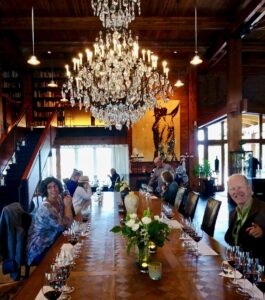 that allowed for plenty of distancing from another group and was set with our tasting flight and notes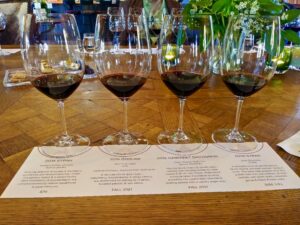 and some delectable bites chosen to complement the wines.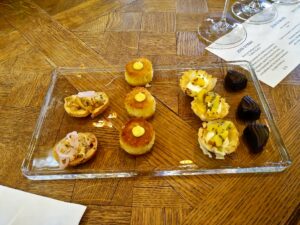 Corliss wines (Syrah, Cabernet Sauvignon, a red blend) are always well-balanced, full of fruit and exhibit the benefits of extra aging before release. We tried three 2016 wines and ended with a very special treat of the 2005 Syrah. At 16 years old it still offered a complex nose of smoke and spice and rich flavors of dark fruit. It went perfectly with the dark chocolate truffle, and our host predicted it would remain delightful for at least 3 to 5 more years.
We had a wonderful day, made perfect in that we shared it with dear friends from whom we'd been apart far too long. We raised several glasses that day to being together once again and deepening our bonds.
— Patty Vanikiotis, associate editor/copy editor
FX Excursions
FX Excursions offers the chance for once-in-a-lifetime experiences in destinations around the world.
Last week was the start of football season with Americans around the United States celebrating the return of the NFL and football Sundays. Alaska Airlines joins the celebration.
Sponsored Content
The Global Business Travel Association's (GBTA) Convention 2021 will be unlike any other convention before it, as we come together in person for the first time since the business travel industry drastically changed and look forward to rebuilding and reshaping the future. GBTA Convention 2021 will bring all of us together to learn from experts and each other, in-person at Orange County Convention Center in Orlando, Florida, Nov. 17–19. The safety of our attendees is our top priority. View health and safety protocols.
Legendary Hotel del Coronado reached another milestone in its $400 million Master Plan reimagination, with the completion of an extensive, historic restoration of the hotel's front porch and lobby; a redesigned main entry and drive experience; new guestrooms in The Views area; and refreshed retail concepts.