Although my husband and I did a little traveling last summer and felt more comfortable (post-vaccinations) dining out and going to special events, there were still some big holes in our usual summer schedule. This year, though, we really feel like so much of what was missing the past two years has returned. Within the span of just over a week recently, we were able to enjoy two activities which have marked nearly every summer of the 13 years we've lived in Southern Oregon.
First, we attended a lively musical at the Oregon Shakespeare Festival in nearby Ashland. The organization offered one live show last year and several streamed performances and special lectures online, but this year it is back with a full complement of shows in repertory at all three of the festival's theaters. Masks are still required, and I've noted that several performances over the past few months had to be cancelled due to a large number of actors contracting COVID. I believe the crowds have been lighter than in the past (perhaps in part due to those high gas prices, as many patrons come from up and down the West Coast on an extended road trip), but the enthusiasm to experience these live performances shines forth from those in attendance.
We began our evening with dinner at a small, funky little place on The Plaza just down the hill from the Bowmer Theater, where our show would be staged later. Oberon's Restaurant and Bar resides in a narrow space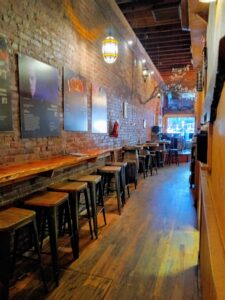 and features rustic wooden décor, an impressive range of whiskeys and other spirits,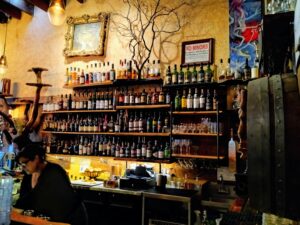 and "British-style" tavern food. On this rather warm evening we opted to sit outside out back,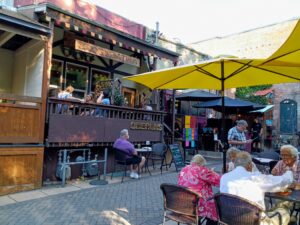 where several restaurants share outdoor space along a lovely tree-shaded promenade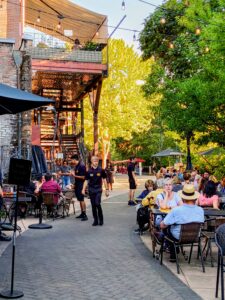 adjoining Lithia Creek.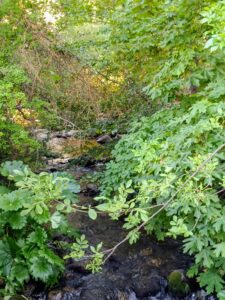 We shared a delicious Caprese Grilled Cheese sandwich boasting mozzarella, tomatoes, basil, pesto and a balsamic reduction on sourdough — a great combo of flavors and textures. Harry added a bowl of beef stew (which he deemed too heavy on garlic but generous with tender chunks of beef) while I opted for a lighter, refreshing Pecan Apple Salad with fresh greens and blue cheese crumbles as well as Granny Smith apples and candied pecans. It was a nice, light meal in a lovely, relaxed setting.
It was a short stroll to the theater, and we settled in with great anticipation to see Once on This Island, a Tony-winning musical set in Haiti of the past and present. The performance was poignant, moving, exuberant and memorable, and although the theater wasn't completely full, there was a rather vocal contingent which added another dimension to the night. There was a large group of high school students (50 or more) for whom live theater seemed to be a new experience. They clearly were pulled in to the story, and there were a lot of uninhibited exclamations and reactions to the characters and action on the stage. As a former English teacher and theater major, I loved their gut-level response to this art form, and it certainly magnified my enjoyment of the play.
Several nights later, we headed to one of our favorite outdoor concert venues, the Britt Festival in Jacksonville, Oregon, for the first time in three years to experience One Night of Queen, a tribute performance by Gary Mullen & The Works. The band is celebrating its 20th season of this show. We were blessed with another lovely, warm evening, and the crowd gathering in the amphitheater, both on the lawn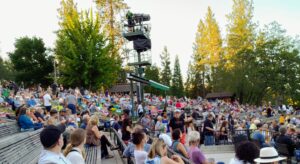 and in the fixed seats,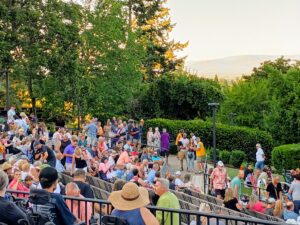 was in a happy mood. Gary Mullen did a great job channeling Freddie Mercury in look, mannerisms and cheeky banter with the audience.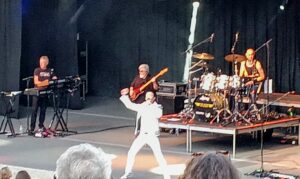 His bandmates, all accomplished musicians, did right by all of Queen's greatest hits, with David Brockett on guitar and Jon Halliwell on drums particular standouts with some lengthy solos.
Yes, as we left the venue that night, we felt as though we had truly regained some of the best elements of our summers past.
— Patty Vanikiotis, associate editor/copy editor
FX Excursions
FX Excursions offers the chance for once-in-a-lifetime experiences in destinations around the world.
COMO Hotels and Resorts offers travelers new immersive luxury retreats for 2022. Perfect for couples, small groups or solo travelers, the new COMO Journeys are available to book in Australia, Bhutan, Indonesia and Thailand.
Sponsored Content
TAP Air Portugal, or rather Transportes Aéreos Portugueses, was founded 77 years ago, March 14, 1945, and flew its first commercial flight September 19, 1946, inaugurating service from Lisbon to Madrid, Spain, aboard a Douglas DC-3.
Anantara Chiang Mai, the deluxe resort on the banks of Thailand's Mae Ping River, relaunched the city's most famous high tea experience, served on the terrace of the 100-year-old British Consulate that today houses the resort's Service 1921 Restaurant & Bar.