Last weekend my husband and I traveled to Portland for two celebrations, one with friends and the other with family. On Friday evening we gathered with several friends with whom we have shared a love of wine, good food and each other for 40 years. Over the course of the decades some of us have moved out of town and even out of state, but we always found a way to get together at least a couple of times a year, even then. COVID put an end to those events for nearly two years, so it was with an extra measure of joy and gratitude that we came together this week.
Each couple or individual brought two bottles of wine, one red and one white (or rosé) to be shared in a blind tasting. Our host was the only one who knew in advance the identity of the wines, and he devised the order of tasting and prepared tasting sheets for us to write down our guesses as to varietal and source of each. We started the evening with a toast and sips of a sparkling wine (not part of the blind tasting), glad to be together again. We sampled the first few wines along with a selection of cheeses and some fabulous stuffed mushrooms that are a signature specialty of our hostess, Amber. Through the next few hours we made our way through about a dozen wines accompanied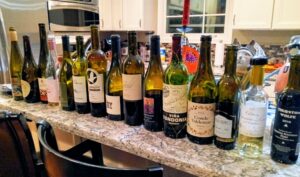 by a Greek salad and a flavorful pan of paella, chock-full of seafood, prepared by our host, Jim. Dessert followed, with a black muscat and a port-style wine to finish off the evening. The wines were revealed, and I don't think any of us were terribly successful at correctly guessing their type or origin, but the evening was an absolute delight for us all.
The next evening found us at El Gaucho, an old-school, classy steakhouse housed in the iconic Benson Hotel building in downtown Portland. The original El Gaucho in Seattle has, over the last 20 years, been joined by additional locations in the Puget Sound area and will soon add a new outlet on the Columbia River in Vancouver, Washington. The dark, elegant interior; tuxedoed wait staff; live music; and top-notch service and attention to detail all add up to a very special night out. Fitting, because our daughter Jenny and her husband, Josh, were delivering on a long-delayed (again, due to COVID), promised 70th birthday dinner for my husband, Harry. From the moment we were greeted at the door and the maitre'd learned of the occasion, every staff member congratulated Harry on his special day, and a card awaited him at our table.
We skipped ordering starters (from steak tartare to escargot and Dungeness crab cake) and began with soup and salads. Harry couldn't wait to try the spicy Dungeness crab bisque,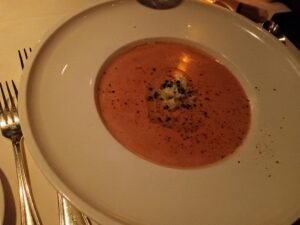 I opted for a (relatively) light mixed green salad (boasting a pleasing mix of textures with chèvre, candied walnuts and raspberries),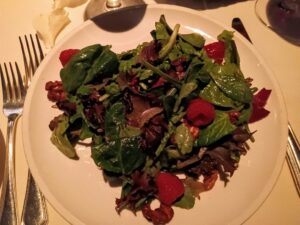 and Jenny and Josh were eager to share a traditional Caesar salad,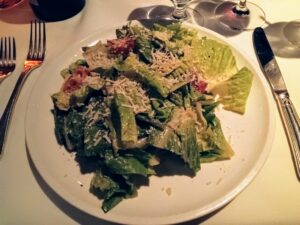 prepared tableside (this became a bit of a theme for our evening). The cart was rolled up,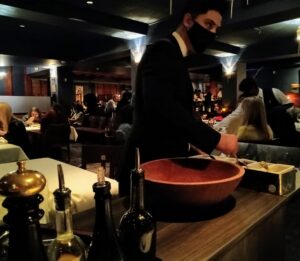 and the entire process was explained to us as the dressing was prepared before us (anchovies, garlic, lemon juice, olive oil, cheeses . . . yum!).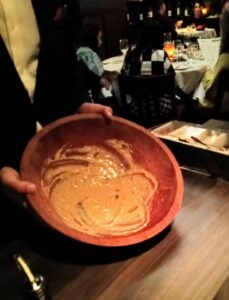 As we waited for our entrées and shared sides, we enjoyed a floor show of a different type, as our table's location afforded us a perfect view of the open, exhibition-style kitchen and especially El Gaucho's unique charcoal grill and the succession of steaks the chef prepared there. Our sides arrived just ahead of our steaks: roasted butternut squash with a pomegranate molasses glaze, pumpkin seeds and dried cranberries (so delicious; such a great blend of textures and flavors!); scalloped potatoes with just a hint of spice in the creamy, cheesy sauce; and a very large baked russet potato "fluffed" tableside and adorned with a sharp cheddar cheese sauce, scallions and butter.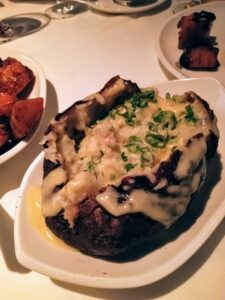 All of the beef served at El Gaucho is 28-day dry-aged, all-natural prime certified Angus beef, and I can testify to its flavor and tenderness. Josh ordered the bone-in ribeye; Jenny and Harry each ordered the filet mignon (8 and 12 ounces, respectively) with Béarnaise sauce; and I ordered the delectable Medallions Oscar, two four-ounce filets topped with Dungeness crab in Béarnaise sauce and perfectly cooked spears of asparagus.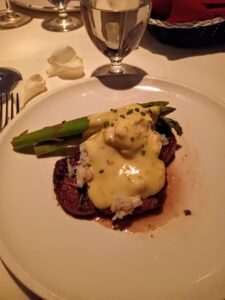 We experienced a slight hiccup when Jenny's and Harry's steaks, which were to have been medium-plus, arrived decidedly bloody-red. Our server was very apologetic, removed the steaks for more time on the grill and brought a gratis serving of Yukon Gold mashed potatoes in the meantime. The steaks reappeared suitably cooked, but our server again apologized for the error and promised our desserts would be on her.
So, completely sated though we were at the end of the meal, we had to have dessert (and we did leave some of our dinner on our plates to take home), especially as we were celebrating a birthday. Jenny opted for the Key lime pie with burnt Swiss meringue (she found the meringue texture to be a bit odd),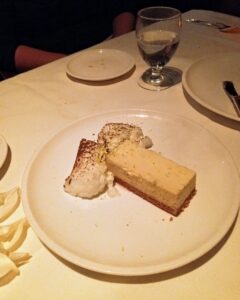 and I went for a light-sounding vanilla pot d'créme (complemented with a crunchy walnut granola and fresh raspberries and topped with a light, lemony madeleine).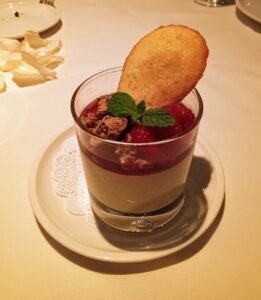 Josh felt strongly that we should enjoy the extravagance of Bananas Foster, prepared and flambéed tableside, and it was, indeed, a fun experience (especially as the table directly behind us had a serving for six prepared at the same time — it got a little toasty!).
It really was a wonderful evening, with each delectable dish matched by the incomparable service. What a great way to return to truly elegant, first-class dining after a very long dry spell!
— Patty Vanikiotis, associate editor/copy editor
FX Excursions
FX Excursions offers the chance for once-in-a-lifetime experiences in destinations around the world.
Anantara Uluwatu Bali Resort's acclaimed Anantara Spa incorporates indigenous practices from world traditions, offering signature experiences individually personalized. And now, two renowned healers, experts in holistic, natural approaches to healing mind, body and spirit, join the celebrated Ibu Jero, High Priestess of Balinese Healers, at the spa.
Sponsored Content
This holiday season, escape to the Caribbean with Celebrity Cruises and reconnect with family and friends in luxurious accommodations that make you feel right at home. Savor globally inspired cuisine designed by our Michelin-starred chef, paired with the most awarded wine collection at sea. Elevate "me time" with a soothing spa treatment sure to renew. With both long and short cruises to celebrate in December, and even three special Ultimate Holiday Cruises that sail over Christmas and into the New Year, the time to gift an experience and create unforgettable memories is now. Celebrity Cruises' Always IncludedSM pricing — drinks, WiFi and tips — ensures a seamless, carefree vacation with the ones you love.
It's time to start dreaming of your next trip. Here's some destination inspiration for you. Take a visual journey through Tulum with us.