In previous generations, conventional wisdom had it that young children and European travel didn't mix. Museums, architecture and long gourmet lunches seemed too sophisticated for the attention spans of America's youth. Fast forward to today, and parents are enthusiastically exposing kids to the great cities of Europe — at increasingly younger ages.
The truth, though, is that not every great European city is geared for families, especially those used to the kid-friendly infrastructure in the Caribbean, Hawaii and Florida.
Amsterdam is a happy exception. With its charming canals — more even than Venice — a wide range of family-friendly attractions and English- speaking locals, the city works on just about every level. Best of all, parents can introduce the kids to world-class museums, historical sites and arresting architecture while mixing in a few hours of cycling, boating or even skateboarding. Just don't hit the trail wearing wooden shoes!
Spend that first jet-lagged day working out the kinks with a pedalboat tour of Amsterdam (Canal Co., tel 31 20 6239886, http://www.canal.nl) aboard boats that seat up to four. Kids can paddle at their own pace through the canals in city center, and because there are stations along the way, families can opt for a one-way or round-trip journey. Or let someone else do the driving on one of many scheduled canal boat tours (http://www.amsterdamtourist.nl) which wend under bridges, past 17th-century homes and alongside colorful houseboats. Keep an eye out for the Magere Brug (Narrow Bridge) over the Amstel River and the city's narrowest house, barely wider than its front door. At night, the bridges are lighted, and while some routes do travel a discreet distance from Amsterdam's famous red-light district, chances are younger kids won't even notice.
The Anne Frank House (Prinsengracht 267, tel 31 20 5567105, http://www.annefrank.org) is one of the city's top attractions for Americans. The museum is the home where Frank and her family lived for several years in unimaginably cramped conditions while hiding from the Nazis during World War II. Photos and video montages set the scene, and several of Frank's diaries are on display. Kids can also see the swinging bookcase that disguised the staircase to the family's hiding place. Long lines can be daunting, so plan to arrive early.
Even young children love the sunny, colorful paintings of Vincent van Gogh's early career, and the Van Gogh Museum (Paulus Potterstraat 7, tel 31 20 5705200, http://www.vangoghmuseum.nl) is small enough for families to explore before younger kids lose interest. Or log an afternoon at the Rijksmuseum (Stadhouderskade 42, tel 31 20 6747000, http://www.rijksmuseum.nl), where young art buffs can ponder over the little girl in Rembrandt's famous Night Watch and examine the collection of 17thcentury dollhouses. Bring a camera to snap pictures of the "living statues," adorned in costumes and body paint to lure passersby. Increase the fun factor by using a water taxi to get around; taxis stop at each main museum and often bundle discounts or free admission into the fare.
Science Center NEMO (Oosterdok 2, tel 31 20 531 3233, http://www.e-nemo.nl) draws children with interactive fun. Activities include donning a white lab coat and protective glasses to perform experiments and learning about Holland's dikes, the engineering feats that reclaimed the country from the encr oaching sea. You won't have trouble finding the building: It's shaped like a half-submerged ship, and the roof terrace boasts some of the best views of the city. Be sure to explore the East Indiaman Amsterdam, a re-created 18th-century ship moored adjacent to the NEMO. Kids can relive the drama of life on the high seas — complete with battles against pirates — while parents check out the nautical artifacts.
Strap on a pair of in-line skates or let the kids use their own skateboards at Vondelpark (http://www.amsterdamtourist.nl), a vast expanse of greenery in the city which has come a long way from its days as a hippie haven in the 1960s. Nowadays, families will find outdoor cafés, a full-sized playground, an open-air children's theater and a film museum. Rent skates at Het Snoephuisje (the Candy House) inside the park near the Amstelveenseweg entrance, but bring your own helmet. You can also cycle in the park, which is a better than trying to negotiate the ferocious bike traffic in city center.
Shop for souvenirs in the area between the Singel, Herengracht, Keizersgracht and Prinsengracht, otherwise known as De 9 Straatjes (the Nine Streets). Shops are one-of-akind, and there are plenty of eateries along the way to keep you going. Or hit the museum shops and souvenir boutiques in the Jordaan area which straddles the Rozengracht canal. Even kids will enjoy browsing the flower market along the Singel Canal, but be sure to ask about customs regulations before buying tulip bulbs.
---
LODGING
AMBASSADE HOTEL
There is atmosphere galore at this 4-star property comprised of nearly a dozen interconnected 17th-century canal houses in the historic part of city center. There are 59 guestrooms and suites, combining a mix of antique furniture, original art and contemporary amenities. This is the kind of hotel where the staff takes an interest in the guests and makes an effort to steer families to interesting activities and restaurants. Best of all, the location is within walking distance of some of the city's most famous sites. The property serves an enormous Dutch breakfast in its restaurant or en-suite. Bicycle rentals are available through the front desk.$$$$
AMBASSADE HOTEL
Herengracht 335-353
tel 31 20 5550222
http://www.ambassade-hotel.nl
HOTEL OKURA AMSTERDAM
Families who prefer a respite from the hubbub of city center should consider this 5-star hotel overlooking the Amstel Canal. Located within a few minutes' walk of the Rai Congress and Exhibition Center, the 301-room property offers kids that holy grail of travel entertainment — a swimming pool. The real draw for parents is the hotel's three Michelin-rated restaurants. French venue Ciel Bleu has two stars, Japanese restaurant Yamazato has one, and Le Camelia Brasserie has a Bib Gourmand.$$$$
HOTEL OKURA AMSTERDAM
Ferdinand Bolstraat 333
tel 31 20 6787111
http://www.okura.nl
NH AMSTERDAM CENTRE HOTEL
This 5-star hotel boasts a prime location near the city's most-visited museums, theaters and restaurants. Overlooking the Leidseplein Canal, the property is situated less than 10 miles from Amsterdam- Schiphol Airport (AMS). The decor is modern and sophisticated, and guestrooms are equipped with all the latest in hightech gadgets. Parents can unwind at the spa and gym and take advantage of the hotel babysitting services for a night out on the town. Treat the kids to an Italian feast — complete with gelato — at the Bice restaurant or opt for in-room dining via 24-hour room service. Its sister property, the NH Grand Hotel Krasnapolsky, is one of the city's grande dame hotels and another contender for parents who don't mind its proximity to the city's redlight district.$$$$
NH AMSTERDAM CENTRE HOTEL
Stadhouderskade 7
tel 31 20 6851351
http://www.nh-hotels.com
---
DINING
D'VIJFF VLIEGHEN
This eatery features a series of nine dining rooms, each with its own atmosphere. There are four authentic etchings by Rembrandt here, as well as eye-catching sets of armor and helmets in the Knights' Hall. Take time to check out the 17th-century artifacts in the Glass Room, as well as the ornate paneling in the Bridal Room. The menu features plenty of variety, from catfish and pigeon confit to venison and white chocolate crème brûlée.$$$$
D'VIJFF VLIEGHEN
Spuistraat 294-303
tel 31 20 5304060
http://www.thefiveflies.com
RESTAURANT SELECTA INDONESIAN
Most frequent travelers to The Netherlands agree that its Indonesian fare is a real draw. Bring the kids to try the traditional dish, rijstafel, at this downtown restaurant which combines the influences of Java and Bali. Menu choices range from lamb kabobs and fried prawns to pickled vegetables and toasted peanuts in coconut. Lighter meal choices as well as vegetarian options for that hard-to-please teen also are available.$$$
RESTAURANT SELECTA INDONESIAN
Vijzelstraat 26
tel 31 20 6248894
http://www.restaurantselecta.nl
THE PANCAKE BAKERY
Don't be put off by the name. This crepe and omelet house is an institution for a good reason. The kitchen serves up a whopping 70 types of pancakes, including such interesting combinations as apples and calvados (French apple brandy). Children's pancakes are served in various kid-pleasing shapes from cars to animals. The location is worth the price of admission, set in a former 17th-century warehouse and overlooking the Prinsengracht Canal. Be sure to try the traditional Dutch poffertjes (sounds like "puffy cheeks"), coin-sized pancakes in various flavors.$$
THE PANCAKE BAKERY
Prinsengracht 191
tel 31 20 6251333
http://www.pancake.nl
---
INFO TO GO
Amsterdam-Schiphol Airport (AMS) routinely wins kudos for being one of the best airports in the world. Travelers hail the clear signage, convenient services and innovative decor. Trains from the airport to Amsterdam Central Station (http://www.ns.nl) depart every 15 minutes or so. Purchase tickets at the Netherlands Railways booth just past baggage claim. Oneway fares start at about $6.
The Schiphol Taxi (http://www.schiphol.nl) stand is outside the Schiphol Plaza exit doors. Expect to pay just under $80 one way. Connexxion Bus Service (http://www.schipholhotelshuttle.nl) also is available from the airport into most city center hotels. Tickets, about $20 one way, are available at Schiphol Plaza. For more information, visit http://us.holland.com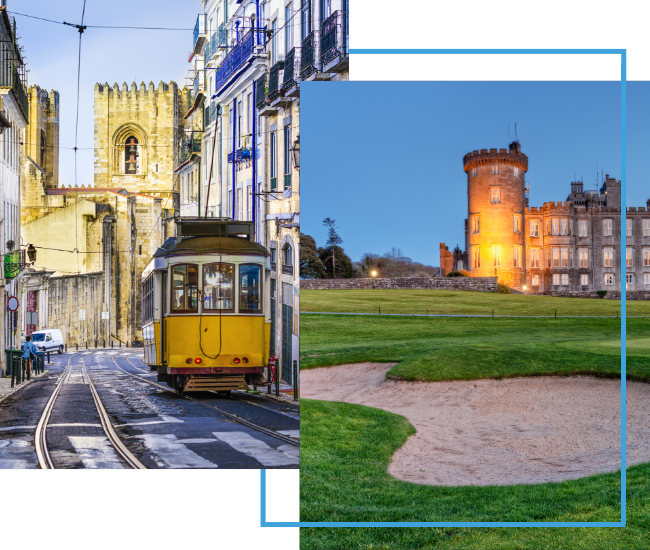 FX Excursions
FX Excursions offers the chance for once-in-a-lifetime experiences in destinations around the world.
Explore Excursions
Did the new film Oppenheimer rouse your interest in the nefarious world of international espionage? You can go straight to the real-life setting for covert actions this November (Nov. 10–12), when La Fonda on the Plaza in Santa Fe hosts a specially themed "Spies, Lies and Nukes" weekend. The hotel actually served as the retreat location for Manhattan Project scientists, who stayed at La Fonda on the Plaza to take a break from the stress of their work. During the weekend, the property's La Fiesta Lounge will make a tasty nod to those days by serving up a special Atomic Martini.
Sponsored Content
One affordable plan can protect an entire year of trips: business or pleasure, short or long, domestic or international.
Ever want handcrafted martinis and freshly shucked oysters delivered straight to your room? The Read House's New Martinis & Pearls service has you covered. Shining in 1920s-themed decor, the historic hotel in the heart of Chattanooga offers a true Gatsby-esque experience, now further elevated with this upscale amenity. Guests can now indulge in their perfectly chilled martini, made to order, and "pearls" (oysters) in the comfort of their room.