Name: Alison Metcalfe
Title: Executive vice president, United States and Canada
Company, city: Tourism Ireland, New York City
Number of employees: About 150 globally
Recent project: A major review of the U.S. market entitled "Make Ireland Jump Out … A Strategy for Growth 2013–15"
First job: Graduate management trainee with Visit Britain, London
Little-known fact about you: I competed in my first 10K snowshoe race in Colorado in January.
Your Business
Essential business philosophy: Deliver a strong return on investment for stakeholders, stay focused on core business objectives and have a clear understanding of the key drivers of growth.
Best way to keep a competitive edge: Keep a close eye on the rearview mirror. Maintain flexibility to respond to changing market conditions and exploit real-time opportunities. Cultivate a business environment that asks the right questions and is not afraid to make decisions around what not to do as much as what to do to stay ahead.
Yardstick of success: We seek strong growth in the numbers of North American leisure travelers visiting Ireland who return highly satisfied and keen to spread the word to friends and family.
Alison Metcalfe as a Traveler
What is the most important item you take when traveling? My mophie Juice Pack to keep me connected
How do you spend your time on board? I catch up on news — The New York Times, the Wall Street Journal plus The Irish Times if traveling trans-Atlantic. Then I switch on the iPad to read Vanity Fair and the Daily Mail for celebrity news, watch a movie and rest.
What is your favorite restaurant in the world? North 44 in Toronto
What is your favorite destination in the world? California's Monterey Peninsula reminds me of County Antrim's Causeway Coastal Route. I plan to return to run the Big Sur marathon.
About Tourism Ireland
What can travelers expect from a visit to Ireland? Ireland has a great reputation for its friendly and welcoming people, breathtaking natural scenery, vibrant historic cities and rich literary and musical heritage. Along with a stay in a luxury castle, a cozy bed and breakfast or a country inn, it's a winning combination and excellent value. Ireland invites visitors to "Jump In" to get fully immersed and feel like a local. It's also a golfers' paradise with top championship links, topped off by an ever-better 19th hole!
Irish music lovers will enjoy the annual Fleadh Cheoil in Sligo in 2014 and Dublin's weeklong Tradfest in Temple Bar in January. The only authentic place to experience St. Patrick's Day is Ireland; the 2014 weeklong festival promises to be a special showcase of Irish culture. In the Croke Park Classic, Penn State and the University of Central Florida will face off for the Dan Rooney Trophy Aug. 30 in Dublin. The annual 18-day Dublin Theatre Festival takes place every fall together with the Belfast Festival at Queens. A full list of events is at visitireland.com.
How successful is The Gathering 2013? The Gathering is our most ambitious tourism initiative, reaching millions of people around the world who claim ancestral links with Ireland as well as millions more linked by friendship, business, education or who simply feel Irish in spirit. It struck a chord with the almost 40 million Americans of Irish descent, renewing a sense of urgency to travel with family or friends and enjoy one of the 4,000-plus events. While every year is a great year to visit Ireland, this year the whole country rolls out the green carpet in an even bigger and warmer way. Thus far, the number of visitors from North America increased by 15 percent over the same period last year, putting us on track for a record 1 million U.S. visitors spending $1 billion in 2013. Along with more direct air access, excellent value and pent-up demand, Ireland gained market share from European competitors.
What are the challenges of promoting tourism to Ireland in North America? We strive to create a sense of urgency to visit now. Ireland enjoys positive brand awareness in North America. Our job is to put compelling experiences in front of our target audience at the right time and in the right places within a very competitive marketplace.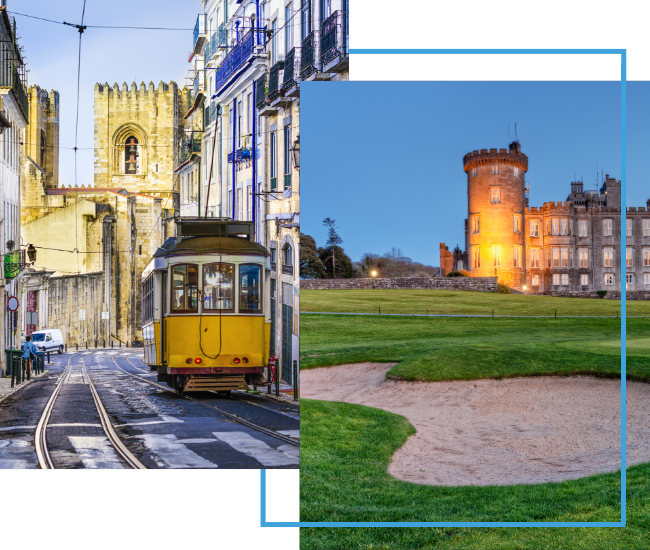 FX Excursions
FX Excursions offers the chance for once-in-a-lifetime experiences in destinations around the world.
Explore Excursions
The Perelman Performing Arts Center (PAC NYC), the cultural cornerstone and final public element of the World Trade Center site, opened this September.  The new performing arts center in Lower Manhattan provides a dynamic home for the arts, serving audiences and creators through flexible venues enabling the facility to embrace wide-ranging artistic programs.
Sponsored Content
The Islands of Tahiti are among the most beautiful and sought-after vacation destinations in the world. The endless images of overwater bungalows with Bora Bora's majestic peak towering over waters of every shade of blue have an intrinsic pull. But with 118 islands and atolls to explore, there is so much more to this spectacular region of the Pacific.
Whether you call secondhand fashion treasure troves "thrift stores," "fripperies," "charity shops," "vintage boutiques" or something else, shifting the paradigm from "old clothes" to "new finds," you may find the best, most conversation-starting souvenirs inside these shops and neighborhoods located in the world's most fashionable cities and a few unexpected places.