Iceland is one of Europe's most modern, technologically advanced nations. Located just a five-hour flight from the northeast coast of the United States, it is the perfect destination for a short break — an ideal place for adventure and wonder with a lively, ancient, "living" culture. Iceland is arguably one of the world's most beautiful, exciting destinations. As the earth's youngest land mass, it is geologically active, offering breathtaking scenery and terrain. Iceland is worthy of several trips to experience the everchanging majestic landscape, which includes glaciers, waterfalls, mountains, lava fields and islands. Day excursions will merely whet visitors' appetites for return trips to this visually sumptuous island nation. With so much to see and do, every visit will be too short.
---
Get Your Bearings
Reykjavík, Iceland's capital city, presents a unique blend of architecture, from bland apartment blocks to the soaring church tower of Hallgrimskirka. Set on scenic Faxa Bay, it is the center of Iceland's cultural, educational and entertainment universe.
Eastland is a massive area with everything from bays, forests and reindeer herds to sheer mountain ridges that form jagged fjords. Sheltered harbors enclose fishing villages such as Sedisfjordur, Neskaupstadur and Eskifjordur.
Northland East offers some of Iceland's top natural spots and its second-largest city, Akureyri in Eyjafjordur. Myvatn, Krafla, Ásbyrggi and Husavik are perfect locations for enjoying nature on land and sea. The waterfalls at Dettifoss (Europe's largest) and Godafoss (arguably Iceland's most beautiful) are mustsees. From here one can access the only part of Iceland that is north of the Arctic Circle, Grímsey Island.
Northland West's main attractions are two bodies of water, Húnafloi and Skagafjodur, which are surrounded by small towns and historical coastal sites.
Southern Peninsula's large landmass juts southwest from Reykjavík. Reykjannes Peninsula, home of Keflavík International Airport (KEF), is a lava field with geologic formations and hot springs. The area is known for whale watching, Blue Lagoon, bird cliffs and fishing villages. Keflavík and Grindavík are the peninsula's largest towns.
Southland runs from the south of Reykjavík east to Myrdals Glacier. This area is the most appealing, accessible for day tours from Reykjavík. Visitors enjoy excursions to waterfalls, geysers, glaciers, natural interior retreats such as Thorsmork (Thor's Woods), Landmannalaugur and peaceful farm country. Southeastern Iceland is dominated by great Vatna Glacier, which buries active volcanoes, subterranean lakes and provides a wide array of adventurous recreation. Skaftafell National Park and Jökulsá Lagoon are highlights.
Western Fjords, often passed over by visitors due to its real and perceived distance from Route 1 (The Ring Road), towns and cities, comprise fjords, mountains and isolated villages on spits of land surrounded by ocean and mountains. Breathtaking scenery is worthy of at least several days' attention. The area includes a glacier, the magnificent, remote Hornstrandir region and Europe's westernmost point at Látrabjarg.
Westland includes points north and west of Reykjavík such as Borgarfjordur, the beautiful, mystical Snæfellsnes Peninsula and Dalir region. Steeped in Saga literary tradition, it offers visitors glimpses of Iceland's Viking past and pastoral settings. Cruises into the great Breidafjorfur inlet north of Snæfellsnes access areas rich in bird and sea life.
---
Hit the Road
BIRD WATCHING
West Fjords' Latrabjarg is the world's largest bird cliff. A great variety of cliff-nesting species are found there, including the world's largest razorbill colony. Westmann Islands are known for many species of seabirds and are home to the world's largest puffin population.
GOLF
Iceland has more than 50 golf courses, some with outstanding views. Golf can be played May to September, and summer golf is playe d 24/7 thanks to the midnight sun. Visitors are welcome at most courses. Greens fees average $15 to $30. Some courses rent equipment. At Akureyri Golf Club in the north, you can tee off at midnight in full sun during the summer solstice.
HORSEBACK RIDING
The Vikings arrived in Iceland a millennium ago, bringing their horses. Sometime around A.D. 930, Iceland prohibited the further import of horses, so today the Icelandic breed remains pure. Strong and muscular, Icelandic horses sure-footedly handle the most difficult terrain. Small and gentle, with great stamina, speed and intelligence, they are perfect riding companions. The friendly, willing, docile horses seem to take pleasure in carrying riders across grassy plains, up and down rocky slopes, through rivers and over fields of rough volcanic rock, offering travelers a unique way to enjoy the splendors of Iceland.
HIKING
More than half of Iceland's terrain is more than 1,312 feet above sea level, and much of the island is covered by volcanic rock, glaciers, lakes and sand. Few places in Iceland have marked walking paths, but hiking is a favorite pastime for Icelanders and visitors alike. In the winter, tours are limited to the short daylight hours, but longer tours are offered in the summer.
SKIING
Winter skiing is available in many parts of the country with resorts offering both cross-country and downhill skiing. Summer skiing is possible at Kerlingarfjoll, near the interior Hofs Glacier (a ski school operates here from the end of June through August).
SEA ANGLING
Angling is a popular sport in Iceland. The season begins in late May and continues through August with tournaments taking place throughout the country.
SPORT FISHING
Salmon season (advance permits must be reserved) runs from mid-June to mid-September. Trout fishing (permits can be obtained with short notice, often the same day) varies from one river or lake to the next, but the normal season is from April/May until late September/October. Ice-fishing is a popular pastime in winter.
RIVER RAFTING
Looking for a thrill? The breathtaking challenge of navigating swirling waters and rugged terrain during a river rafting excursion may be the answer. Tours offer a choice of routes, presenting different levels of challenge to accommodate everyone from neophytes to the really wild at heart.
WHALE WATCHING
Iceland is earning a reputation as Europe's whale-watching hot spot, with astonishingly high sighting rates. The most common species spotted is the friendly minke whale, but blue, humpback, sei, fin, killer whales and dolphins (including white beaks and harbor porpoises) are also present in abundance. Tours depart from several ports: Hafnarfjordur (near Reykjavík), Breiddalsvik (east), Olafsvik (west) and Westmann Islands (south). The most popular departure point for whale watching is from Husavik, regarded by many as the "whale-watching capital of Europe." The season runs from May through September.
For more information, visit www.icelandtouristboard.com.
---
WORTH THE TRIP
North of Grindavík and 15 minutes from Reykjavík's Keflavik International Airport, Blue Lagoon is Iceland's top attraction. Its mineral-rich lagoon and bathing area are carved from lava fields with 86° F to 104° F temperatures.
Thingvellir National Park and nearby Lake Thingvallavatn is a national park with historical significance. The original Althing (parliament) was founded here in A.D. 930. It is ideal for viewing the Mid-Atlantic Ridge, evident through the middle of the park, which comprises gorges and lava ridges.
Geysir, which lent its name to the world's geysers, has two active geysers with ubiquitous bubbling hot pools. Strokkur, the smaller geyser, erupts frequently to 100 feet.
Thorsmork, a popular preserve best reached on a four-wheel vehicle tour, is ideal for summer hiking. Visitors will thrill to its rivers and glacial-vista-rich trails.
Landmannalaugur is a region of multicolored rhyolite rock formations with a hot-spring-fed river. This camper's spot, west of Helka and north of Myrsdal Glaci er, should be visited with experienced tour guides.
Dyrhólaey, near Vík í Myrdal, is a dramatic promontory into the Atlantic at Iceland's southernmost tip. The 360-foot summit, with remote lighthouse, provides a perfect aerie for coastal views and a peek at a mammoth natural arch. There is also an extraordinary bird sanctuary here (closed during spring nesting).
Vestmannaeyjar (Westmann Islands), home to many avian species and sea denizens, comprises 15 islands accessible by air or ferry off southwest Iceland. Heimaey, home of Keiko of Free Willy fame, is renowned for its 1973 volcanic eruption.
Helgafell is a small magical hill outside Stykkishólmur. Climbers to the summit (which has fabulous views) who don't look back or speak are said to receive three wishes.
Isafjardardjup, an indented fjord dividing Iceland's northwestern fjord region, is a nexus of local activity in this remote, beautiful and friendly part of Iceland. Summer excursions include fjord islands Vigur and Aedey.
Hornstrandir Nature Reserve in Northland West, accessible by boat, is an uninhabited area ideal for hikers and walkers with unsullied terrain and incredible vistas graced by wildflowers; the southeastern end is bordered by the ice cap. Látrabjarg, Europe's farthest western point, accessible in the summer only, is a birdwatcher's paradise with a wonderful bird cliff.
The Golden Circle is Iceland's most renowned tour, featuring Gullfoss, "the golden waterfall," Geysir with its spouting geysers and beautiful Thingvellir National Park. Dinners in a rustic lobster restaurant in Stokkseyri, a fishing village by a black sandy beach, can be arranged.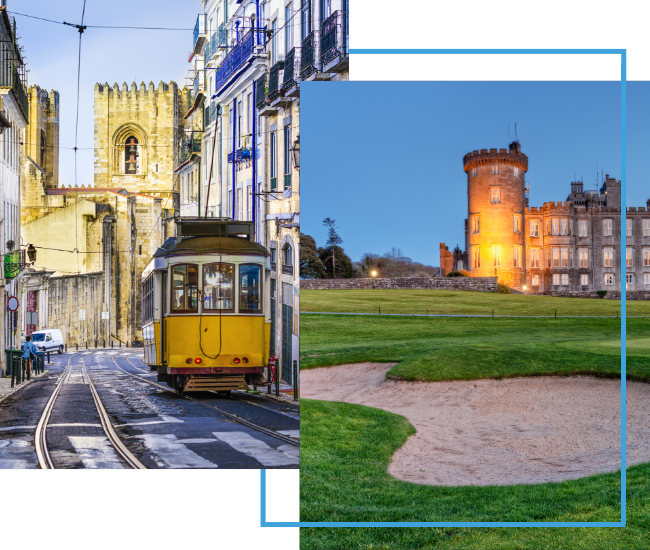 FX Excursions
FX Excursions offers the chance for once-in-a-lifetime experiences in destinations around the world.
Explore Excursions
If fabulous food and beverages are a must-have for any weekend getaway, then look no further than the City of Brotherly Love. Whether your palate has a penchant for vibrant Latin American fare or cozy French cuisine, whether you're an oenophile looking to swirl, sniff and sip your way around the globe or you'd rather sample farm-to-glass cocktails, Philly's got it all this fall. (With the exception of Bolo, which is a short taxi or Uber ride away and definitely worth the trip, the rest of these spots are all within walking distance of each other.)
Sponsored Content
Many small- and medium-sized businesses face time and budget constraints when organizing corporate hotel travel for employees. To address this problem, IHG® Business Edge emerged as a cost-free business travel solution for small- to medium-sized enterprises, offering travel managers exclusive access to enticing perks, handpicked educational resources and comprehensive company travel metrics. IHG Business Edge connects our loyal customers to our portfolio of 5,800 hotels and resorts across 18 brands in more than 100 countries.
From Santoríni to Dubai to New York, some hotels just have that "it" factor that draws visitors far and wide. For some hotels it's their proximity to popular landmarks and attractions, for others it's their amenities. But these hotels have something few can claim: a true room with a view.