WE CELEBRATE OUR MILESTONE 200TH ISSUE with a countdown of some of our most memorable travel moments and our personal recommendations. Delve into 200 anecdotes, memories and stories from those of us behind the pages of Global Traveler.
20 GLOBAL TRAVELER MEMORIES
1. Meeting the celebrity speakers at various GT Tested Reader Survey awards
2. The thrill of seeing the first GT issue
3. Winning the Globility Award
4. First meeting the GT staff in New York City
5. Editorial lunch meeting atop the Waldorf Astoria Beverly Hills in 2017
6. Running through torrential rain in Michigan at our annual sales conference
7. Popping a bottle of Dom Perignon with the team after the Wines on the Wing event
8. Dinner at Club 33 in Disneyland, Anaheim, Calif.
9. The incredible holiday dinner at the Union League (and the cigar room after)
10. Team-building events, from a Philadelphia mural tour to a pumpkin-carving competition and a meatball showdown
11. Experiencing the Cherokee Club in Atlanta
12. Almost having to drive at least 16 hours back to Philadelphia from Chicago due to weather delays but being saved by Southwest Airlines
13. Driving down Sunset Boulevard with colleagues in a limo to Grauman's Chinese Theatre while one colleague stood up in the sunroof freaking out because she was in Hollywood for the first time
14. Five-year anniversary party at the Renaissance Times Square
15. Having time off for the Eagles Super Bowl parade
16. Our 10th anniversary GT Tested Reader Survey awards with Terry Waite at The Peninsula Beverly Hills; now we're preparing for our 15th
17. Seeing my name on the masthead for the first time and my first bylined article
18. Pedi-cab races on the Atlantic City boardwalk during our first staff conference
19. Dancing the night away with staff and friends at Global Business Travel Association conferences
20. Our first offices in Yardley, and the feeling when we moved into our new complex
20 TRAVEL EXPERIENCES WE RECOMMEND
1. Traveling to Disneyland or Disney World
2. Alligator spotting in Florida
3. Riding a gondola through the canals of Venice
4. Renting a car and driving through the countryside in Ireland
5. A long-distance train ride
6. Easter Mass at Westminster Abbey in London
7. Glass blowing in Murano, Italy
8. Harvesting wine grapes in Italy
9. Snorkeling in Molokini Crater in Maui
10. Culinary food tours in Mexico City
11. Celebrating New Year's Eve in another country
12. A sunset cruise in Santoríni (Sunset-Oia semi-private tours)
13. Touring glaciers in Iceland
14. Traveling solo at least once
15. Learning to surf in Sydney, Australia
16. Visiting the pyramids in Egypt
17. Going on a horseback safari in Kenya
18. Listening to fado in Lisbon
19. Exploring the hidden caves in Vietnam
20. Hiking the sand dunes in the Liwa Desert at sunrise
20 TRAVEL TIPS AND TRICKS FROM THE GT STAFF
1. Always pack more socks then you think you will need.
2. Try to find outfits that go with one pair of shoes so you don't need to pack five different pairs.
3. Make a photocopy of your passport and driver's license and keep it separate from your originals.
4. Spend some time on every trip just walking around the area to soak in the feel.
5. Pack neutral clothing to mix and match during your trip.
6. Get up early, stay out late.
7. Engage in conversation with anyone you can in a new destination: shopkeepers, wait staff, doormen, drivers, school kids, folks on a park bench.
8. Don't be afraid to experience adventures solo.
9. Roll clothes when packing.
10. Download entertainment to iPads and phones.
11. Always carry on if you can.
12. Apply for Global Entry or TSA PreCheck for an expedited airport experience.
13. Look into credit cards without foreign transaction fees for when you travel abroad.
14. Smile first; you'll usually get a smile in return.
15. Don't forget the chargers for electronic devices.
16. Carry something warm like a shawl or sweater for the plane.
17. Allow plenty of time for delays.
18. Always have cold medicine and other medication for emergencies.
19. Bring cash and make sure you have local currency.
20. Underpack; you can always buy.
20 UNDERRATED CITIES AROUND THE WORLD YOU SHOULD VISIT NOW
1. Augusta, Maine
2. Anywhere in Cambodia
3. Houston, Texas
4. Milwaukee, Wis.
5. Oban, Scotland
6. Walla Walla, Wash.
7. Pettoranello del Molise, Italy
8. San Antonio, Texas
9. Granada, Spain
10. The Finger Lakes, N.Y.
11. Lombok, Indonesia
12. Annapolis, Md.
13. Luxembourg City
14. Nairobi, Kenya
15. Virginia Beach, Va.
16. Stowe, Vt.
17. Colorado Springs, Colo.
18. Lviv, Ukraine
19. Ribera del Duero, Spain
20. Sukhothai, Thailand
20 TRAVEL MOMENTS THAT CHANGED OUR LIVES
1. The plane ride to China is unbelievably long; shows how large our planet really is.
2. 9/11 — need we say more?
3. Traveling on my own for the first time
4. After a rough life stretch, several friends and I traveled to remote Canada for a week of fishing, hiking and relaxation.
5. Being in New Orleans just weeks before Hurricane Katrina
6. 24 hours spent in Ireland without a hotel
7. Meeting a Māori artist/woodcarver in his studio in Auckland
8. Touring the DMZ on the South and North Korean border — the sense of danger is real.
9. Attending my cousin's wedding in Italy, where the ceremony and reception lasted more than 12 hours
10. Seeing the sunset from the water over the caldera in Santoríni
11. My first trip to Europe: spending a month abroad in Spain during college
12. Service travel trips to the Bahamas to rebuild a home for a foster mother
13. College road trips with both of my sons
14. Staggered by the engineering feat of the pyramids
15. Seeing African wildlife in its own habitat and not in a zoo
16. Petra, Jordan
17. Taking my first cruise on Royal Caribbean
18. Seeing for myself the devastation of Chernobyl, even 30 years later, and better understanding the tragedy
19. Savoring unbelievable sunsets and sunrises around the world
20. A Disney World trip with my grandmother as a child, staying in my first "fancy" hotel, the Grand Floridian
20 TOURIST ATTRACTIONS WORTH THE CROWDS
1. Times Square, New York City
2. Walt Disney World/Disneyland
3. Niagara Falls
4. The Las Vegas Strip
5. The Louvre in Paris
6. Temple Bar in Dublin
7. The Duomo in Florence
8. The Acropolis, Athens, Greece
9. The Colosseum, Rome
10. Santoríni, Greece
11. St. Peter's Basilica/Sistine Chapel
12. Any museum in New York City
13. The Blue Lagoon in Iceland
14. Running of the Bulls, Pamplona
15. Bondi Coastal Walk
16. Blarney Castle — everyone has to kiss the stone at least once
17. Egyptian pyramids
18. Taj Mahal
19. Windsor Palace (anywhere in London)
20. Oktoberfest in Germany
20 HOTELS YOU NEED TO VISIT
1. The Peninsula Beverly Hills
2. Atlantis, Paradise Island, Bahamas
3. Giraffe Manor, Nairobi Kenya
4. The Setai Miami Beach
5. The Empress Hotel, Victoria, British Columbia
6. The Peninsula Hong Kong
7. Raffles Singapore
8. Monarch Beach Resort, Dana Point, Calif.
9. The Breakers Palm Beach
10. Four Seasons Bora Bora
11. Marina Bay Sands, Singapore
12. Divi Little Bay Beach Resort, Sint Maarten
13. George V, Paris
14. The Ritz Madrid
15. The Goring, London
16. Lotte Seoul
17. ME Miami
18. Mandarin Oriental, New York
19. Qasr al Sarab Desert Resort by Anantara, Abu Dhabi
20. Abadia Retuerta LeDomaine, Valladolid, Spain
20 OF OUR FAVORITE TRAVEL MOVIES, BOOKS AND MUSIC TO INSPIRE YOUR WANDERLUST
1. Lord of the Rings
2. The Best Exotic Marigold Hotel
3. Everest
4. The Secret Life of Walter Mitty
5. Under the Tuscan Sun (book and movie)
6. Call Me by Your Name
7. Wild (book and movie)
8. Lost in Translation
9. The Accidental Tourist
10. Planes, Trains and Automobiles
11. Out of Africa
12. Chef
13. Travels with Charley by John Steinbeck
14. The Alchemist by Paulo Coelho
15. Letters from the Andes by Patrick Fermor
16. Ireland by Frank Delaney
17. "Ventura Highway" by America
18. "Born to Be Wild" by Steppenwolf
19. "Sedona" by Houndmouth
20. "Go" by Louis the Child
20 FUNNY TRAVEL STORIES
1. When I went to China with my high school choir, people kept taking pictures with my brother and me, saying, "Look, the Jonas Brothers!"
2. On our first drive around Ireland, we were flagged down by a local farmer who warned us to pull off the narrow, stone-lined road into his driveway. He said, "The cows are coming, and they can be quite severe." We had no idea what that meant, but we listened. The car behind us did not and was quickly engulfed by a herd of cows, almost knocking the mirrors off.
3. Accidentally running into a great friend in Las Vegas when neither of us knew the other was there
4. Flying to Greece and missing my flight by going to the wrong airport in London
5. My luggage zipper busting and my clothes circling around the baggage carousel
6. On a hiking trip we spotted large hoof prints in the mud of the trail and speculated they belonged to elk, only to come around a bend in the trail and come face to face with a large cow chewing its cud.
7. Accidentally renting a "hotel room" that was just a bed patrons in the restaurant below us would sleep in when they had too much to drink.
8. When we frantically rushed to the train we thought we were missing in Rome, only to realize we were rushing for church bells, not train horns
9. Attempting to walk down the Donkey Path in Santoríni only to be so grossed out by donkeys and their droppings that we gave up very quickly
10. Accidentally taking the harder trail on a hike in Runyon Canyon with Kimberly Krol
11. Having a wallaby bite my finger instead of the food I was trying to feed it
12. I left the key in our room at a B&B, and, like a cat burglar, I climbed into our room from a second-story porch at midnight because the owners were not available.
13. In Reykjavík I unintentionally ate raw whale blubber at a traditional Icelandic buffet, thinking it was cubes of cheese. I'm not a fan of raw whale blubber.
14. In Paris I loaded film in my 35mm camera but didn't realize until the next day the film did not advance, so I never really took pictures from the top of Notre Dame or the Eiffel Tower. I stick to digital photography now.
15. Nearly being escorted off a flight because I refused to give up my seat for a duplicate ticket
16. Having a python thrown on my shoulders in Miami Beach
17. Having to run through a monsoon in Nassau, the Bahamas
18. Traveling to London to see Adele at Wembley Stadium only to land to the news she'd canceled her shows, and making the best of the experience despite the letdown
19. Changing into a tux for a country wedding in Australia along a deserted road in a vast, treeless expanse with three other people, and, just when we were down to our skivs, three cars driving by packed with people going to the same wedding, all shouting "G'day" to us
20. On a pony trek in County Sligo a horse unerringly took us to the best pub in each village we visited.
20 REASONS WE'RE GRATEFUL TO BE GLOBAL TRAVELERS
1. The great atmosphere all of the global travelers create
2. Amazing trips to new places with fun people and opening your eyes to different cultures
3. Learning from smart individuals how to better myself
4. Experiencing adventures you would never have at home
5. Traveling gives you the chance to unwind and unplug (many great memories)
6. Making new friends
7. Dining on regional delicacies
8. Passport stamps
9. The chance to see incredible works of art and architecture and stunning natural beauty
10. Every work day and trip is a new experience.
11. Working in an environment with a great sense of humor
12. I can become a citizen of the world.
13. Bringing home locally made items from other countries
14. Gaining new perspectives and an appreciation of the larger world
15. Great colleagues
16. People envy you for working for a travel magazine.
17. The creativity the team has; we are always open to a new challenge.
18. Bleisure opportunities around every corner
19. Feeling proud every time a new issue of the magazine arrives, hot off the presses
20. When coworkers become family and you get to share unique experiences with them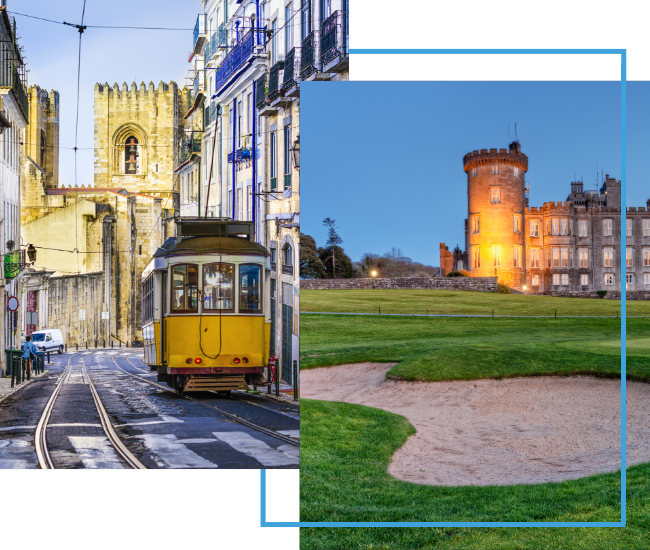 FX Excursions
FX Excursions offers the chance for once-in-a-lifetime experiences in destinations around the world.
Explore Excursions
Pleasant weather, autumn foliage and vibrant flowers are among the many delights awaiting nature lovers at botanical gardens and arboretums across the United States. However, some of these green spaces take on additional color this month and through Halloween when enterprising gardeners, landscape architects, management and other creative minds cast a spell with themed environments running the gamut from spooky to utterly bewitching.
Sponsored Content
Exclusive Sailing with Global Traveler
For travelers who love all things autumn, Crystal Springs Resort, New York City's closest destination resort, features special offers and experiences to meet the demands of everyone's fall bucket list. Located only 80 minutes outside New York City in Sussex County, New Jersey, Crystal Springs Resort offers a quick getaway to enjoy fall foliage. Are any of these new offers or experiences on your bucket list?