ONE LOOK AT A MAP OF UPSTATE New York quickly explains how the Finger Lakes got their name. Native Americans who first cultivated their sun-swept shores thought the long, narrow waters looked like the imprint of a celestial hand; and although geologists have a different explanation for their shape, the name stuck.
Today the Finger Lakes name is associated with wine, especially Riesling, but increasingly with other European and American varieties including Cabernet Franc and Pinot Noir.
The first person to suggest planting vineyards here for wine was the early-16th-century Italian explorer Giovanni Verrazano, on seeing the wild grapes that covered the sloping shores so profusely. But it was a long time before wine-worthy grapes could survive the northern winters. It wasn't until the mid-1800s that commercial-quality wine began to be produced here.
Production — along with quality — increased rapidly in the early 1980s with the opening of dozens of new wineries. Today the Finger Lakes AVA (American Viticultural Area) includes 11,000 acres of vineyards, and Finger Lakes wines consistently win international awards.
Because most of the wineries are small and family-owned, each has its own character and reason to visit. This makes the Finger Lakes region especially attractive to groups of friends looking for a getaway.
Wine trails make it easy to plan itineraries that circle each of the major lakes and give a sampling not only of the wines but of other local products and attractions. Whether it's a weekend add-on to a business trip or a convivial multiday getaway, you and your friends will find plenty to do. Wine trails that connect wineries around the lakes of Canandaigua, Keuka, Seneca and Cayuga may also include some of the craft breweries, cideries and distilleries that have opened in the past few years. You can learn about wine pairing, see how wines are made, walk in the vineyards, picnic on terraces overlooking the lakes and even listen to live music as you sip.
Tasting rooms vary from a century-old barn or 200-year-old Greek Revival home to one inspired by an Irish pub, and each winery offers a different experience. Imagine Moore Winery, in Naples, focuses on sustainability from the vines to the tasting room, using recycled materials and sustainable practices. Arbor Hill Grapery, also in Naples, is known for its wide selection of local foods and gift baskets.
Along with wine, Americana Vineyards produces 20 varieties of fudge and serves lunch at its Crystal Lake Café. There's live music year-round on Fridays (6–8 p.m.) and Sundays (4–6 p.m.). Barnstormer Winery on Seneca Lake also hosts live music throughout the year in its tasting room.
Goose Watch Winery produces several wines that are unusual in the Finger Lakes, such as Aromella, Viognier and Pinot Grigio, while Knapp Winery in Romulus makes méthode Champenoise sparkling wine. Its locally sourced restaurant is open for lunch and monthly wine-pairing dinners.
The Montezuma Winery began with honey wines and now produces fruit and grape wines as well. Varick Winery in Romulus has a cherry orchard and sells its own fruit jellies in the tasting room. Casa Larga Vineyards offers an Italian flair and makes ice wines and sparkling wine.
The impressively grand Belhurst Castle, a Lake Geneva landmark built in the 1880s, is home to Belhurst Estate Winery along with two restaurants, a hotel and a spa. Several other wineries include inns or guestrooms, and a few have restaurants, although most of these only serve until 5 p.m.
Celebrating not just the wines but all the products of New York's rich agricultural bounty, the New York Wine and Culinary Center is an engaging combination of tasting room, demonstration kitchen and boutique of all things food and wine. Check its busy schedule and learn about wine and beer pairings or hone your cooking skills in everything from pasta-making to sushi rolling.
If no one wants to volunteer as a designated driver to travel the wine trails, consider booking with one of the various ride services or signing onto a wine tour. Crush Beer & Wine Tours offers morning and afternoon group departures, or you can choose a customized experience, traveling at your own pace with Grapevine Country Tours. Finger Lakes Winery Tours has either option, while Charles Limousine Service offers a personalized winery tour — you choose, or he will suggest wineries based on your interests — in a Grand Caravan that seats up to six.
Another option is to hire a professional local chauffeur from Main Street Designated Drivers & Wine Tours who will drive your own vehicle on a guided winery tour. A unique way to visit wineries without driving — and to get beautiful lake views as well — is on the daily five-hour winery tours by boat with Water to Wine Tours, departing from Interlaken and Aurora each day at 11 a.m.
Even the most dedicated oenophile will want to do more than visit wineries, and there are plenty of options. Provision a picnic at one of the many farm stands that line the roads and hit some of the 2,000 miles of hiking and bike trails that lead to sweeping lake views and more than 1,000 waterfalls and gorges. Most famous of these are in Watkins Glen State Park, where a two-mile hike leads past 19 waterfalls.
Hundreds of historic sites and landmarks reach as far back as the 1600s. At the Seneca village of Ganondagan you can visit an authentic, full-sized replica of a longhouse, furnished inside with the implements of daily life. Or head to Seneca Falls, where early suffragettes gathered for the first national women's rights convention in 1848, and visit the Women's Rights National Historical Park and National Women's Hall of Fame.
Finger Lakes Info to Go
Two airports serve the region: Syracuse Hancock International and Rochester International. Diamonds Limousine and Transportation Services or Metropolitan Limousines can provide transfers to lodging throughout the area, and custom tours can pick you up for winery visits, but a rental car is the best way to get around.
Where to Stay in the Finger Lakes
BELHURST CASTLE CHAMBERS HOTEL Antiques and fine art decorate the historic stone castle overlooking Seneca Lake, where guests are invited to relax with a glass of the estate's own wine from the complimentary wine spigot. 4069 West Lake Road, Geneva $$$$
THE INN AT GLENORA WINE CELLARS Rooms with Stickley furniture have private balconies overlooking vineyards and Seneca Lake, and guests get a complimentary bottle of wine and tastings at the winery. 5435 N.Y. Route 14, Dundee $$$
THE INN AT VARICK WINERY & VINEYARD With sweeping views over Cayuga Lake, the 1833 stone farmhouse is surrounded by vineyards and orchards; the inn offers guests complimentary afternoon hors d'oeuvres and wine. 5102 N.Y. Route 89, Romulus $$$$
Restaurants in the Finger Lakes
GENEVA ON THE LAKE Savor candlelight dinners with music on the terrace in the summer or in the elegant dining room of this lovely villa overlooking the lake. 1001 Lochland Road, Geneva $$$$
THE UPSTAIRS BISTRO Eating and drinking local and celebrating the abundance of New York's harvest is what this lively bistro at the New York Wine & Culinary Center is all about. 800 S. Main St., Canandaigua $$
VERAISONS RESTAURANT The local terroir is just as important to the chef of this vineyard restaurant as it is to the estate's vintners. All the meats, produce and cheese are from local farms. The Inn at Glenora Wine Cellars, 5435 N.Y. Route 14, Dundee $$$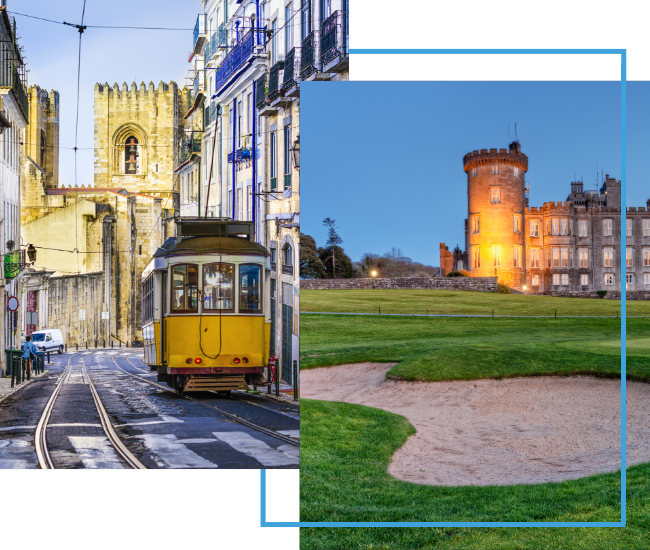 FX Excursions
FX Excursions offers the chance for once-in-a-lifetime experiences in destinations around the world.
Explore Excursions
The Perelman Performing Arts Center (PAC NYC), the cultural cornerstone and final public element of the World Trade Center site, opened this September.  The new performing arts center in Lower Manhattan provides a dynamic home for the arts, serving audiences and creators through flexible venues enabling the facility to embrace wide-ranging artistic programs.
Sponsored Content
Are you looking to enhance your business trip with a little leisure? Look no further than Portugal, a country renowned for its captivating blend of history, culture and natural beauty. And with TAP Air Portugal, you can effortlessly transform your business trip into an unforgettable bleisure adventure. Discover why Portugal and TAP Air Portugal are the perfect combination for an enriching and rejuvenating experience.
Whether you call secondhand fashion treasure troves "thrift stores," "fripperies," "charity shops," "vintage boutiques" or something else, shifting the paradigm from "old clothes" to "new finds," you may find the best, most conversation-starting souvenirs inside these shops and neighborhoods located in the world's most fashionable cities and a few unexpected places.