ONE BY ONE I SLIPPED off my sandals and let my toes sink into the cool, lush lawn that stretched from the patio of the Cloudy Bay tasting room and out toward the sun-ripened vineyards in the distance. Although it was my first time in New Zealand, everything around me suddenly seemed overwhelmingly familiar.
The scents in the air wafted by, bringing with them distinct reminiscences of afternoons spent laughing and sipping chilled white wine with friends during summer barbecues back home. Cloudy Bay's Sauvignon Blanc had long been my favorite wine for entertaining on the patio — which was why I traveled across the world to explore this iconic wine region — and I could almost taste the characteristics of the wine on my tongue as I stood there, soaking in my surroundings.
As if on cue, a waiter appeared from the tasting room door with a chilled bottle of the vineyard's latest vintage to offer me a fresh glass. With each sip I came back to my present moment, sinking deeper into my surroundings while creating new memories with Cloudy Bay. I smiled as I watched the sun set behind the vines in the same way the wine's subtle minerality slowed to a silky finish on my tongue. There was something amazing about drinking the wine on the spot it had been produced, as if I could taste the essence of the region as I slowly savored the contents of my glass.
It was the French who first developed the concept of terroir — a word describing the way a wine expresses all of its environmental factors (soil type, climate and so on) from the place it originated — but it was in New Zealand, on that sunny day in the vineyards, that I fully understood the beauty of drinking and traveling based on terroir.
Currently, more than 10,000 varieties of wine grapes are grown in more than 70 countries around the world, each offering its own insights into life in its respective region. Over the years, the world's best wine regions have told their stories through the soil, and even today, one of the best ways to understand and appreciate wine on a deeper level is to visit the regions best known for winemaking.
"Wine is a part of social life in every country," says Natia Khidasheli, cofounder and director, Caucasus Journey-Traveler's Club and a food and wine travel guide in Tbilisi, Georgia. "It shows the development and culture of a society. To visit wine countries or regions is the best way for a wine lover to explore the ethnology, culture and lifestyle of the place. Like in Georgia, you cannot divide cultural tourism, culinary tourism and wine tourism. All are one; it is a Georgian lifestyle."
Like many of her fellow countrymen, Khidasheli has been in the wine industry since before she can remember, making wine with her family in their home as most Georgians have done for centuries. Georgia is widely considered the birthplace of wine, as the oldest remnants of wine grapes were found in the country, dating back to the sixth millennium B.C. Today Georgia has become the mecca of wine journeys, where wine lovers can see the original winemaking style still employed at most wineries, using giant ancient clay pots (qvevri) stored below ground to age and mature the juice before bottling the wine.
In Italy's Tuscany region, visitors can sleep among the vines at Castello di Casole, a Timbers Resort, where a 10th-century castle offers luxurious accommodations in the heart of this storied wine region. Guests can ride bikes through the more than 100 acres of organic vineyards dotted with Sangiovese, Petit Verdot and Cabernet grapes before coming back to the castle grounds for a guided tasting of the region's best Tuscan and Super Tuscan wines by the resort's sommelier.
It could take decades to visit all the wineries in France, with its best regions including Bordeaux, Champagne, Burgundy and Provence, but for true aficionados, it's worth the long effort for the chance to sip their way through the country. Red wine lovers will love the Pinot Noir vine-yards in Burgundy and the rich, robust blends of Bordeaux's famous Right and Left banks, while those who prefer lighter wines will find solace in the salmon-hued rosés from Provence or in the UNESCO-rated chalk caves in Taittinger's Champagne cellar below the streets of Reims.
Spain's winemaking heritage can best be seen in the medieval villages of the vineyard-lined hills of the country's most famous wine region, La Rioja. Here you'll find some of the country's best wineries, including CUNE, López de Heredia Viña Tondonia Winery, Bodegas Roda, Bodegas Ysios, Marqués de Riscal, Bodegas Muga and Finca Allende. Not far from the vineyards, visitors can partake of one of the region's most exciting wine traditions at the Haro Wine Festival. The festival takes place every year on June 29, where locals and tourists dressed in white join a procession to the cliffs of Bilibio to re-enact the historic Batalla del Vino (wine fight) which took place in the 13th century over a property line dispute that resulted in a heated display with both sides spraying red wine on each other and the hills. Nearly 400 years later the tradition still continues, only now participants joyfully spray wine with squirt guns instead of bota bags and stay overnight in cushy campsites provided by the festival's official tour operator, Stoke Travel.
Located off the German Weinstrasse (wine route), an up-and-coming winery, Weingut Bergdolt-Reif & Nett, offers visitors an immersive experience into the culture of German wine. The winery is set in the hills of a small wine village called Duttweiler, where interested guests can arrange tastings of vintages past or play a part in the next vintage by booking an immersive grapestomping experience with the winemaker himself.
The Americas' New World varieties of wine stretch from Argentina to Canada, but even with the Malbecs of Mendoza (like Bodega Colomé's Altura Maxima, wine made from grapes selected from the highest-altitude vineyards in the world) luring visitors south, the best destination to get a sense of how wine impacted an entire region is, without a doubt, Napa Valley in California.
"Where I live, wine is the driving economic force," says Matt Stamp, master sommelier and co-owner, Compline Wine Bar in Napa Valley, Calif. "Everyone is connected to wine — they work for suppliers or sellers or middlemen or in any number of support industries. Being surrounded by wine elevates culture; it elevates restaurants; it elevates the desire for other arts. I've seen a younger crowd become more and more interested in wine tourism, and as people in their 20s embrace wine at an earlier age than their parents did, their desire to visit regions where wine is produced grows. Visiting Napa Valley — or anywhere else in the world that takes wine seriously — can be so fun and enriching and rewarding."
Wine itself has the power to take its drinkers on a journey, transporting them to far-off lands through aromas and subtle nuances of flavors and textures, which is why journeying to one of the world's best wine regions can seem so exotic and yet so familiar at the same time. The top wine regions of the world are delicious reminders that moments matter as much as stunning scenery, remarkable people and delicious meals.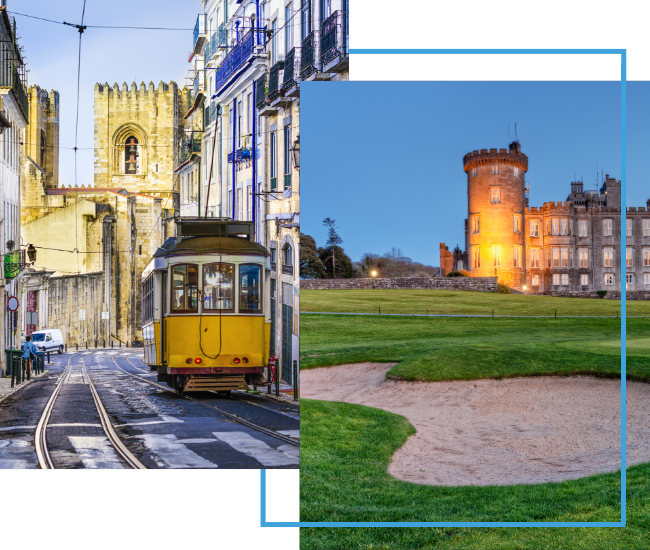 FX Excursions
FX Excursions offers the chance for once-in-a-lifetime experiences in destinations around the world.
Explore Excursions
Corsica with steep, gray cliffs overlooking the Mediterranean and sandy beaches attracting summer visitors, is a French-governed island sometimes confused with Sardinia and Sicily, Italian islands to the south. Fortunately, all three islands share the same love for good wine, food and sun-splashed beaches.
Sponsored Content
The Global Business Travel Association (GBTA) believes business travel is a fundamental force for good and brings the industry together to connect, innovate and set new standards. With members from across the globe, GBTA engages the many voices of business travel to build a collective future, providing a platform for buyers and suppliers to come together, connect with peers, grow their network and shape the future of the industry.
If you're ready to do a little holiday catch-up with your besties, make a beeline for Conrad New York Downtown. The lobby metamorphosed into a holiday forest of heavenly scented, decorated Virginia Spruce trees. Make your first stop ATRIO Barista Station in the lobby for a complimentary hot spiced apple cider (until Dec. 3) or hot chocolate (Dec. 22­–24).