Dennis Cary, United Airlines vice president of revenue management, on the airline's drive to create programs and services tailored to meet its customers' diverse needs.
Global Traveler: Tell us a little about your background, and what you are doing now at United.
Dennis Cary: In June 2004, I joined United Airlines as vice president of revenue management responsible for pricing, inventory management, global-distributionsystem management, and revenue forecasting. In my new position, I am responsible for the development of marketing strategies and the implementation of marketing programs, including United's awardwinning Mileage Plus program. I will also lead United's product development, customer research and online efforts.
Previously, I was at American Airlines for 13 years in revenue management and alliances. I then took on the responsibility of heading up the sales operation in Europe and the Middle East before returning to Dallas to head up American's AAdvantage program.
GT: United has several products of interest to business travelers. Tell us about P.S., TED and MAINLINE.
DC: United is very excited about the segmentation of its product into many choices for various markets. For example, Ted, our discount carrier, offers service to our leisure markets and is an alternative for travelers on a budget. Ted also appeals to business travelers when they are traveling on vacation or with family. Ted brings a fun and exciting atmosphere to travel; for example, we have Ted drinks and Ted-inspired meals. Passengers can access information about our simplified fare structure at www.flyted.com. And, like all United flights, Ted offers Economy Plus.
We are all very proud of P.S., our new all-premium service between New York (JFK) and the cities of Los Angeles (LAX) and San Francisco (SFO). P.S. is a totally new concept. It's the only branded aircraft flying domestic routes that has lie-flat seating and premium classes: first class, business class and Economy Plus (no regular economy class). P.S. customers are interested in the latest technology, like our entertainment options; have an appreciation for fine food and wine; and are interested both in traveling in comfort, with individual space, and in an international style of travel experience. Our P.S. customers are high-end professionals and frequent trans-continental travelers looking for greater and more-personalized in-flight entertainment options. The balance of United's domestic and international flights – our MAINLINE service – offer a full range of service, including first class, business class, Economy Plus and economy.
GT: United is the only U.S. carrier to offer a premium economy class. Where does premium economy fit into United's overall plan? Who are the passengers flying premium economy?
DC: We introduced Economy Plus based on a great deal of research and feedback from our most frequent flyers – business travelers who want to fly in comfort. It offers more legroom, seats toward the front of the plane and priority boarding at an affordable fare. Economy Plus is an option on all domestic and international flights. United has 21,000 economy-plus seats in the air, more than any other carrier in the world. Advance seating assignment in economy plus is available on a first-come, first-serve basis to Mileage Plus members who have Premier status or above; Star Alliance Gold and Silver members; and customers traveling on fares booked in Y, B or M class. Passenger may also upgrade at a self-serve kiosk, based on availability, for a nominal fee.
GT: Global Traveler readers voted United Mileage Plus as "Best Frequent Flyer Program." Which Mileage Plus features appeal most to business and luxury travelers?
DC: United Mileage Plus is a great product, enhanced further by our partners in the Star Alliance, which offers tra velers a broad network of destinations and venues for which to redeem points. As with our airline product, we've segmented Mileage Plus to cater to the needs of individual flyers. For example, we've created a dedicated site for our 1K (million-mile) flyers offering special programs and deals created just for them. Our standard portal, accessed through our Web site (www.united.com), lists deals and program for all of our Mileage Plus members.
GT: Looking ahead to fall and into 2006, what is in store for United travelers?
DC: United is serious about segmenting its market to identify the needs of our customers, and tailor programs and services to meet those needs. We will continue to launch innovative programs and services like P.S., Ted and Economy Plus. We will also continue our expansion into the international market. We understand the regional market, and have addressed this segment with the EMB-170 jets in our United Express fleet. United understands your market, the readers of Global Traveler. We understand that business travelers work hard, but also want to enjoy leisure time with their friends and families, so we offer products that cater to both business and leisure travel. We are also planning to aggressively target the Chicago market and the frequent travelers who call this city home.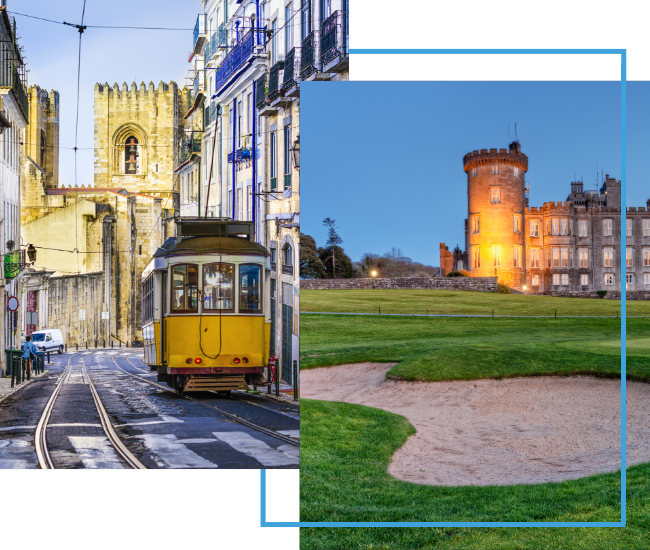 FX Excursions
FX Excursions offers the chance for once-in-a-lifetime experiences in destinations around the world.
Explore Excursions
In addition to intimate settings, smaller staff-to-passenger ratios, and personalized food and beverage options, river cruises have the advantage of providing a deeper dive into a region's culture, food and history. The Rhine, Rhône and Danube in Europe and the Mississippi River and St. Lawrence in North America have much to offer travelers with their itineraries, tying together beloved cities and lesser-known destinations along their routes.
Sponsored Content
The Saronic or Argo Saronic Islands of Greece call travelers to explore its seven small islands and islets brimming with history, natural sites and more. With most easily accessible by boat, the islands' proximity to ports of Athens make the Saronic Islands an ideal destination for those preferring shorter boat rides. In fact, trips from Athens ports to the islands take only between 10 minutes and two hours, depending on the island you choose, making them perfect for day or weekend trips. From Piraeus port, you can access Hydra, Spetses, Aegina and Poros directly. Come explore these stunning islands with us and find the inspiration to plan your next trip to these islands. Hydra Hydra town curves around a slope overlooking the Argosaronic Gulf like an amphitheater and is considered one of the most romantic destinations in Greece. Most unique to the island is its lack of vehicles. People on the island get around on mules and donkeys as well as water taxis, making for a peaceful and laid-back day. Hydra lies a two-hour ferry ride from Piraeus port in Athens.
With the holidays right around the corner, travelers are preparing for holiday travels. For those looking for a last-minute getaway filled with holiday cheer, consider Croatia. With a variety of winter activities perfect for travelers and locals alike, the Christmas countdown in Croatia is in full swing. Leading up to Christmas, Advent in Croatia makes it even more worth your while to visit the country with free winter incentives. If you plan on visiting Croatia, here are five cities going all out for the holiday season: