UNLIKE THE ROOM FULL of eager voyagers surrounding me, waiting to board a ship destined for the seventh continent, I had never once dreamed of stepping foot on Antarctica. As they regaled me with stories of planning the trip in their 40s, making promises to loved ones they would one day send postcards from an Antarctic post office while mustering up the courage to keep their commitment to take part in the polar plunge, I kept silent, unable to admit the continent had never even made it on my bucket list.
Its absence from my list of dream trips wasn't due to a lack of desire or a fear of traveling into the great unknown but rather because I had long written it off as an unattainable goal. In my millennial mind, traveling to Antarctica was beyond a bucket list. It was the ultimate trip. I had (wrongfully) assumed the trip was reserved for scientists and celebrities, but as I began to research ideas for my 32nd birthday, the trip began to take form in a surprisingly tangible way.
More than 38,478 people visited Antarctica during the austral summer season (which typically runs November through February), according to a 2016 report by the International Association of Antarctic Tour Operators, with expectations that number will grow by at least 5,000 each year. Many visitors arrive at the continent by ship, on voyages planned through cruise operators like Polar Latitudes or Quark Expeditions, or booked through an adventure tour company that specializes in Antarctic expeditions like Adventure Life. But daytrips by plane have become another option, albeit a slightly pricier one.
Like me, many travelers have a hard time believing a trip to Antarctica is possible, assuming it is too expensive, too far or too risky. In reality, there are many options for budget and duration of this safe journey. Uniquely enough, a high percentage of first-time visitors to Antarctica make up a significant portion of the numbers of guests visiting the continent each year, noting how unintimidating the trip is once it's been experienced.
"I've been to the Antarctic region twice and would definitely return," says Mary Curry, voyage product director, Adventure Life, and mom of four. "It's challenging in our modern world to feel like a true explorer, and there's something very special about seeing a place that is relatively untouched by human hands, and Antarctica still offers this experience. I have yet to see Salisbury Plain on South Georgia Island, a wildlife mecca, with tens of thousands of king penguins, elephant seals and more. Most of us think of Antarctica and larger penguins synonymously. In reality, it's challenging to see larger penguins in Antarctica proper, so the 60,000 king penguins on the Salisbury Plain are quintessentially Antarctica."
Only expedition vessels with passenger capacities of less than 500 are permitted to actually dock along the continent to allow passengers off, and I was fortunate to have booked a cabin on board the 118-passenger Polar Latitudes ship, Hebridean Sky, through Adventure Life. I would be able to actually step foot on the continent and experience the wildlife and wild terrain up close.
It took two days to travel by ship from our port in Ushuaia, Argentina (aka "El Fin del Mundo," or "The End of the World"), through the infamous Drake Passage and finally arrive in the waters of Antarctica. The Drake Passage, feared by many, has been the deterrent for many a traveler contemplating the trip due to its rambunctious reputation as "the Drake Shake" when conditions are poor. The passage runs between South America and the South Shetland Islands and is notorious as the roughest body of water in the world. On a good day, crossing the passage is like sailing through a large lake, as it was the day we traversed the waters. On a bad day, smart passengers play it safe by wearing prescribed motion-sickness patches or using over-the-counter motion-sickness pills or wristbands.
At first sight of the continent, my heart filled with excitement and disbelief that I had come this far. I somehow still doubted the possibility of Antarctica as a destination I could actually reach, and with two days until my 32nd birthday, I doubted even more I would be able to say I had stepped foot on all seven continents by the age of 31.
The next morning I woke early to board the first wave of Zodiac boats transporting passengers to shore, dressed in every layer I packed and wrapped in a brand-new, cherry-red Helly Hansen parka and rubber boots provided by the cruise operator. We cruised past leopard seals, dodged the lurking bubbles of humpback whales and sloshed alongside glacial ice older than the country I departed.
I'm still unsure if the thud I felt shuddering through my body that morning was from the impact of our Zodiac hitting the shore or from my heart as I finally comprehended the moment that was about to happen. I grabbed the captain's hand as I placed one foot over the rubber edge of the boat, smiling from ear to ear as my foot hit the snow-capped rocks of the shoreline and heard the captain say the words I never knew I always dreamed of hearing: "Welcome to Antarctica."
Antarctica Info to Go
Most cruise operators begin the journey to Antarctica from the port in Ushuaia, Argentina; a short flight from Buenos Aires transports guests there in less than four hours on either LATAM or Aerolineas Argentinas. For those visitors who prefer to skip the cruise and simply fly, charter planes depart from Punta Arenas, Chile, on Aerovias DAP. Adventure Life offers an Air Cruise option for guests who want the best of both worlds: flying from Punta Arenas to King George Island, where they then board their expedition vessel to venture further into the great white continent.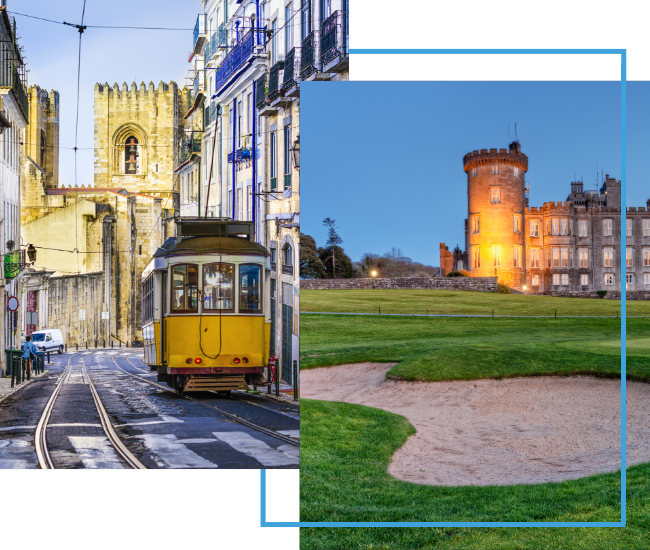 FX Excursions
FX Excursions offers the chance for once-in-a-lifetime experiences in destinations around the world.
Explore Excursions
Travel can take a toll on your body and soul; these products keep you looking (and feeling) good. From a clever shoe that puts a spring in your step (and is effortlessly easy to put on and remove) to a lightweight hair dryer and a night cream that works wonders on tired, dehydrated skin, here are three must-haves to tote on your next trip:
Sponsored Content
IHG Hotels & Resorts is thrilled to announce the launch of a new mobile product feature for members: IHG Wi-Fi Auto Connect. This feature is now available exclusively in the IHG One Rewards mobile app for both iOS and Android users and will automatically connect IHG One Rewards members to WiFi upon arrival at more than 5,000 IHG hotels worldwide — no separate passwords or log-ins needed. This is in addition to the exciting benefits of being an IHG Business Edge member. IHG Business Edge provides small- and medium-sized businesses access to a user-friendly portal that displays comprehensive spending and savings data while providing the convenience of direct booking with a guaranteed discount.
Pleasant weather, autumn foliage and vibrant flowers are among the many delights awaiting nature lovers at botanical gardens and arboretums across the United States. However, some of these green spaces take on additional color this month and through Halloween when enterprising gardeners, landscape architects, management and other creative minds cast a spell with themed environments running the gamut from spooky to utterly bewitching.