FOR THE EIGHTH CONSECUTIVE year, Global Traveler honors the best of the best in naming 2018's Airline of the Year and Hotel of the Year.
In today's fast-paced world of on-demand services, instant gratification and customizable everything, keeping up with the Joneses is no longer enough to stay on top; it's a way to maintain. For those who want to pull ahead of the competition, in any industry, companies need a "wow" factor, something that leaves a lasting impression — especially in an industry where excellence has become an expectation. Delta Air Lines and Rosewood Hotels and Resorts easily exceed that expectation — so much so, they've earned top honors as GT's 2018 Airline and Hotel of the Year.
To award the prestigious honor, Global Traveler's staff submitted nominations, and Advisory Board members chose the winners through a series of factors based on a culmination of diverse experiences and thorough research. Weighing the wide range of nominees' financial data, loading and boarding times, safety records, current standing, onboard menus and overall image as a brand, earning this award is no small feat.
In some instances, it's how a brand responds to adversity, innovates when others get comfortable, moves the industry standard forward and leaves a positive community impact — all while consistently delivering a top product. Sound like a travel company you know?
DELTA AIR LINES
AIRLINE OF THE YEAR 2018
Born out of industrial progress, rural opportunity and necessity, Delta Air Lines began in 1924 as an aerial crop-dusting operation, Huff Daland Dusters, Incorporated. Founded on humble beginnings in Macon, Georgia, and focused primarily on agricultural business until the late 1920s, the top airline we know today once had only the Huff-Daland Duster to its name — one of the first bona fide crop dusters in the industry.
Collett E. Woolman purchased the company in 1928, moved its headquarters, renamed it Delta Air Service and launched the first flight between Jackson, Mississippi, and Dallas, Texas, carrying just five passengers and one pilot. Going beyond the rural fields of Georgia and with four founders, Delta Air Service was well on its way to becoming a full-fledged airline. As Delta experienced rapid growth, the company established a new headquarters in Atlanta in 1941, where the main hub remains today.
While business continued to grow and technology advanced, Delta experienced a series of transitions, including airline mergers and acquisitions, leading to a new name: Delta Air Lines. After a few years of adding routes and building its reputation, Delta replaced its traditional propeller planes with jets in the 1960s, added international routes to Europe in the 1970s and, finally, cross-Pacific routes in the 1980s.
Delta made headlines in late 2005 after filing for reorganization Chapter 11 of the U.S. Bankruptcy Code but managed to come out the other side in 2007 — arguably better positioned to produce and compete in the industry than before. In April 2008 Delta Air Lines merged with Northwest Airlines. And produce it did, now boasting eight hubs across the country and around the world. Atlanta remains the largest in the operation, with that hub alone seeing 1,000 daily departures to 225 destinations.
Today Delta Air Lines serves more than 180 million customers each year, serving 304 destinations in 52 countries on six continents, including alliance partner flights, while employing more than 80,000 dedicated staff worldwide. With an aircraft fleet of more than 800, the founding member of the SkyTeam global alliance and its worldwide partners fly more than 15,000 flights daily.
This year alone, Delta not only receives GT's Airline of the Year honor but also ranks among Fortune's Top 50 Most Admired Companies for the seventh time and as No.1 in Business Travel News's annual Airline Survey.
Delta experienced a lot of changes and forward momentum this year while maintaining the standard of business customers expect. Initiatives include working diligently on infrastructure upgrades to ease travel for passengers nationwide, elevating quality of travel for passengers with terminal renovations at LaGuardia Airport, and focusing on pet comfort and safety through Delta Cargo. It continues to work on security training to eradicate human trafficking, prepping to build Delta Sky Way in Los Angeles (LAX) and removing one-time-use plastic items from Delta Air Lines completely. All this, and earning honors for customer experience — the sky seems to be the limit.
One aspect of Delta's operations as prevalent as its products, services and business: the people. Delta's staff and corporate community essentially represent the heartbeat of the business. The culture surrounding Delta's every move is deeply connected to the people behind the operation, from dedication to military veterans, community involvement and green initiatives to even the new uniforms. In collaboration with esteemed designer Zac Posen, new uniforms rolled out this year keep employees in mind — literally — basing functionality and style on feedback from them.
Weaving through the ups and downs and innovating along the way clearly paid off for Delta. From a modest start to one of the top airlines in the business, history tells us Delta's future glows as brightly as its trophy case.
ROSEWOOD HOTELS & RESORTS
HOTEL OF THE YEAR 2018
One of the world's leading luxury hotel companies, Rosewood Hotel Group boasts four diverse brands, each with a distinct personality and purpose. Of all the brands — Rosewood Hotels & Resorts; Penta Hotels; New World Hotels & Resorts; and the newest, KHOS — Rosewood Hotels & Resorts sits at the helm of ultra-luxury and comfort.
The esteemed Rosewood collection came about in 1979, steadily rising through the ranks in the luxury travel industry. In keeping with the brand's tagline, "A Sense of Place," each residential-style hotel exudes just that — place.
Guests enjoy incredibly luxurious stays inspired by the destination's rich history, culture and geographic landscape. Each space strives to immerse guests in the most comfortable, high-end and luxe version of the locale.
In order to really shine in such a saturated industry as luxury accommodations, a brand needs an impressive team with impeccable attention to detail, and Rosewood has such a team. While consisting of industry veterans, all in tune with above-and-beyond hospitality practices, Rosewood earns its place among the best of the best.
This year Rosewood announced hotel openings in dynamic, exciting locales, meeting the needs of travelers worldwide. With tourists interested more in authentic experiences, the new Rosewood Laung Praban in Laos seeks to immerse guests in the culture. The first luxury tent encampment arrived this spring, allowing guests to explore local Laotian culture — including the UNESCO Heritage site Luang Praband. The luxury property will also serve as the first philanthropic hospitality school to the brand.
New properties in Bermuda and Nassau, Bahamas, also emerged, bringing upscale health and wellness treat ments to each luxury spa, as well as high-end stays to California, China and Thailand.
While new and renovated properties kept Rosewood Hotels & Resorts busy this year, that didn't slow down the brand's green initiative and environmental pledge: to value the planet's resources and demonstrate environmental sensitivity.
By vowing to conduct business in a sustainable, thoughtful and eco-friendly way, Rosewood Hotels & Resorts proves its mantra "Embrace A Sense of Place" is more than aspiration by respecting the natural habitats, history, ecological settings and diverse communities each resort inhabits. By revering the land, people and local way of life, Rosewood puts sustainability first and promotes education, appreciation and thoughtful ways to enjoy different areas of the world.
Part of the brand's daily proactive business model revolves around preserving clean air and water through its housekeeping, transportation and amenities, managing waste and recyclables according to a strict sustainable system — all while conserving energy and reducing waste. In leading by example, Rosewood properties effectively educate guests and the competition about efficient practices by promoting a better way of life for all. Guests have the opportunity to enjoy natural and organic food, beverages and energy-efficient appliances.
While all the peace, love and happiness may be a bonus to the brand's work ethic, the ultra-luxury stays don't hurt, either. With a consistent level of eminence running through Rosewood Hotels & Resorts' long line of properties, guests expect a certain quality of service, pushing Rosewood to constantly maintain, improve and impress.
Between its refined elegance, natural appreciation and focus on pristine hospitality, it's easy to see how Rosewood Hotels & Resorts rose to the top of GT's list, earning it Hotel of the Year.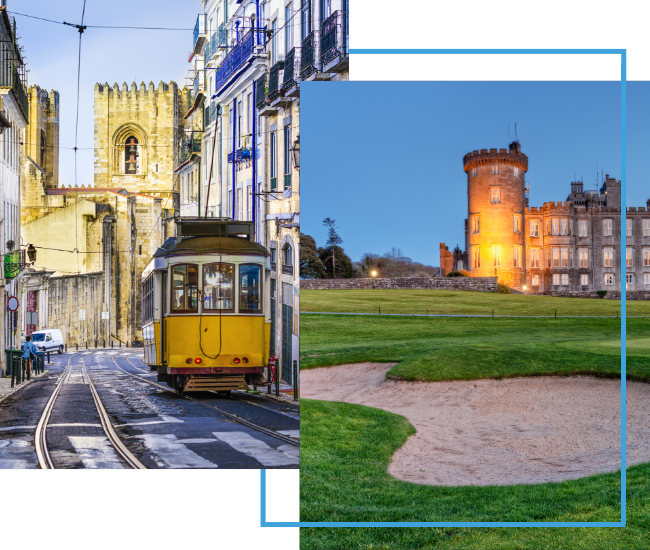 FX Excursions
FX Excursions offers the chance for once-in-a-lifetime experiences in destinations around the world.
Explore Excursions
Mazatlán, Mexico, has long been an attractive home destination for Canadian and American retirees, but, in recent years, young, digital nomads have also discovered the charms of this coastal city, finding inexpensive accommodations, beautiful weather and plenty of bandwidth for working remotely. The laid-back beach scene definitely eases the transition of relocating to Mexico's West Coast.
Sponsored Content
From the moment you step onboard Air Tahiti Nui's Tahitian Dreamliner, you will be transported to The Islands of Tahiti. The French Polynesian carrier considered every detail to awaken its passengers' senses, creating the feeling you are already on the Islands while 30,000 feet in the air.
For its third year, Global Traveler awards the airline, cruise line and hotel brand best representing diversity, equity and inclusion within the travel industry. Over the past year Global Traveler analyzed many airlines, cruise lines and hotel brands to determine which companies prove most committed to changing the world through diversity and inclusion.