TAIPEI IS A BEEHIVE OF ACTIVITY, as you would expect of a city as populous as Chicago, but those are not bumblebees you hear at every intersection. They're motorized scooters, the vehicles of choice for most young Taipei residents. These noisy two-wheelers, compact, agile and just a little edgy, fit Taipei's mood to a T.
Led by big-city Taipei, Taiwan economic heft is plenty real, with a higher per capita gross domestic product than Saudi Arabia or Portugal. Luxury cars weave through Taipei's scooter swarms, and business booms.
Numerous carriers offer flights to Taiwan Taoyuan International Airport — 12–14 hours non-stop from Los Angeles or 15–16 hours from New York City. Upon landing, take one of the frequent MRT express trains from the airport to downtown Taipei, which covers 31 miles in 38 minutes. You can then grab a cab to your hotel; taxis also prove the best way to get around the city.
Downtown boasts several business-friendly hotels. The elegant Palais de Chine, next to Taipei's main train station, offers free airport shuttle service and hotel-wide WiFi. The more contemporary W Taipei applies the design chic of the W brand to more than 30,000 square feet of event and meeting space in the upscale Xinyi district.
The Regent, a third luxury hotel, sits next to an underground shopping street, letting you escape from the noise and usually polluted air at street level. Other leading hotels include Grand Hyatt, Sheraton Grand, Mandarin Oriental, Le Méridien and Kimpton.
The first thing your Taipei client is likely to ask is, "Have you eaten?" Reflecting the importance of food in Taiwanese culture, it's as common a greeting in Taipei as "How are you?" in Tulsa. It's meant to be rhetorical — just say, "Yes" (or "shi") — but not always. Expect to be invited to a meal or a drink soon after meeting clients, unless you beat them to it. But where do you dine?
Hotel restaurants prove a good — and easy — choice, especially when they come with a view. The W offers two of the best: Yen, serving New Cantonese cuisine on the 31st floor, and The Kitchen Table, with diverse international fare, three meals a day, on the 10th floor. Not to be eclipsed, Palais de Chine's 17th-floor Le Palais earned three Michelin stars for its Chinese cuisine. But you'll find most of central Taipei's best restaurants at street level.
Tim Ho Wan (two locations) is a surprisingly affordable Michelinstarred lunch/dinner spot known for steamed dim sum and baked pork buns. J.W. Teres serves authentic Bulgarian entrées and wines — not as unexpected as it sounds, as Taipei brims with European-cuisine restaurants. Another surprise: Mume, where three chefs create Nordic dishes with Taiwanese ingredients. Chun Shui Tang (multiple locations), the birthplace of boba (milk) tea, also makes a good dim sum lunch/dinner spot.
Mikkeller Taipei and all of Taipei's five Taihu Brewing taprooms pour tasty craft brews. Fourplay Cuisine, SoShow Bar & Restaurant and Hanko 60 serve some of Taipei's most uniquely creative, Taiwan-inspired cocktails. And central Taipei's Wine Café and Whinos Bar & Kitchen may be the city's best wine bars.
Have a day off? Take the elevator to the 91st-floor observation deck of Taipei 101, the world's tallest building when it opened in 2004. You can shop across the street at Breeze Nan Shan, a futuristic new mall. For a look back in time, choose among visits to the National Palace Museum (8,000 years of Chinese art), palatial Chiang Kai-shek Memorial Hall, and Longhsan and Xiangtian temples. Stop by the outdoor Jingmei or indoor Shilin night markets, too, for a taste of street food and Taiwanese culture.
If you can add a few days to see more of Taiwan, consider taking a bus or van tour. Visit nearby Fulong or Dawan Kenting beach if you're a beach lover, Yangmingshan National Park if you have the hots for hot springs, Taroko National Park if you enjoy mountain hiking (the narrow gorge road switchbacks to a 10,744-foot peak), Sun Moon Lake if you like to bike (rent one to trace the 18-mile perimeter trail) or take the 215-mile high-speed train ride to the coastal city of Kaohsiung to traverse most of this island nation in less than two hours.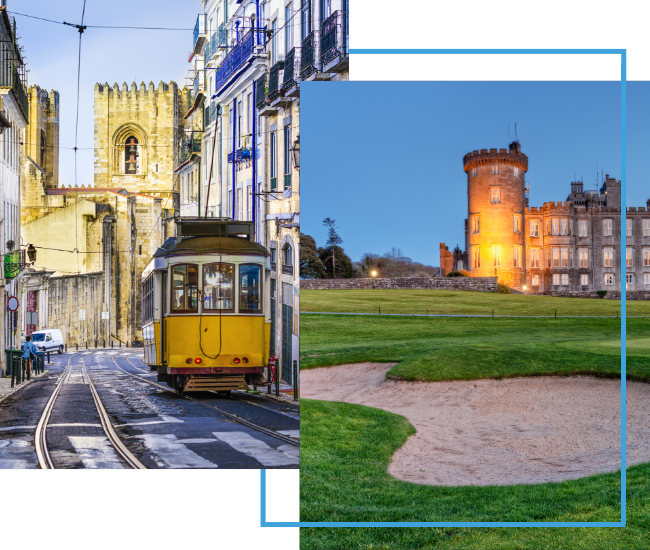 FX Excursions
FX Excursions offers the chance for once-in-a-lifetime experiences in destinations around the world.
Explore Excursions
A new and expanded campus at the Buffalo AKG Art Museum has been completed, reopening this summer and featuring new architecture designed by the architectural office of OMA New York, led by partner Shohei Shigematsu and project architects Lawrence Siu and Paxton Sheldahl, with Cooper Robertson (executive architect). The new expansion includes the Jeffrey E. Gundlach Building and extensive renovations to existing buildings. A $20-million commitment from New York State and Governor Kathy Hochul helped fulfill the expansion's budget and completes the $230 million capital campaign, the largest campaign for a cultural institution in the history of Western New York State.
Sponsored Content
Are you looking to enhance your business trip with a little leisure? Look no further than Portugal, a country renowned for its captivating blend of history, culture and natural beauty. And with TAP Air Portugal, you can effortlessly transform your business trip into an unforgettable bleisure adventure. Discover why Portugal and TAP Air Portugal are the perfect combination for an enriching and rejuvenating experience.
Ever since opening in 2021, Nobu London Portman Square has served as the focal point for many gatherings, stays and experiences. This fall the hotel's Nobu Bar adds four more reasons to visit with an exciting array of offerings, menus and events.